Home buyers quickly discover they have a long list of needs as they prepare to move into their new home. One essential piece of home safety equipment every homeowner needs is a fire extinguisher. If you have recently purchased a new home, you may be thinking, "I just don't have time to go buy one right now."
It may help you to know that buying a fire extinguisher is actually an easy task to knock off your list—you just need to know what to look for in a home fire extinguisher and where to store it. Fire extinguishers are also one of the least expensive items you can buy to help protect your new home.
Why Do You Need a Home Fire Extinguisher?
It's not something anyone wants to think about, but accidental home fires happen more often than you'd expect. In fact, the National Fire Protection Association (NFPA) found that on average, more than 350,000 U.S. homes sustain damage by fire each year. And nearly 50% of those are caused by cooking fires, where grease in a pan on a stove or in the oven becomes so hot it combusts. Those two stats alone provide a most compelling reason why it is vital to have a kitchen fire extinguisher at the ready.
According to NFPA, other sources of home fires each year include:
Fireplaces and wood stoves
Space heaters
Toasters and toaster ovens
Microwave ovens
Barbecue grills
Exhaust fans
Cigarette smoking
Candles left unattended
Faulty electrical wiring
Chemicals
Christmas trees
Carelessness
Despite this long list of familiar items, a recent study found that 1 in 4 Americans don't have a fire extinguisher in the place where they live. As you prepare to move, you can help protect the home you love by making a small investment in a home fire extinguisher (or two).
Choosing the Best Fire Extinguishers for Home
Now that you're thinking, "Yes, I need to buy a fire extinguisher," you may wonder where to get one. Most local home improvement stores will carry a number of different fire extinguisher brands, or you can narrow down where to shop in your area by simply typing "fire extinguisher near me" into a browser on your phone or laptop.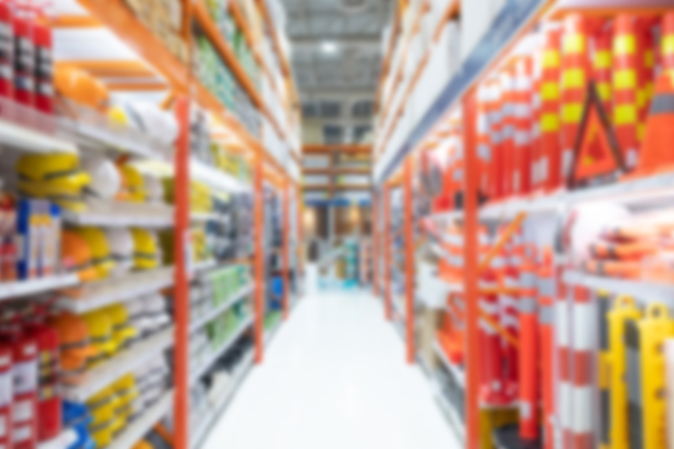 Finding a home fire extinguisher is not complicated—the key is to know what type of fire extinguisher you need to buy for the different areas of your home. Before you get ready to head to the store, it's helpful to know about fire extinguisher ratings. These ratings are defined based on three metrics: capacity, UL (Underwriters Laboratories) rating or certification, and classification.
Fire Extinguisher Capacity
Capacity in fire extinguisher ratings refers to size—literally how much active material the cylinder can hold. In the U.S., capacity for a home fire extinguisher is measured in pounds, and you want to buy one that weighs no more than 5 or 10 pounds. After all, when you need to act quickly, you want a portable fire extinguisher that's lightweight and easy to maneuver, so you can accurately direct the spray at the fire. And for most people, a capacity above 10 pounds may no longer feel like an easily portable fire extinguisher.
Be aware that higher capacity fire extinguishers (30 pounds or more) will also require a heavy-duty cart with wheels in order to more easily move them and are mainly meant for use in commercial settings.
UL Rating
Check the label on any electronic piece of equipment you own and you'll see a UL rating label. Be sure the portable fire extinguisher you choose has a UL rating. It indicates that the brand has been tested by UL for its safety and performance.
Importantly, the UL rating also includes the alphanumeric ratings that make up the five fire extinguisher classifications, which we'll look at next. This aspect of the UL rating system means the extinguishers have been tested for effectiveness against specific types of fire.
Fire Extinguisher Classifications
Classification in fire extinguisher ratings are a way to ensure that homeowners use the right size and type of extinguisher when responding to a fire. After all, using a water-based extinguisher on electrical or oil fires could cause electric shock and/or a dangerous explosion.
The classification systems follows a combination of letters and numbers. Each letter tells you what types or causes of fires the extinguisher is effective against. The numbers, typically located either before and/or after the letters, refer to how much fire an extinguisher can put out, either in terms of water equivalency or square footage.
For example, a Class A fire extinguisher will display a number that ranges from 1 to 40. The number refers to water equivalency—a measurement where '1' is equal to 1.25 gallons of water. So, a 4A-rated extinguisher has a water equivalency of 5 gallons. Additionally, you may see a number next to a Class B and/or C extinguisher—that is a measure of the reach of the spray in square feet.
Understanding these classifications is helpful in interpreting the type of fire extinguisher you might be looking at in a store, or online. For example, you might see a model with a UL rating of "2-A:10-B:C." That means the extinguisher contains approximately 2 gallons of liquid, the cylinder weighs 10 pounds, and the cylinder as a whole is rated for Class A, B, and C types of fires.
The ABCs of Fire Extinguishers
Let's look at how the ABCs of fire classifications are defined:
Class A fires involve paper products, wood, clothing, and other flammables
Class B fires involve fuels such as motor oil, gasoline, as well as paints, and other flammables
Class C fires result from faulty wiring and other live electrical devices
Class D fires involve flammable metals such as titanium, sodium, and potassium and most often can occur in chemical plants and facilities that work with these metals
Class K fires involve cooking oils and fats, from vegetable or animal, and more often used in commercial kitchens
Next, without getting deep into chemical compositions, let's look at the type of active material contained in each class of fire extinguisher. In general:
Class A fire extinguishers typically contain pressurized water
Class B fire extinguishers typically contain a dry chemical foam or powder
Class C fire extinguishers contain CO2 (carbon dioxide) and other chemicals
Class D fire extinguishers contain a dry powder agent
Class K fire extinguishers contain an alkaline mixture, often referred to as a "wet chemical"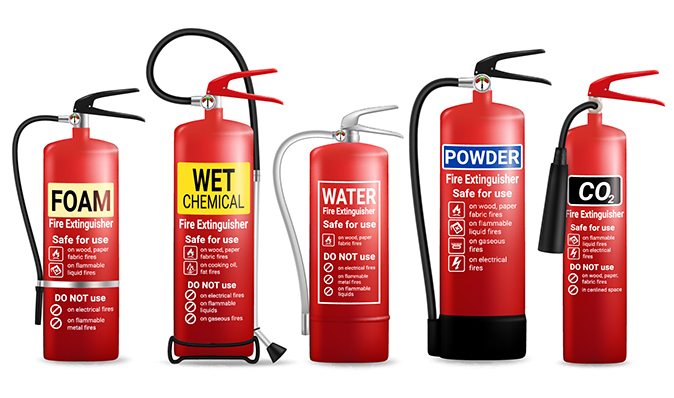 The classification system can be confusing, but it's an important component for understanding how fire extinguishers work. The good news is that you don't have to memorize all the letters and numbers. Instead, you can purchase a multipurpose ABC extinguisher. These are the best fire extinguishers to choose for use in homes and in fact, are the most widely used.
As its name implies, ABC extinguishers are effective on Class A, B, and C types of fires. They contain a dry chemical agent that can be used effectively in your kitchen as well as in the garage and other parts of the home.
Do a little online research on the best ABC brands for your needs. Many manufacturers sell portable fire extinguishers in three-packs for under $150. You can also purchase fire extinguisher mounting brackets that fit the cylinder size you purchase.
Pro tip: If your home is multi-level, be aware that fire departments recommend at least one extinguisher on each floor, in addition to one for the kitchen and another for the garage.
How to Use Your Home Fire Extinguisher
Once you have purchased the best fire extinguishers for your home, it's time to learn how to use them. Your local fire department may offer fire extinguisher classes or provide residents with tutorials and other safety seminars. Reach out to personnel at your fire department to find out about classes and take advantage of any resources available.
If you have family members who live at home with you, be sure they attend the fire extinguisher classes with you, or give them a tutorial once you know what to do. It's also important that every member of your household knows where the extinguishers are stored, should they need to grab one quickly in an emergency.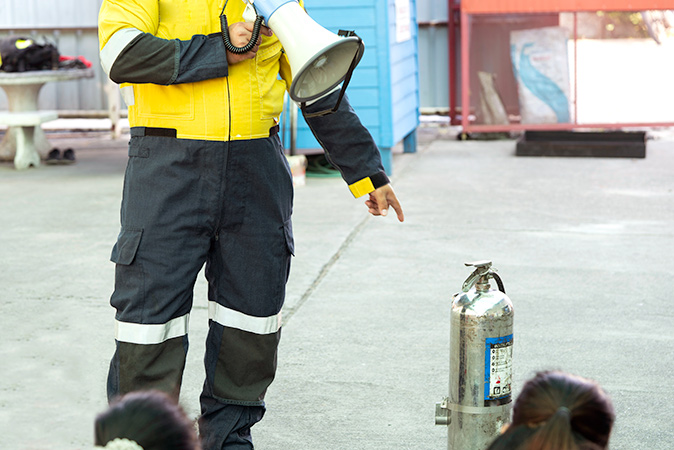 You, along with everyone in your household, should also set the mnemonic "PASS" to memory – it is the best and easiest way to remember the steps (Pull, Aim, Squeeze, Sweep) for properly using your home's fire extinguishers.
And because a picture is worth a thousand words, show the image below to household members. Thankfully, most home fire extinguishers include a label similar to this one right on the cylinder. But when you have to react quickly, it's still better that everyone remember the "PASS" steps:

Where to Store a Kitchen Fire Extinguisher and Other Storage Tips
With nearly the majority of house fires starting in the kitchen, storing a fire extinguisher there is most important. But how you store it also matters. Here are tips for storing your kitchen fire extinguisher, along with other, general storage tips:
Never store a kitchen fire extinguisher near a heat source, such as the oven or stove. The ideal distance from any heat source is 25 feet or more.
Always store fire extinguishers upright; they are pressurized.
When possible, it's best to mount extinguishers to either a nearby wall or inside a cabinet.
Be sure the label with classification information faces out, so a user can quickly see that the extinguisher can be used for the type of fire they are dealing with.
Periodically check that you can quickly access a fire extinguisher. Over time, other items might get stored in front of an extinguisher kept in a cabinet. Unimpeded access is important when time matters.
Be sure to set the cylinder so the classification label faces out. Doing so can help you quickly see that the extinguisher can be used for the type of fire you may be dealing with.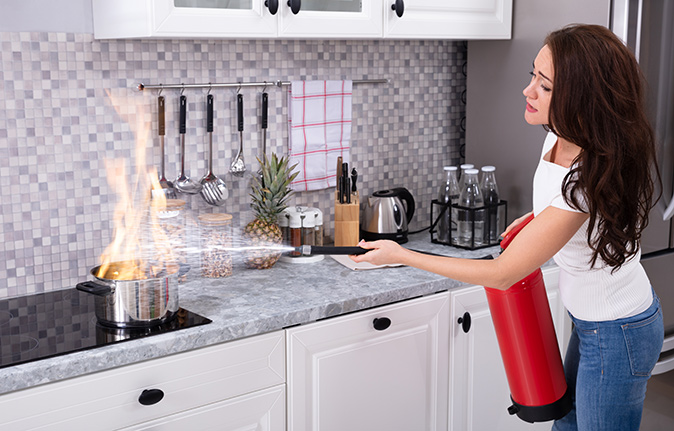 Pro tip: You can also do some research on a mini fire extinguisher. These small, handy foam-spray extinguishers are about the size of most other spray cans around the house and can be easily stored as a backup to your kitchen fire extinguisher. A mini fire extinguisher is also the multipurpose kind so it can be used on smaller Class ABC types of fires.
When to Inspect a Home Fire Extinguisher
Even the best-intentioned, most-prepared homeowner may grab a fire extinguisher to put out a small kitchen fire only to discover it is not functioning properly. Remember to do a fire extinguisher inspection from time to time to ensure it is performing as intended. The NFPA recommends that you inspect a portable fire extinguisher at least once per month. Additional recommendations include:
Ensuring proper storage and accessibility
Testing the pressure indicator
Checking the weight (a 10-pound extinguisher should feel like 10 pounds when lifted)
Inspecting the pressure gauge; extinguishers need to maintain a p.s.i. (pound per square inch range of between 185-205 p.s.i. to be effective when used
Confirming that the manufacture date on the cylinder has not expired
As a general rule, a fire extinguisher should be replaced or refurbished at minimum every 5 years. It is also a good idea to have your home fire extinguishers professionally serviced annually by a certified fire extinguisher service company and inspected for damage/corrosion/leakage, fullness, and more.
Pro tip: Many home fire extinguishers include a label where you can log inspection dates. We all get busy and it can be easy to forget the last time you did a fire extinguisher inspection, or had yours professionally serviced.
Protecting Your Home with a Home Warranty
Did you know you can also help protect your home with a First American home warranty? If you are a home buyer, talk to your real estate agent about adding coverage during your closing to help protect many of the appliances and home systems in your new home, should a covered item fail unexpectedly. You can view sample coverage here, whether you are involved in a real estate transaction as a home buyer or seller.