In times of drought, climate change, and residential water restrictions – voluntary, or in some places mandatory – many homeowners are looking for ways to save water in their daily lives. More and more, they are turning to grey water systems for homes, both for their cost savings and conservation benefits. It's really the ultimate in recycling this precious resource.
What Is Grey Water?
Grey water, also called gray water, greywater, or graywater, is water that's already been used domestically, commercially, or industrially. Grey water also includes the drain water generated from kitchen and bathroom faucets, showers, bathtubs, washing machines, and dishwashers – anything not contaminated with human waste, food, or toxins. That doesn't mean it's clean enough to drink, but with the right system and precautions, grey water can be used to water your trees, plants, and landscaping.
Before starting, check with your local government since some jurisdictions require permits for installing a DIY grey water system. Some even offer starter kits or classes to learn how to build an efficient system.
Why Recycling Grey Water Helps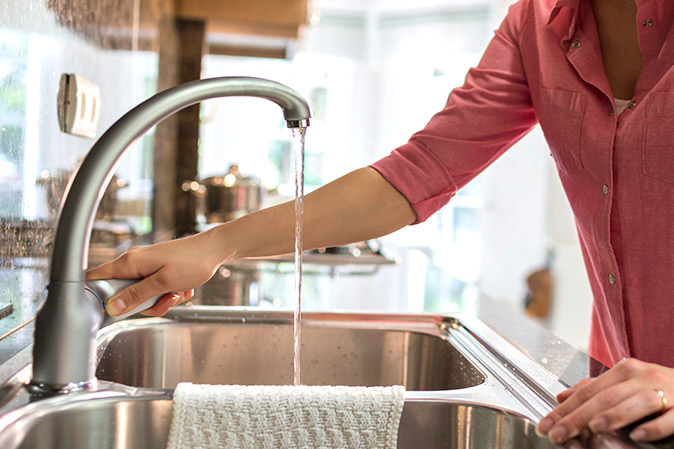 The need for recycled grey water is real. Nationwide water use statistics are eye-opening. According to federal government estimates, Americans use an average of 80 to 100 gallons of water per person per day for home use, with the toilet being the biggest indoor user. Landscape irrigation is estimated to account for nearly one-third of all residential water use, totaling nearly 9 billion gallons per day, according to the Environmental Protection Agency. Some experts estimate that as much as half of water used for irrigation is wasted because of evaporation, wind, or wasteful runoff.
Installing a grey water system at home to save money and be more water-efficient can be a simple, low-tech solution that is cost-effective and can dramatically lower your water usage. You can go as simple or as complex as your DIY skills and your ambition will take you.
A typical household grey water system 'harvests' or captures water from washing machines and pipes it outside to be used on landscaping, ornamental plants, and fruit trees. Depending on the washing machine, one load can produce as much as 40 gallons of gray water, according to the Water Education Foundation, an impartial nonprofit founded during a drought in 1977. That's more than enough to keep most trees and plants alive throughout the year.
More advanced systems can pipe gray water over a broader area like a lawn or flower beds. Gray water should not be used on edible crops that touch the soil because it can contain harmful bacterial contaminants, grease, or detergent residue.
Of course, you can reduce the need for water in your outdoor areas with drought-tolerant landscaping, but if yours is one of the many jurisdictions to impose water conservation mandates, or if you just want to cut down on water waste, irrigating with grey water is an option.
Resources on Installing Grey Water Systems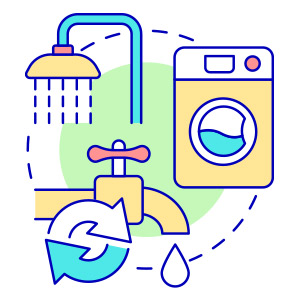 To build a DIY grey water system, consider if you want a simple laundry-to-landscape system that is relatively low cost and easy to install or something more complicated that comes already manufactured and can include a grey water tank. Some setups also include the use of a gravel pit for grey water.
The simplest grey water installation uses the washing machine's internal pump to slightly pressurize the used water, so the system can irrigate plants across a flat yard. The washer's drain hose is connected to a three-way valve that diverts water either to the sewer or outside with a one-inch rigid pipe like PVC. These systems can cost between $150 and $300 in materials, plus labor costs if you're not a skilled home plumber.
Here are some resources from Water Wise Supply, a company founded in 2010 to help educate consumers looking for information on grey water use and rainwater reuse. The company's website discusses the more simple approach to take when installing grey water systems for homes as well as the larger, more complex systems that include grey water tanks, or require pumps or sand filters.
Installing the simple system relies on gravity to distribute the water pumped out by a washing machine, while larger systems with storage tanks have their own pumps. Either way, you'll need to install a valve to direct grey water into the sewer when you don't need to water the yard, or when you're cleaning diapers, or putting bleach into your wash load.
The Epic Homestead vlog has an easy-to-follow YouTube video showing how the presenters installed a shower-and-faucet recapture system to irrigate their citrus trees. The Los Angeles Department of Building and Safety also offers an example plan for a basic, gravity-based grey water system on its website. (Search for "Greywater Systems for Residential Buildings" via the Forms and Publications tool to download the PDF.)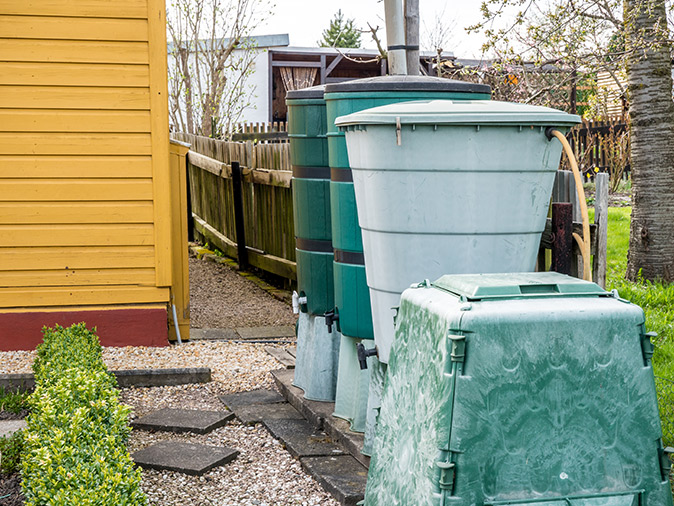 A DIY grey water system is different than a rainwater collection system, where you can capture water in a cistern or tank and use whenever you like. Even if you add a grey water tank to your system, it's not recommended to hold the water for more than a day because the water can rapidly turn smelly as contaminants in it break down.
What to Know Before You Start This Project
Here are some questions to consider before diving into a DIY grey water system installation:
Can This Type of System Work at Your Home?
For a basic laundry-to-landscape system, according to Greywater Action, your washing machine should be within reach of an exterior wall or a crawlspace and the route to your plants will need to be fairly flat or on a downslope. The organization also advises avoiding piping grey water more than 50 feet to avoid overburdening your washer's built-in pump. Finally, be sure to check your local building codes for permit requirements and any system restrictions.
What Are You Going to Water?
The best use of grey water is trees, bushes, and shrubs. Fruit trees are a possibility, but bleaches and some detergents contain ingredients unhealthy for certain trees. It's not recommended for edible plants.
It is recommended that you use bio-degradable and nontoxic soaps and laundry detergents. Because it can harbor dangerous pathogens, a grey water system is not without risks. Water from kitchen sinks and dishwashers could include bacteria including salmonella or E.coli.
How Big Do You Want to Go?
Irrigating a lawn may require more grey water than your washing machine will produce, meaning a more advanced system may be needed. In terms of DIY difficulty, Greywater Action compares the installation of a larger grey water system to installing a drip irrigation system or replacing a window in your home. If you're comfortable doing either of those, you can do this project. You'll also find several examples on its website. Some municipalities also offer rebates or discounts for homeowners installing a water recycling system.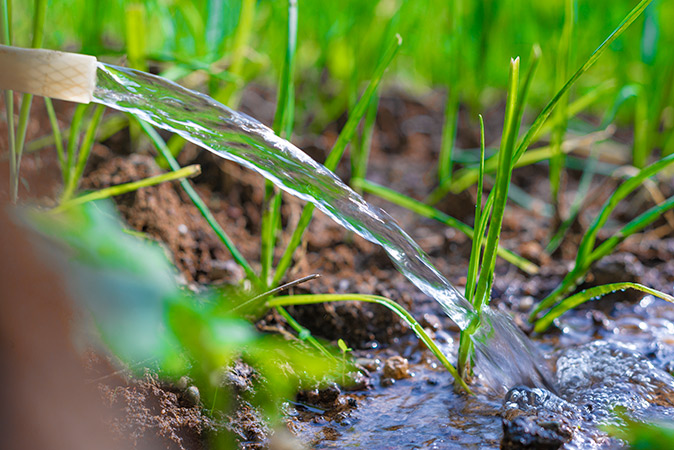 Home Warranty Plans for Homeowners
First American home warranties can protect a wide range of your home's appliances, such as your dishwasher, oven, and refrigerator, as well as many systems, including your plumbing, electrical, and air conditioning. When one of them breaks down, your plan can cover its repair or replacement, saving you hundreds to thousands in home expenses per year. Learn about what we can protect in your home, or request a personalized home warranty quote in minutes.