How Much Does a Home Heating Repair Cost?
A home heating repair bill can't bust your budget, right? The answer is—it might. The average cost to repair a breakdown in a home heating system is close to $800* but the cost often can be much higher. If you have savings you can tap into to cover that kind of expense, then, fortunately, you can weather the storm, even when the repair bill hits your budget out of the blue. If you are like most homeowners, however, having to pay a high repair bill unexpectedly can be a potentially budget-busting blow.
Why is a home heating repair so expensive? Often, the high cost stems from the fact that central heating and cooling systems (a.k.a., heating, ventilation, and air conditioning, or HVAC systems) are complex machines with many working parts, and you will want to find a well-trained, professional technician to repair your system when trouble arises. That expertise comes at a cost, so you can usually expect to pay a high hourly rate for an HVAC service call.
To repair the problem with your system, the technician you hire also may have to replace one or more parts and/or components that have failed. The repair bill will include the cost of those replacement parts as well as the billable time to install them.
Here are some of the more common problems that cause a heating system to stop working, often due to failing parts or components in the system: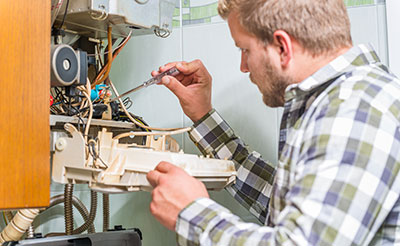 Faulty thermocouple (usually the culprit for pilot light problems)
Problems with the furnace blower motor
Cracked heat exchanger**
Faulty thermostat wiring
Broken thermostat
Blown system capacitor
Failed igniter or flame sensor
Leaky ductwork
Fluid leaks
While most of these problems require new parts to get the system working again, keep in mind that if your furnace is in the attic or crawlspace, for example, your technician will also have to spend time just getting to your system to work on it, which can add to the challenge, and expense, of making repairs.
Bottom line: when you hire a professional to troubleshoot your heating system during normal business hours, the cost of diagnosis, parts, and time to repair a heating issue adds up. In fact, home heating repair is one of the most expensive repairs you will have to make as a homeowner.
What if Your Heating System Can't Be Repaired?
Even if a home heating repair bill of $800 or more is not a budget buster for you, what if your heating system can't be repaired, and you need to replace it entirely? What might have been a potentially expensive repair bill could easily balloon to almost $3,000, or more. Bear in mind, that's just the average cost of a heating system replacement. According to HomeGuide:
…The national average cost of a standard efficiency natural gas furnace ranges from $2,150 to $5,900 with most homeowners paying around $3,100. The price may vary based on brand, complexity of install, and the efficiency of the new unit.
HomeGuide New Furnace Replacement Costs
It's possible—depending on where you live and the type of heating system in your home—that your replacement cost will be less than the average. Ultimately, however, that's cold comfort when the bill is still in the thousands of dollars.
And, like most homeowners, you're probably not prepared to pay out that kind of money unexpectedly, particularly in the middle of winter when hefty home heating bills are already stretching your budget.
What you need is a way to protect yourself and your budget from these types of unexpected bills.
A Home Warranty Can Protect Your Budget from Costly Repairs
Homeowners often experience sticker shock when they see the bill for a home heating repair. You can potentially avoid that kind of hit to your budget when your heating system breaks down if you have a home warranty. When a covered home system like the heating breaks, a home warranty can protect your budget from some of the big repair bills† that homeowners have to pay.
When you have a First American home warranty you also have a way to combat surprise bills for home heating repairs, as well as many other essential home systems and appliances. With home warranty coverage, you can remove worry about unexpected budget hits for many of the things you rely on every day.
Here is a snapshot of systems and appliances that First American Home Warranty can cover in your home:
HVAC Systems

Central Air Conditioning

Heating System

Ductwork

Thermostats

Plumbing Systems

Stoppages

Leaks and Breaks

Water Heaters

Toilet Tanks & Bowls

Sump Pump

Garbage Disposal

More Systems

Electrical System

Central Vacuum

Ceiling Fans

Attic & Exhaust Fans

Garage Door Openers

Pool & Spa Equipment

Well Pumps

Appliances

Kitchen Refrigerator

Washer & Dryer

Oven Range & Cooktop

Dishwasher

Built-in Microwave

Trash Compactor
Why a Home Warranty Matters for Your Home Systems
Many homeowners don't know how old the systems and appliances are in their home, nor do they know how well maintained they were by previous owners. If this sounds like you, getting home warranty coverage on your home heating system just makes good financial sense. That's because, as the table below shows, while central heating systems have a slight edge in terms of how long they may last compared to other home appliances, you know that everything will fail eventually.
Average life in years††
Average replacement cost
Average repair costs
Central Air Conditioning
Central Air Conditioning
15
$3,296
$764
Central Heating
Central Heating
15-20
$3,173
$792
Refrigerator
Refrigerator
13
$3,214
$1,085
Oven
Oven
13-15
$3,390
$1,340
Washer/Dryer
Washer/Dryer
10-13
$1,265
$685
Dishwasher
Dishwasher
9
$1,205
$682
Water Heater (Tank)
Water Heater (Tank)
10
$1,911
$790
A First American home warranty can cover your aging home systems and appliances and your brand-new ones. If you want a way to avoid the hassle of finding a technician on your own and paying what can often be expensive repair bills, a home warranty is a great option for you. Without home warranty coverage, you now have a good idea about how much home heating repairs will cost you.
How Does Maintenance Help Avoid Home Heating Repairs?
Even if you have home warranty coverage, regular maintenance of your central heating system is important to keep it running efficiently and help you avoid problems when you need it most—in winter! It is a good idea to use a home maintenance checklist, but here are three important tips that can help you improve indoor air quality and keep your heating system working its best:
Check air filter(s) once per month and clean or replace them as needed. Homes with pets or residents with asthma should check and replace more frequently.
Clean vents, registers, and grilles regularly and check that nothing is blocking them.
Once per year, have your heating system serviced by a professional. Often, this servicing can turn up potential problems that can be fixed before becoming bigger issues.
Keep in mind you also may have things you can try on your own if your heating system stops working. These simple troubleshooting tips may be able to help you fix some issues and get your heating system working again. If you have home warranty coverage and these tips don't take care of your heater issues, it's probably time to call First American.
How to Use Your Home Warranty for a Home Heating Repair
The best solution to combat unexpected breakdowns for your important home systems and appliances is to have home warranty coverage, so you may be wondering how it works.
If your covered home heating system or any other appliances covered by your home warranty breaks down, we have a simple service process that gets underway when you sign in to place your request online or call 800.992.3400. Here's what happens next:
First American assigns a service provider, who will call you to schedule an appointment.
At the appointment, the technician will diagnose the problem and, if needed, report the findings to us.
If the problem can be fixed, often the technician will be able to repair the item that day.
If parts are needed, we'll order them, and the technician will set up a follow-up appointment.
Want to learn more? This infographic shows how the service process works.
*Based on actual invoices paid by First American in 2021 prior to service fees, deductions, and/or rebates; costs may vary in your geographic region. Items listed may be optional or not available on some plans; please review the sample contract for specific coverage, terms, and limitations.
**A cracked heat exchanger can let carbon monoxide seep from a heating system into a home. Be sure your home is equipped with a carbon monoxide detector on each floor, with one of them placed near where your system is located. If your home's detectors sound the alarm, it not only can save lives, it can also be a signal that the heating system is broken down.
†Be aware of non-covered costs even with your home warranty coverage. Please review your sample contract for specific coverage, terms, and limitations.