You found your dream home using our House Hunting Checklist, made an offer, and it's been accepted. Now it's time for another step in your home-buying process: the home inspection. So we've created a comprehensive, personal home inspection checklist you can print and take with you to your scheduled inspection! (View or Print Home Inspection Checklist.)
Your home inspection is a great opportunity to uncover major red flags and defects, structural or otherwise, that may need immediate attention. It can also reveal potential issues that may require work down the road. In some cases, it can expose significant defects that may influence your decision to follow through with the home purchase.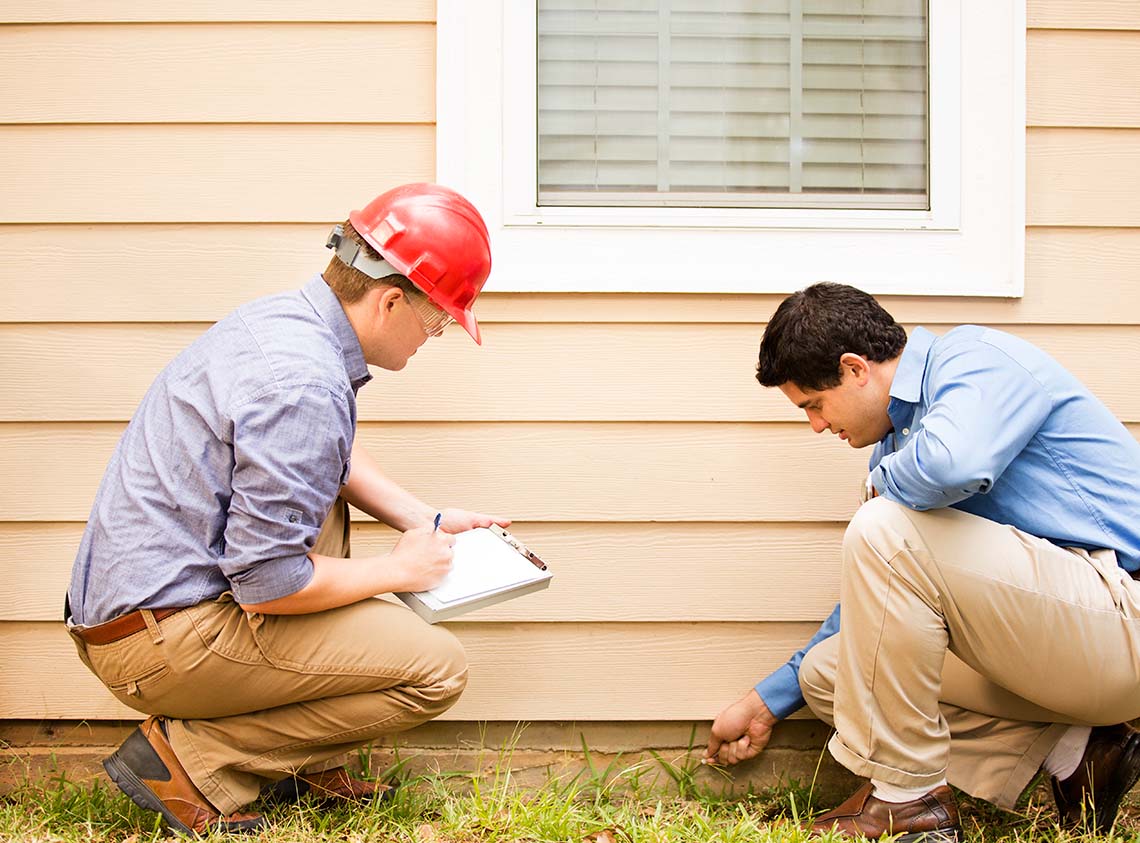 Hiring a licensed, qualified home inspector who is knowledgeable in building codes, permitting, and other local ordinances is the key to an accurate and thorough home inspection report. Fortunately, you don't have to search for one yourself. Your agent can recommend an experienced home inspector and help you schedule a mutually convenient inspection appointment. If you have any concerns about the home inspection or requests for specific items or areas you want to be covered, discuss them with your agent prior to the scheduled inspection so you are both clear on expectations.
Your home inspection cost will vary based primarily on where you live, the size of your home, and how old it is, but don't skimp—the fee is typically folded into your closing costs, so you're not paying for the inspection up front. It's important that you get the most thorough home inspection report possible—doing so may actually save you money down the road if you uncover an issue that can be affordably fixed now vs. a lingering issue you discover later (like accumulated water damage or a pest infestation, for example).
For best results, try to be present for your home inspection. Accompanying the home inspector during the examination gives you a chance to ask questions and get clarification on the home's condition, how things work, and any worries you may have. Treat your home inspection as an opportunity to understand everything you can about the house so you can feel confident purchasing it (or backing out and continuing your search). Home inspectors are valuable resources who can provide useful information that will help you understand the scope of upkeep the home will require should you move forward with the purchase.
Quick tip: Be sure to ask your home inspector where the water and gas shutoff valves are located, how the circuit breaker box works, and how each of the home's systems operates.
What to Expect During Your Home Inspection
Your home inspection will cover all of your exterior and interior home components (see our Home Inspection Checklist below for more details). It will identify major red flags such as unpermitted add-ons, builder oversights, and defects in materials and installations. It may also reveal structural deficiencies, unsafe living conditions, dry rot, water issues, pest infestations, and other surprises.
Your home inspector will carefully document and photograph areas of concern. Sometimes, the inspector may call for a specialist to further look into a problem. Make sure you understand everything that's in the home inspection report, and are clear about what does and doesn't need to be repaired.
Once the home inspection concludes, you and your agent will go over any defects that require immediate attention and discuss whether you or the seller should pay for them prior to closing. For example, your home inspection may reveal roof damage and your home inspector may recommend a new roof. In that case, you may decide to negotiate a credit with the seller on a new roof.
Your Personal Home Inspection Checklist
Print or download the Home Inspection Checklist below to document the condition of the home's exterior and interior spaces as you accompany the home inspector, and be sure to note any issues and defects. Although your home inspector will prepare an official home inspection report for you, it may take several days for you to receive it. In the meantime, it's important for you to have your own home inspection checklist you can easily refer to and quickly understand. Think of it as a personal home maintenance guide to help you keep track of required upkeep and areas that may require future attention.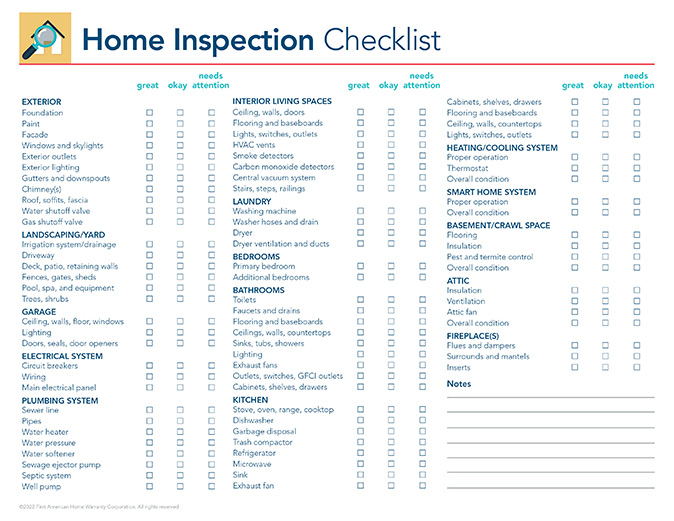 Ask Your Agent About Extra Protection from First American
A good home inspection can help protect you and your wallet from surprises down the road. You can also safeguard yourself with a home warranty plan from First American. Besides offering coverage for many major home appliances and systems, you'll get peace of mind and budget protection when a covered item unexpectedly breaks down. Find out more about our home warranty plans and how you can get special buyer's coverage for up to 60 days after your close on a property—get a quote today.