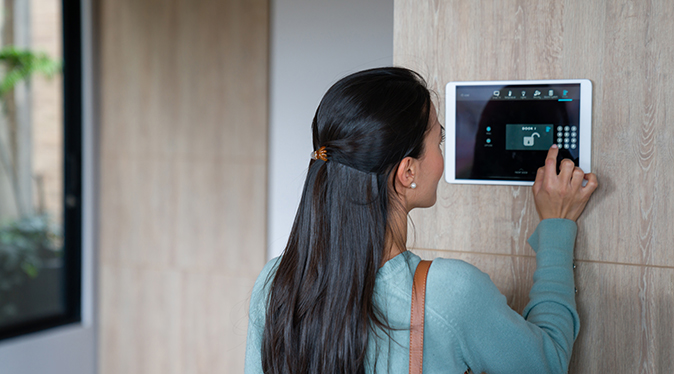 Home security systems have come a long way since the moats, drawbridges, and guard dogs of the past. Since Augustus Pope invented the first home burglar alarm (electromagnets ringing a bell with a hammer when a door or window opened), the way we secure our homes has advanced significantly. From wireless home security systems to home security cameras, security companies offer not only state-of-the-art equipment but most can also provide in-depth services to help you secure your home.
Home security is an integral part of life, and finding the best home security system for your needs warrants a thorough review of the different brands and models. However, with so many options, and so much to consider, researching home security systems can seem daunting.
Don't know where to start? No worries – we've got information that can help you choose the system that suits your needs. The following guide can help you know what to look for when you are shopping for home security systems and which features can best keep you, your home, and your family protected.
Home Security Systems Overview and Choices
Home security systems are interconnected electronic components designed to protect a home. They often include entry sensors, motion sensors, security cameras, a keypad, a central base station, and more. Some of the best home security systems on the market let you get 24/7 professional monitoring for an additional cost.
DIY vs. Professional Install and Monitoring
The first thing to consider when shopping for the best home security system for your needs is whether you plan to install the system you choose or have it professionally installed. DIY home security systems are when a homeowner installs the system themselves. DIY systems come with easy-to-use instructions within their apps to make installation much easier.
Professional home security systems are installed by technicians employed by home security companies. These companies also employ a team of people to monitor your system and respond to security alerts, saving you the headache of self-monitoring your home. A professionally installed system often comes with a separate monthly or yearly subscription. When you install this type of system, some companies will allow you to monitor your home along with professional monitoring, or you can opt for DIY monitoring instead.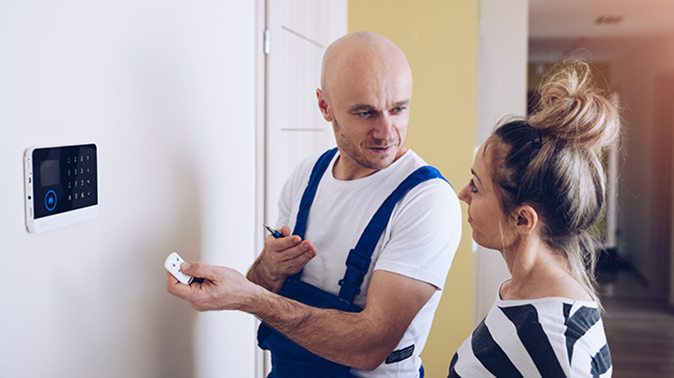 Wired vs. Wireless Systems
When considering systems, you must decide whether your home security system will be wired or wireless. Wireless systems are usually much easier to set up than wired systems, which are connected directly to your home's existing electrical system. Wired systems are the conventional way to go, especially if your home already has the wiring installed from a previous security setup.
Wireless home security systems are a more modern approach that typically comes with peel-and-stick sensors with long battery lives. This makes it easy to set them and forget them without all the extra work. An added benefit of wireless systems is that most do not rely on your home's electricity, so they should not fail if your power goes out.
Smart vs. Local Systems
Next, you'll want to consider if you want a local or smart home security system. A local system does not connect to the internet, so there are no remote controls, smart monitoring capabilities, or notifications. Everything is maintained within the immediate surroundings. When the system is triggered, you will only know if you are close enough to hear it. Some local systems can be professionally monitored via cellular or landline backups.
Smart home security systems are internet reliant, allowing you to receive instant notifications when alarms go off, control the system remotely, and view live footage from a mobile app if you have home security cameras.
Another reason to choose a smart system is that you can incorporate smart locks. Few things are more disheartening than being locked out of your home, especially when you look through the window at the TV and couch calling your name. With smart locks, if you lock yourself out of your home, you can get inside either through the smart lock app, or an automated voice assistant. With smart locks, your chances of locking yourself out dwindle to zero, barring any power outage.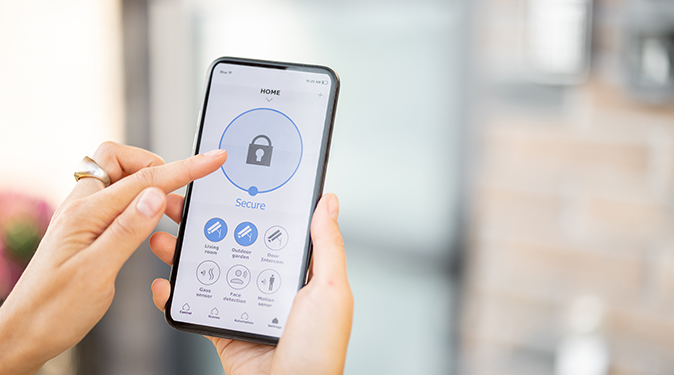 Home Automation
There's nothing wrong with a little home automation to make your life more convenient. These days, it's no longer necessary to manually turn on light switches, disarm your security system, or unlock your door. You can use smart technologies to automate your home security system and other devices connected to the internet using your phone and voice commands. In addition to controlling home security systems, you can also automate many other smart devices, from smart lights and cameras to entry and environmental controls.
Home Security Cameras
With all of their advances, it may be hard to think of a reason not to purchase a home security system with cameras. Home security cameras let you see inside and outside your home when you are away. They also help verify any emergency, and if you have the recording feature, cameras can even record video footage as evidence for the authorities.
Outdoor cameras are great for watching activities around your home—even when you are at home. Outdoor cameras are designed to withstand the elements, which typically makes them more expensive than indoor cameras. Be sure to research the temperature range of each camera to ensure it can hold up in your climate zone.
Indoor cameras are usually placed near entry points and in big rooms. They are typically more affordable than outdoor cameras, and most smart home security cameras have speakers and microphones, enabling you to speak to whoever is on camera.
Doorbell cameras are a relatively recent invention. They are internet-connected doorbells equipped with home security cameras that allow you to monitor your front door whether you're out or in your home. If you have an issue with package theft, a video doorbell upgrade may be just what you need to catch the thief. Most video doorbells have day and night vision with infrared-LED sensors to help with video quality and clarity.
Additionally, most doorbell cameras offer the two-way talk option, so you can talk to visitors when they arrive. Imagine being able to tell your Amazon delivery person to hide your package behind your fence rather than leaving it on your front porch.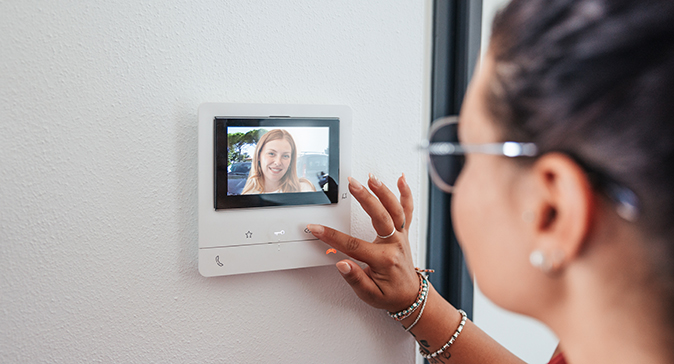 More Home Security System Benefits
Aside from the security aspect, installing home security systems in your home has a couple more benefits for you to consider. Many homeowner's insurance policies give you a discount on your premium if you get a monitored security system. A simple call to your insurance agent can tell you which home security companies can make you eligible for these savings.
Also, if you plan to sell your home and it has smart security features, your listing can be more appealing to potential home buyers. Everyone wants to feel safe at home and in their neighborhood. So, having a good security system in place can help buyers feel safer about the home they purchase.
First American Offers Home Protection Plans
Much like your home security system, First American home warranty plans give homeowners protection and peace of mind knowing that when a covered home system or appliance fails, it can be repaired or replaced. Learn more about the appliances and systems our home warranty coverage can protect in your home, or get a free quote in minutes.