Home warranty plans are service contracts that protect many of the home systems and appliances you depend on every day. As these systems and appliances inevitably break down, a home warranty will cover the repair or replacement of covered items. Take a look at the items you have in your home that we can protect: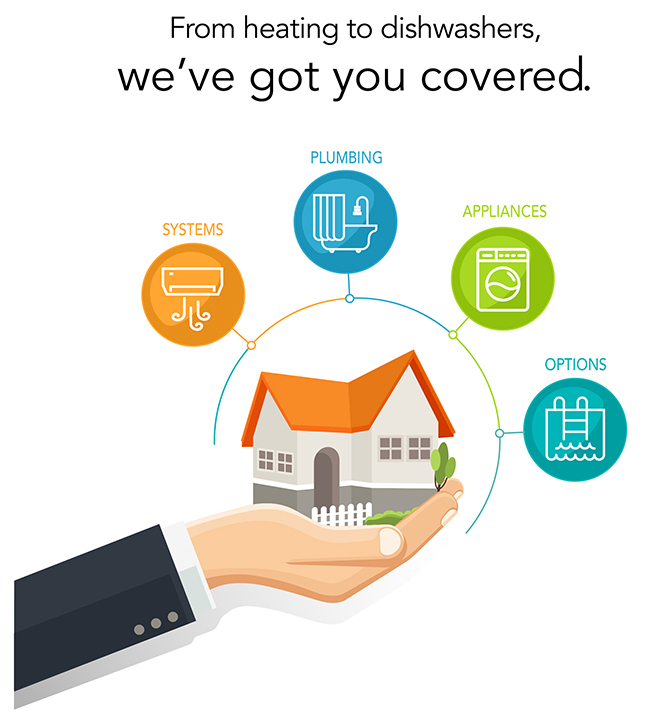 SYSTEMS*
Heating
Ductwork
Central air conditioning
Electrical system
Garage door openers
Attic, ceiling, and exhaust fans
Central vacuum system
PLUMBING*
Plumbing system
Plumbing stoppages
Toilet tanks and bowls
Garbage disposal
Water heater
Circulating pump
Sump pump
Pressure regulators
APPLIANCES*
Built-in microwave
Clothes washer and dryer
Dishwasher
Kitchen refrigerator
Oven/Range/Cooktop
Instant hot water dispenser
Trash compactor
OPTIONS
Upgrades
Additional refrigeration
Pool and/or spa equipment
Well pump
Additional options available in some regions
*Some items may be included in the base home warranty plan or purchased as optional coverage.
See What First American Covers in Your Area
View sample home warranty plans by ZIP code:
What Home Warranty Plans Typically Do Not Cover
Like other types of warranties or service contracts, home warranty plans have limitations on coverage. Typically, home warranties don't cover the modifications or changes required when new equipment gets installed. For example, if an HVAC system needs replacement, electrical or structural modifications may be required to accommodate the new unit. Or a new hot water heater might require changes to pipes coming in and out of the unit. A home warranty usually will not cover these types of changes.
Learn About Your Coverage Options
First American's home warranty plans cover all of the basics, but you may have additional items you want to cover. You can compare coverage to get an idea of our optional upgrades. You can purchase coverage or upgrades that will cover items such as:
Removal of the old appliance or system
Correction of improper installations
Building permits
Correction of building code violations
Want to find out more about our home warranty plans? It's easy to get a no-obligation quote today.