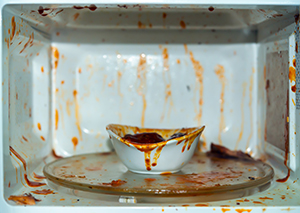 About to zap your favorite snack or warm up some leftovers only to feel a bit nauseated by the grime inside of your microwave? You don't have to stomach that. All you need is an effective microwave cleaning hack or two and you'll have a spotlessly clean microwave oven in no time. Our guide covers why it's important—and beneficial to you—to wipe up food spills and splatters right away. Plus, we offer tips on the best way to clean microwave ovens and how to get rid of unpleasant odors. You'll find everything you need to know about how to clean a microwave quickly and easily so you can get back to blissful noshing once more.
Why You Should Clean Microwave Ovens Routinely
You might think that a good time to clean the microwave is right before guests arrive at your home. And let's face it, if one of them decides to say, warm up a cup of coffee, you certainly don't want that guest to faint at the sight of your unsightly microwave. So, cleaning it for company is not a bad idea. But there are more important reasons than peer pressure why it matters to learn how to clean a microwave oven:
Bacteria Can Grow. When spilled foods go uncleaned inside a microwave, you create two issues: those splatters stick like glue to walls and surfaces and, because the inside is a warm space, your microwave becomes a welcome home for bacteria to grow. Take a look at the top area inside your microwave. If you see food splatters there, those bits, combined with a little warmth and moisture help germs to thrive.
Cross-Contamination Can Happen. Each time you turn on an unclean microwave to heat something, those baked-on food bits that are stuck to the top or inside walls can loosen As the moisture builds up during the heating process those bits can drop into the cup of coffee you're warming up, or onto the snack that you're about to enjoy. Yuck.
The big takeaway here? It's important to regularly clean your microwave to avoid that awful thought that may be crossing your mind about the bacteria that's been seeping into your microwaved eats. (If you are not sufficiently grossed out yet, however, read about the findings in recent studies about bacteria inside a microwave.)
Food Buildup Can Catch Fire. Although less disgusting, a fire inside a microwave can be as harmful to you and yours as harboring bacteria in there. When spills inside a microwave are not cleaned up immediately, or food particles build up over time, each subsequent use will continue to cook those food bits, and eventually, they can cause sparks to fly inside your microwave. Especially be aware of any grease splatters when they occur, as they are often the culprit in microwave fires—it's important to clean up all spills right away, especially those.
What Is the Best Way to Clean a Microwave
Before we reveal our recommendation for a top microwave cleaner, keep in mind that any time you are preparing to clean a microwave, it's good practice to unplug the appliance from the wall. Also, if you only intend to clean the interior walls, remove your microwave's glass plate. Often the glass plate is dishwasher-proof, or you can carefully rinse it and set it aside while you clean the inside walls of the microwave.
The Natural Choice Wins
It turns out there are a few options that we could nominate for best microwave cleaner, but by virtue of it being both natural and nontoxic, top cleaning honors go to white vinegar. Not only is white vinegar a naturally effective agent of clean for your microwave (and much more), but when it comes to any cleaning chore, convenience also matters. And white vinegar is more than likely to be a household item you have on hand. Bonus points must be awarded any time you don't have to run to the store to buy a cleaning product!
It's also important to note that white vinegar doubles as a germ killer, making it a natural disinfectant for cleaning microwave ovens. (It can also be used to clean the dishwasher, garbage disposal, stainless steel appliances, and those often bacteria-ridden kitchen countertops and cutting boards.) Plus, if you do have to go to the store to pick some up, it's a much less expensive option compared to commercial disinfectant cleaners, some of which may also include toxic ingredients.
Finally, if you prefer to use environmentally friendly cleaners, vinegar is also biodegradable, making it safe to rinse a vinegar-soaked sponge or cloth in the sink and let it harmlessly wash down the drain.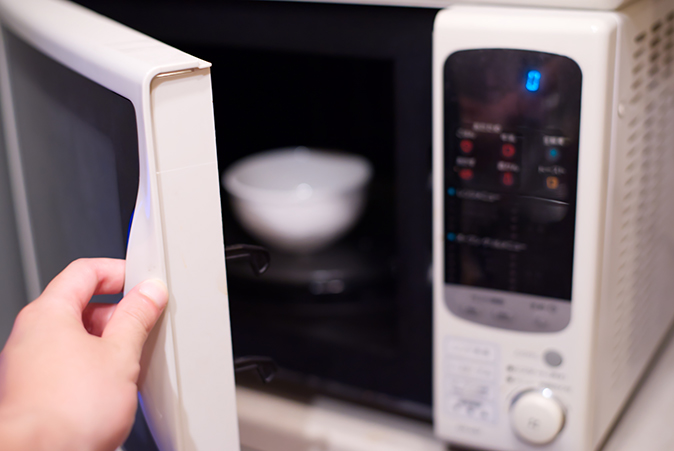 Why White Vinegar?
While all kinds of vinegar have acidic properties that can make them all useful cleaners, white vinegar is the most acidic in this sour, watery family. Its high acidity means even a small amount of diluted vinegar solution (see recipe below) can quickly dissolve the most stubborn stains that have hardened onto the inside of a microwave's door, or easily clear those wall-to-wall splatters of exploded sauces and other overheated liquids that always manage to land in the most hard-to-reach back corners of the microwave.
Pro tip: If you have distilled white vinegar in your kitchen cabinet, it is also an effective cleaner, but it has a lower percentage of acetic acid (the main ingredient in all kinds of vinegar) than white vinegar, so if you do need to go to the store, buy white vinegar, especially if cleaning a microwave has not been high on your home maintenance to-do list.
Recipe for White Vinegar Cleaning Solution
You'd be hard-put to find a simpler recipe for cleaning microwave ovens. A white vinegar solution has two ingredients, used in equal measure. Here is all you need to make a solution for cleaning and disinfecting:
1 tablespoon of white vinegar
1 cup of water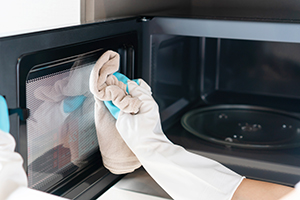 You can also boost the strength of this cleaning solution to a 2:1 ratio (vinegar to water) for problem stains and to remove grease spills. Really tough stains may require you to soak an area with the vinegar solution and let it stand for a few minutes before scrubbing the area clean.
Quick tip: For some, the smell of vinegar can be overpowering, so for the sensitive olfactory, you can dilute the solution to 1 part vinegar to 3 parts water without losing overall effectiveness. You may need a little more elbow grease but your nose will thank you.
Be sure to double or triple the recipe in the ratio you prefer so you have enough microwave cleaner solution for the job. You should also consider using a new spray bottle to make it easier to aim and shoot into the grubby spots that need attention. Microwaves are small areas to work in and a spray bottle will make cleaning a little easier.
Pro tip: Using a vinegar solution may be an easy way to clean microwave ovens, but there are surfaces where it should not be used. For example, do not use vinegar on waxed surfaces; it can dissolve the wax. (Although, if you want to remove wax from something, then vinegar can work well.) You also should not use vinegar to clean natural stone. The acidity can discolor or stain the stone, remove the sealing if one is used, and even leave etch marks or streaks in the stone.
When Vinegar Doesn't Mix
Be mindful of these two quick warnings on what substances you should not mix vinegar with:
Do NOT mix vinegar with bleach. The combination would create a potentially deadly chemical reaction that emits toxic chlorine gas into the air.
Do NOT mix vinegar with hydrogen peroxide. This mixture would create a chemical called peracetic acid, which is both corrosive and damaging to your breathing, eyes, and skin.
How to Clean Inside of Microwave Ovens with Vinegar
The first thing to do to clean a grimy, food-stained microwave is to loosen things up; step one takes care of that for you:
Place a cup of water in the microwave and heat for two minutes. This generates steam, which can add much-needed moisture inside your appliance that helps loosen hardened food stains.
Prepare your vinegar solution and pour it into a spray bottle.
Spray the solution all over the insides, top, and surface area of your microwave and let it stand for two minutes.
Use a heavy-duty sponge with a non-scratch abrasive side for any tough stains, but once you begin to regularly clean your microwave, you should be able to easily wipe away any food particles.
Dampen a microfiber cloth and wipe up any excess solution, then dry the inside with a soft, clean rag.
How to Clean the Outside of a Microwave
Your cleaning regimen for the outside of your microwave should focus on the handle. Spray a bit of the homemade vinegar solution on the handle, or push-button latch, and use a microfiber cloth to wipe those germs away. An easy way to make this step part of your daily cleanup is to do this when you clean the kitchen after dinner. When you wipe down the countertops, swipe that microwave handle, too.
When you deep clean the inside of your microwave, you can also use your vinegar solution to remove fingerprint marks on the door and clean the outside glass. And don't forget to dust off the top. Have a stainless steel microwave? Here are great tips for cleaning all your stainless steel appliances.
How Often Should You Clean Microwave Ovens?
Ideally, cleaning your microwave once per week keeps it looking and smelling fresh. But life is busy, so make it a habit to clean yours at least once per month. (You can make an exception to that rule if you just don't use it very often. Conversely, if you are a heavy user, you may need to do a light, daily clean.)
Keep in mind that if your favorite sauce does explode from overheating, you should not wait to clean it. Monthly cleanings also will help eliminate strong smells, make it pleasant for you and others to use it without fainting, and most importantly, maintaining a clean microwave keeps bacteria from building up.
Pro tip: An easy way to avoid exploding sauces is to cover those types of dishes with a microwave-safe plate or lid. You can also avoid splatters by simply placing a napkin securely around a sauce bowl.
Two Additional, Natural Microwave Cleaners to Try
The two other effective, natural methods for cleaning microwave ovens use either lemons or baking soda. However, while white vinegar is typically a staple household item, you may not have the key ingredient in the house for making either of these two microwave cleaners. Of course, if you have lemons or baking soda handy instead of vinegar, you can't go wrong.
The steps are similar to cleaning with a vinegar solution:
Using lemons, squeeze juice from one half into a bowl of water, place the other half in the bowl, and heat for 5 minutes.
Using baking soda, stir two tablespoons of baking soda into a bowl of water, until dissolved, and heat for 5 minutes.
Then, simply clean inside the microwave with a sponge or clean cloth.
Quick tip: Lemon and water is not only an effective cleaner but lemons are also the best way to rid your microwave of unpleasant odors. Often, when the microwave gets smelly, the lemon treatment is all you'll need to do to eliminate them.
Learn about other natural DIY household cleaners that can help you stay safe when cleaning your home.
Protect Your Built-In Microwave Oven
When a kitchen appliance you rely on breaks down unexpectedly, it is often a life-interrupting inconvenience. And finding a contractor to fix it is no easy task either. You can rest easy, though, with a First American home warranty. When you have a home warranty, your covered appliances can be repaired or replaced, including a built-in microwave, dishwasher, oven, and more. Our plans can also cover home systems such as heating, plumbing, and electrical. Find out what our home warranty can protect, or get a quick, personalized quote in minutes.