Whether you've invested in luxurious upholstered furniture or you inherited a hand-me-down in need of refreshing, the trick to keeping your upholstery looking bright and new year-round is regular cleaning. Fortunately, you don't need to hire a pro to clean upholstery. Instead, you can tackle this project yourself in less than a day—using simple items you likely already have at home.
Get Out Your Vacuum
If you ask most experts how to clean upholstery, they'll probably agree that the first step involved in cleaning upholstery is thorough vacuuming. Now's the time to whip out all of your fancy vacuum attachments and get busy.
Quick tip: If your furniture is especially dirty or dusty, give it a light scrubbing before vacuuming, using a clean dry brush with natural bristles. This helps loosen stains and bring dust and dirt to the surface.
Use your widest vacuum attachment for broad surfaces like the sides and backs of your upholstered furniture and the narrow nozzle for wedging your way into cracks and crevices. Remove the cushions and vacuum them separately. Dirt and debris can find their way just about anywhere, so when it comes to cleaning upholstery, take your time and be as thorough as possible.
Finally, vacuum underneath the furniture; if possible, move it away from its regular location and clean the flooring where it usually sits. Vacuum the underside of the furniture, too, to remove cobwebs and other rubbish that may be lurking.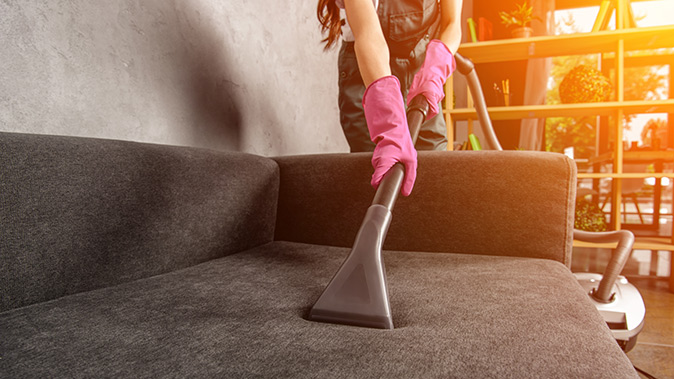 Read the Label
Once your upholstery has been vacuumed, you're ready for the next step: stain removal. If you type "How to clean upholstered furniture" into your web browser, you'll see many different methods for cleaning upholstery and removing stains—and an equally broad assortment of cleaners and homemade solutions. What's the best way to decide which remedies truly work best to clean upholstery?
The answer can be found by taking a cue from your furniture itself. Each piece of upholstered furniture comes with a care tag, or label, usually affixed to the bottom, although sometimes you'll find it on a cushion. This little docket tells you what type of cleaner is recommended by the manufacturer for the particular fabric used on your piece. Specifically, it indicates whether you can use a water-based or solvent-based (water-free) solution, both, or neither, according to the following code:
W = water-based cleaners
S = solvent-based (water-free) cleaners
W-S = water-based or solvent-based cleaners
X = avoid all cleaners and only vacuum or brush (or have professionally cleaned)
Quick tip: If you cannot locate a care tag or label (often the case on vintage pieces, where they have been torn off or ripped away from years of wear and tear), play it safe by performing two spot tests in an unseen area of your furniture. Test a water-based and solvent-based solution and check for fabric damage, color loss, and shrinking.
Mix It Up
If your care tag or label indicates a "W," you can safely use dishwashing liquid as your cleaning base. Combine one part dishwashing liquid with four parts warm water, and pour the mixture into a spray bottle for easy application. You can also add in a bit of white vinegar to enhance the cleaning power. Another popular combination is a quarter cup of vinegar, three-quarters cup of water, and a half tablespoon of dishwashing liquid.
Once your cleaning solution is ready, it's important to follow a proper stain-removal technique to avoid damaging your upholstery or spreading the stain. Start by blotting the stain gently with your solution, using a lint-free microfiber cloth. Never rub, since this motion only pushes the stain deeper into the fabric and could damage the material's fibers. Carefully work from the edges of the stain inward toward the center. Continue blotting until no more moisture lifts onto your cloth.
You may need to repeat this cycle several times for the stain to completely disappear. Then blot the area with a very small amount of water to remove the cleaning solution, since any detergent left on the fabric can attract more soil. When you're finished, let it air dry.
Quick tip: When cleaning upholstery, it's important to use as little liquid as possible. If you over-saturate the fabric, you run the risk of ending up with a water ring. To remove a water ring, dampen a cloth with white vinegar and lightly blot the ring, working from the outside in. Allow the vinegar to sit for a few minutes, and blot again. Then dampen your cloth with just a bit of water and gently rinse the area until the water ring disappears.
If your care tag or label indicates an "S," a quick trip to your local hardware store should provide a wide selection of solvent-based sprays and foams. When using a solvent-based couch cleaner to clean upholstery, the same blotting technique applies as described above (unless the manufacturer specifies a different process). That is, always blot; never rub, and use as little liquid as possible to do the job. Also, because these types of cleaners generally contain harsh chemicals, be sure the room you're working in has plenty of ventilation.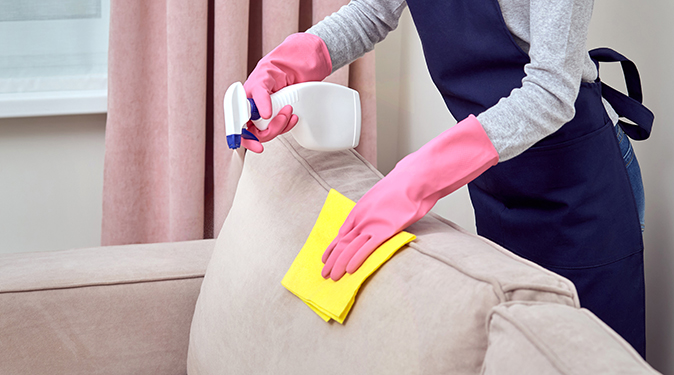 Target the Stain
For most stains, cleaning upholstery is as simple as following the guidelines above. However, for certain hard-to-remove spots, it's a good idea to consult the handy list below for more targeted solutions. For each, keep in mind that rinsing with minimal liquid is best, and for best results, always work in an inward motion toward the center of the stain or spill.
Note that if your care tag or label indicates "W," you should be safe using the concoctions below, but if yours is an "S," perform a spot test in a hidden area first.
Grease Stains
Lightly sprinkle salt over the spot, let it sit for about 15 minutes, then dab it with dishwashing liquid followed by water. Alternatively, instead of salt, use rubbing alcohol.
Coffee Stains
A simple way to clean upholstery stained by coffee is by mixing a solution of equal parts water and vinegar, along with a dash of dishwashing liquid. Blot gently to lift away the stain, then lightly rinse the area with water.
Blood
Use a bit of hydrogen peroxide when you need to clean upholstery soiled by blood. After applying and blotting, rinse the area gently with water.
Wine Stains
Lightly sprinkle salt over red wine stains. Blot with hydrogen peroxide, then rinse with water.
Solid Stains
To clean upholstery stains that have dried to a solid, like a sauce, for example, use a small dry brush or toothbrush to gently loosen and remove as much residue as possible. Then blot with your preferred upholstery cleaning solution to remove any remaining spots.
Supercharged Stain Remover #1
If you need a bit more muscle, another effective way to clean upholstery is with club soda. Use a cloth to apply it to the stain, let it sit for about 15 minutes, then blot with water. You can also apply a bit of your dishwashing liquid solution for extra cleaning power.
Supercharged Stain Remover #2
Make a paste of equal parts baking soda and water, dab it on the stain, and let it sit for about 20 minutes. Once the mixture has fully absorbed the stain, gently vacuum it up.
Quick tip: You'll have better luck removing a stain completely if you don't allow it to stay on your fabric for a long time. Instead, do your best to remove it as soon as the upholstery becomes soiled.
Don't Forget the Cushions
When it comes to cleaning upholstery, don't overlook the cushions! After all, besides the armrests, your cushions are typically the most susceptible to staining. As mentioned earlier, always vacuum your cushions—the tops, bottoms, and sides—when vacuuming the rest of your upholstered furniture.
If you see zippers around the outer edges of your cushions, that means they're removable, which makes for easy cleaning. Check your care tag or label to see if you can wash your cushion covers in your washing machine (usually on a delicate cycle) or if they should be dry cleaned. If you machine-wash them, dry them on a very low heat setting so they don't shrink, or better yet, let them air dry.
Freshen and Deodorize
Baking soda is a handy powder that works extremely well for general upholstery refreshing and deodorizing. That's because it's mildly abrasive, contains no harsh chemicals, and leaves a light aroma as it freshens.
To enjoy its deodorizing benefits, sprinkle a thin layer of baking soda over your upholstered furniture and let it sit for about 20 minutes. Then vacuum it up using your brush attachment. The baking soda will absorb odors and deodorize as it freshens, leaving a clean scent behind. Just be careful not to coat your upholstery too thickly with the powder, since that could clog your vacuum.
Protect Your Investment
Safeguarding your upholstery from future damage is easier than you might think. The best way is with an upholstery protector. The most popular ones come in easy-to-use spray bottles or cans that you can purchase at your local hardware store. The protector makes cleaning upholstery easier because it forms a barrier that keeps stains or spills surface-bound, repelling them rather than letting them sink into the fabric.
To apply it, spray a thin layer thoroughly over your upholstered furniture and allow it to air dry according to the manufacturer's instructions. Remember to spray cushions, the sides, and the back of the furniture piece. Once you've applied a protector, you can often get away with cleaning upholstery simply by dry-blotting a stain gently with a clean cloth until it disappears.
Even with a protector, however, it's still advisable to vacuum your upholstered furniture on a monthly basis to remove dust, pet hair, and miscellaneous particles. If you have pets that shed hair, weekly vacuuming may be more beneficial.
Consider Home Warranty Protection
Although a home warranty won't protect your upholstered furniture from everyday stains and spills, it does offer valuable budget protection when many other common household items you use every day suddenly break down or stop working properly. Learn more about our home warranty coverage for appliances and home systems, or get a home warranty quote today.