If you type "unclog sink" into your web browser, you'll see a variety of suggestions that pop up. But many involve harsh chemicals and some even require power tools! Fortunately, when you're trying to figure out how to unclog a sink, there are several easy, environmentally safe solutions. And that's important because a clogged sink is not only frustrating but also potentially dangerous—an obstructed pipe could leak, which could lead to water damage and even a burst pipe.
Clearing a Clogged Kitchen Drain
Kitchen sink clogged? Chances are your clogged sink drain was caused by grease or food particles, or a combination of both. Below are several steps to try when you're faced with a sink full of water and wondering how to fix a clogged sink.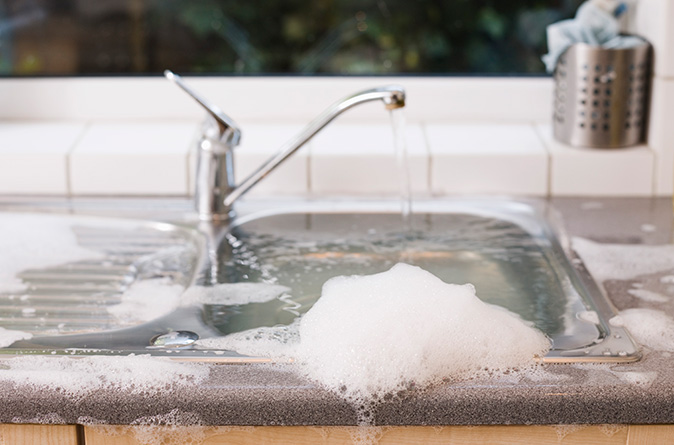 1. Check Your Garbage Disposal
If your clogged sink is attached to a garbage disposal, then your first step is to check that the disposal itself isn't to blame. Turn on your sink faucet, and then turn on your disposal; if the clog is in the disposal, simply running it with the water will break up any obstruction and send it on its way. If your garbage disposal doesn't run when you turn it on, try this: Turn your disposal off, then press the red reset button located at the side or bottom of the disposal, under the sink. Then turn on the water and turn the disposal back on. If your clogged sink doesn't clear, go to Step 2 below.
Quick tip: If your reset button doesn't stay in, wait 10 minutes and try again. If it still doesn't work, your disposal may be broken and require service. And it goes without saying, NEVER put your hand inside your disposal, even if it's off. If you need to poke around in there for some reason, use long sturdy tongs.
2. Boil Some Water
When you're trying to figure out how to unclog a sink, and you've already determined that your clogged sink isn't caused by a faulty disposal, pouring boiling water down your drain is a useful trick.
Hot tip: If your drain is attached to PVC pipes, which are made of plastics, do not try this method, because the boiling water could soften, and even melt, the PVC material.
Make sure the water in your sink has drained, and then slowly pour at least two quarts of boiling water (not hot tap water) directly into the drain. The boiling water will help break up and dissolve any grease and grime that may be causing the obstruction. After you've finished, run some tap water to see if the drain has cleared. If not, try the process again.
3. Whip Up a Natural Soda Splash
Another way to remedy a clogged sink is by mixing up a baking soda–white vinegar mixture. This is a good alternative to chemical products that you pour down a drain to dissolve debris. Added bonus: Baking soda eliminates drain odors, leaving your sink with a fresh, clean scent.
Start by pouring one cup of baking soda down your clogged sink drain, and follow that with a cup of white vinegar. Place a rubber stopper over the sink drain hole and wait about 15–20 minutes for the mixture to do its work. Then remove the stopper and run hot tap water down the drain to (hopefully) clear your clogged sink.
4. Take the Plung-er
When you're trying to figure out how to fix a clogged sink, a plunger is a handy tool to have at the ready. Plungers work through a combination of pressure and suction. When a plunger is sealed over a clogged sink drain and you apply pressure in an up-and-down movement, the water trapped in the plunger creates a force to dislodge the clog.
Like most household tools, plungers come in different flavors. A standard cup plunger is best for a flat clogged sink. A toilet plunger, typically called a flange plunger, has a soft rubber cup within the outer cup. The soft inner cup can neatly cover a toilet drain opening, making it ideal for applications with smaller openings that are angled.
Make sure there is some standing water in your clogged sink to create the force you need to loosen the clog. Place the plunger over the clogged sink drain, and then move the handle in firm, steady up/down motions, taking care to maintain a good seal over the sink drain with the plunger cup.
Quick tip: If you have a double kitchen sink, seal the second drain with a stopper or wet cloth before using the plunger on your clogged sink drain. Otherwise, your plunger will simply send the water into the second sink instead of into the clog and down the drain pipe.
Clearing a Clogged Bathroom Drain
Your bathroom sink can easily become clogged with hair, bits of tissue, residue from soap, and personal care products like shaving cream and lotions. These are the most common culprits to blame for a clogged sink in your bathroom.
Bathroom sinks typically have pop-up stoppers, so when you're grappling with how to unclog a sink drain in your bathroom, your first step is removing the stopper to access the drain. This may seem obvious, but it's necessary for another reason: often, the debris that's causing the clogged sink is clinging to the stopper itself, so removing and cleaning it can instantly solve the problem. But if your stopper is clean, try some of the methods outlined above. Alternatively, you can try one of these: a drain snake.
A drain snake is a thin, flexible, and long (about 20") plastic strip with small teeth or barbs running down the length of both sides. It's inexpensive and available at most home improvement stores—and it works wonders on clogged sinks and tubs. Just insert one into your drain and gently wiggle it around in small up/down motions, twisting and turning it slightly. When you pull it out of the drain, clumps of hair and debris will likely come out with it. Not a pleasant sight, but the beauty of drain snakes lies in their effectiveness.
Unclogging a Shower or Tub Drain
Faced with standing water in your shower or tub? The culprit is usually a combination of dirt, bits of soap, grease, and hair. But some reliable non-chemical remedies are available to help keep them free of debris.
Most of these methods work in any type of clogged drain, and have been explained above. For example, try pouring boiling water down your shower or bathtub drain. This technique works best when the clog is dirt and grease, not hair. You can also try the baking soda and vinegar solution. Be sure to pour some hot water down your drain after you've finished this process to wash away any remaining residue.
To remove clumps of hair, a drain snake is still your best weapon. Simply insert it down your shower or bathtub drain as you would do in your bathroom sink, and agitate it slightly. This should do the trick, but if not, you may need to call in a plumber. The clog could be located too deep in your drain pipes for you to access and clear it, and may therefore require professional tools and equipment.
Keeping Drains Clog-Free
Clearing a clogged sink drain is a messy job, but fortunately, there are measures you can take to prevent a clogged sink from occurring in the first place.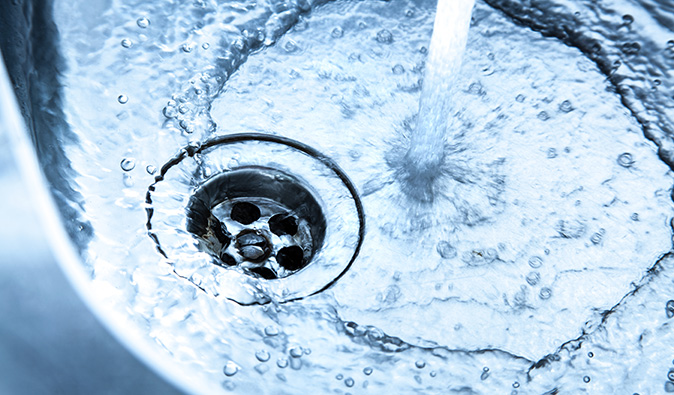 For Kitchen Sinks
The key to avoiding a clogged sink in your kitchen is taking good care of your disposal, and that means:
Not putting large amounts of food waste down your drain all at once. Food scraps from plates are fine, but overloading your disposal is hard on the motor.
Never pour fats, oils, or grease down your drain. They become solid when cooled and can create an obstruction in your pipes. Instead, store a few empty cans under your kitchen sink and use them to collect the leftover waste.
Not treating your disposal as a garbage can. Gummy pasta, rice, and potatoes can turn into mush, and fibrous items like corn husks, artichokes, rhubarb, and celery are also no-no's. Non-food items also don't belong in your garbage disposal.
Always running the sink faucet water into your disposal when you turn it on, and then letting it run for about 15 seconds after you turn it off. This helps force food particles through the pipes and keep them clean of debris.
To keep your disposal running smoothly and smelling fresh, try these routine maintenance tips:
About once a month, drop some specialty ice cubes down your disposal. To make them, combine one part vinegar and one part water, and then pour the liquid into an ice cube form. The ground ice mixed with the vinegar's acidity helps scrape away buildup inside the disposal and the pipes.
Run a few sliced lemons through your disposal every so often to replace stale disposal odors with a lightly lemony aroma.
Generously sprinkle baking soda down your drain and let it sit overnight. In the morning, pour some vinegar into the drain and let the mixture bubble to create a cleaning agent that will gently scrub the insides of your disposal.
For Bathroom Sinks, Tubs, and Showers
Although preventing a clogged sink drain in your bathroom is a bit easier than in your kitchen because you don't need to worry about a garbage disposal, there are some important tips worth following:
Always place a hair filter over each of your shower and bathtub drains. They're an inexpensive way to keep hair out of the drain and are available at your local drugstore or home improvement store. You'll find numerous types that will fit different tub and shower drains.
If you don't want a clogged sink, don't use your sink as a makeshift garbage can. Avoid scooping tissue and rubbish into your sink and washing everything down the drain to get rid of it.
Pour boiling water into your drains every so often to help break down soap scum and debris and send them on their way. Remember, If your drain is attached to PVC pipes, which are made of plastics, do not try this method.
As you can see, learning how to unclog a sink requires knowing a few different methods. And sometimes, you may find it necessary to call in a plumber. Fortunately, if you have a First American home warranty, you can make a service request for plumbing problems like a clogged sink—which makes quick, convenient help as simple as a phone call or online request. Want to learn more about our home warranty plans? Get a quote today.
---
The contents of this article are provided for general guidance only. First American Home Warranty does not assume any responsibility for losses or damages as a result of using this information.