Have you purchased a home recently only to discover the house has low water pressure? Maybe you've owned your home for some time and have noticed the pressure is not what it used to be. This guide covers:
Reasons for low water pressure
Using a water pressure gauge
How to increase water pressure
Why maintaining steady pressure is important
Reasons for Low Water Pressure in Houses
You might be surprised to learn some of the reasons why your home has low pressure: For example, gravity can play a role. If your home is set in a high-elevation region, it takes more power to pump the water up to you. Another reason can be if your home is further away from the water supply. Maybe your block is at the end of the supply line? The distance water has to travel to reach your home can also cause low water pressure.
Other common causes of low water pressure in houses often can be traced to a lack of regular maintenance on pipes and fixtures. If you are experiencing low pressure in a single faucet, it may be related to one of the following causes, which a little maintenance may resolve:
Clogged aerator. A buildup of debris in a faucet aerator screen can lead to decreased water flow. The good news is, cleaning it is an easy DIY fix. You'll need a pair of pliers, a small brush, and vinegar solution. Turn off the water at the sink valve, then remove the aerator screen using the pliers. Next, soak the screen in vinegar and water to loosen up the debris. Finally, simply scrub off any remnants, rinse, and reattach the aerator to the faucet's opening.
Clogged pipes. Water pressure can be affected by a clog in a supply pipe. Clearing a blockage allows more water to pass through the pipe, which improves pressure. You may be able to use a snake or auger to reach deep into a line to clear it. Stubborn clogs, however, may require the help of a plumber.
Clogged showerhead. Mineral deposits and other gunk can also build up inside a showerhead, causing a low water flow. Remove the showerhead and soak it in a vinegar solution overnight, then rinse it thoroughly, and reattach.
Leaky pipes. When you have a leak, low pressure can result due to the water being unable to flow fully to, for example, a faucet or showerhead when you turn one on. If you suspect a leak, contact a plumber, who can use leak detection equipment to find the source.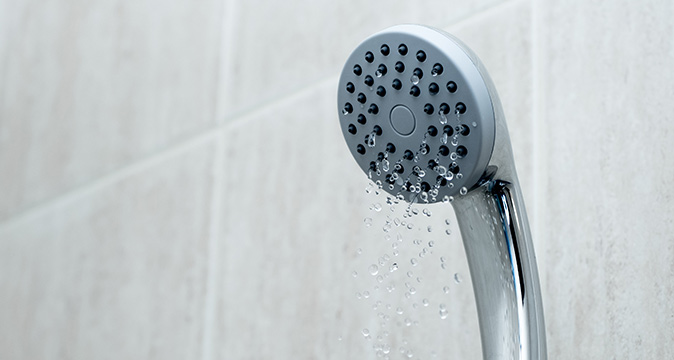 Of course, if you are experiencing low pressure that affects your whole home, the issue may require more than some basic plumbing maintenance to fix. In that case, it's a good idea to contact your plumber to discuss this issue; conversely, if you are confident in your DIY plumbing skills, here is a device your plumber may inspect as a first step to resolve your pressure issue:
Broken water pressure regulator or water pressure reducing valve. These two device names are often used interchangeably, but technically, while both are used to control water coming into a home and can be similarly shaped, they work slightly differently.
Not all homes have one of these devices, but as their names imply, if your home has one (typically, it is located near the main water shutoff valve), its job is to regulate the pressure so it stays within the proper range (45-80 PSI). Both low and high water pressure can be caused by a faulty water pressure regulator—when the regulator (or reducing valve) fails, have your plumber replace it.
How to Know When Your Home Has Low Water Pressure
Water trickling out of a faucet, tub spout, or showerhead, instead of flowing freely, can be a sign of low water pressure, but it's not the only one. Let's look at other classic signs next. If the answer to any of these questions is, "Yes," it can also be a clue that there's an issue with your home's pressure:
Running more than one fixture in a bathroom: When someone is in the shower and you use the sink faucet at the same time, is there a drop in pressure from one or both fixtures?
Using the dishwasher or washing machine: When you use either of these appliances, are your dishes or clothes not getting as clean as they used to? Or, are the cleaning cycles taking longer than usual?
Running water from all home fixtures: While slow water flow from one faucet or showerhead could signal a clog, is water flow slow out of all of your home's fixtures?
Leaking somewhere in the plumbing system: While you may not be able to detect a leaking pipe behind a wall, for example, has your water bill been higher than usual?
If you answered, "Yes," to any of the above scenarios, chances are the pressure is low. The best way to confirm your suspicions is by using a handy, inexpensive tool called a water pressure gauge. If you don't have one, your local hardware store should carry this tool, and typically, it will cost under $15.
Quick tip: If you're buying a new water pressure gauge, you may notice that some testers have a single black hand on the indicator, and others have two hands (one red, one black). It's the black hand that's important for your purposes, as it is the one that tells you what the water pressure is at the time you test it.
(Note: the red hand on the gauge records pressure over an extended test period. For example, if you leave the water running into the gauge for a half hour, the red hand provides pressure performance over that time.)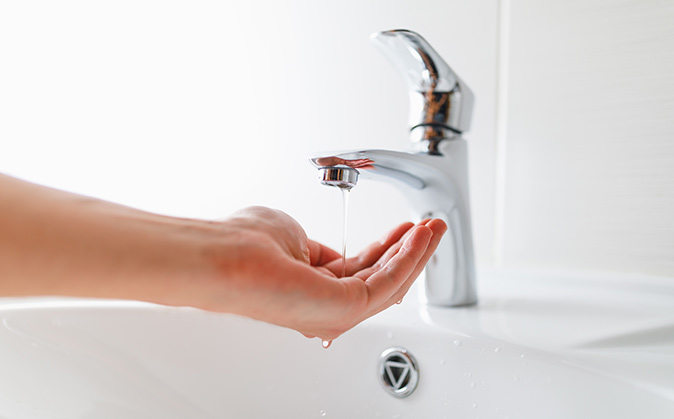 What Should Your Home's Water Pressure Be?
If you are experiencing low water pressure, you may be wondering, what is good water pressure for a house? The answer is, the pressure generally can range anywhere between 45 and 80 pounds per square inch (PSI). Plumbers generally agree that a residential PSI below 40 is considered low, whereas a PSI above 80 is high.
How to Test Pressure Using a Water Pressure Gauge
A water pressure gauge is a simple tool, with an indicator gauge that is attached to a hose connection and washer. It's easy to use and you don't need any other tools to use it.
Here's how to use this gauge to test the pressure: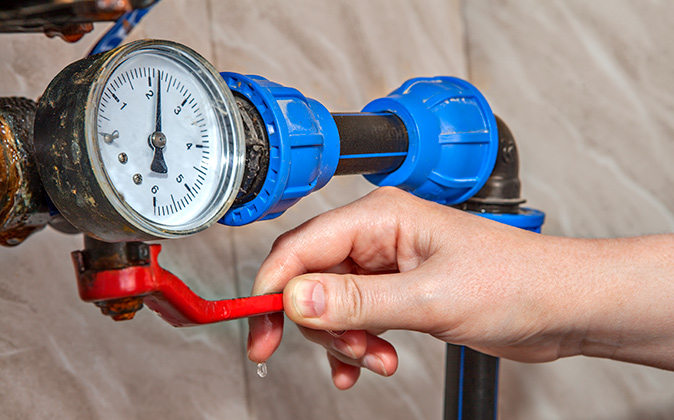 Turn off the water to your whole home. You don't want anyone (or anything: dishwasher, washing machine) using the water when you are testing or you won't get an accurate reading. (If unsure, here's how to turn off the water at your house.)
Attach the hose connection coupling to an outside spigot. Be sure to tighten it well so water can't leak out.
Use the dial to set the hand(s) on the gauge to zero. You may need to remove the cover to access the dial/hands.
Turn on the water fully at the spigot and read the gauge. Record the PSI reading; if the coupling leaked some water, you may want to tighten it at the spigot and test again.
What the Water Pressure Gauge Test Tells You
As mentioned, if the water pressure gauge displays a number less than 40 PSI, your home has low water pressure. If the gauge reads 30 PSI or lower, you should take steps to increase water pressure to improve the flow from faucets and so on. Keep in mind as you are reading the gauge that most local building codes require a minimum pressure of 20 PSI for homes.
Pro tip: If you have an older home, you also likely have older pipes, so it's a good idea to test the water supply pressure regularly. Older pipes can corrode, leading to pressure problems over time.
3 Steps to Take to Help Increase Water Pressure
If your test reveals low water pressure, your next step is to check the shutoff valves in your home. For example, if you have noticed low pressure out of either the kitchen or a bathroom faucet, check that the valve under the sink is fully open. If it is, check that the main water shutoff valve is fully open. Often, if one of these valves is not open all the way, opening it may improve your home's water pressure.
However, if all water valves are fully open, these next three steps may help you increase water pressure.
1. Contact Your Local Water Department
Before trying steps 2 and 3 below, you should contact your town's water department and ask if it has a specialist who provides pressure testing service on the main water line coming into your property from the street. Many municipalities will offer this service at no charge. If your town or county water department does not offer this service, proceed to the next two steps.
2. Adjust the Water Pressure-Reducing Valve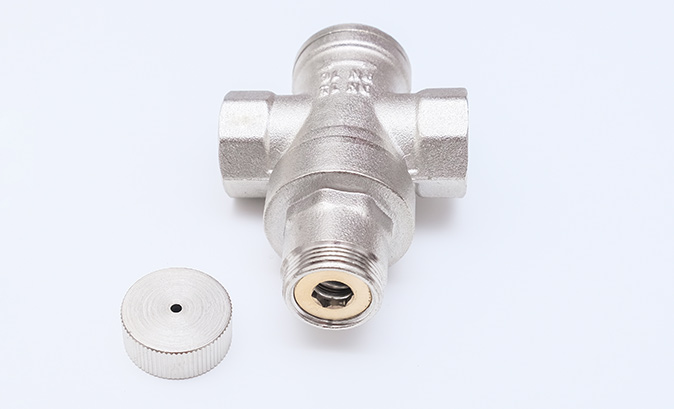 Starting in the 1980s, new home construction included the installation of a water pressure-reducing valve. (As noted earlier, this type of valve is designed to automatically reduce water pressure coming into a home from your town water supply via a water main pipe.)
If you're not sure whether your home has a water pressure-reducing valve, search online for images and then head to the area in your basement or garage where the main water pipe enters your house and look for a bell-shaped valve next to or near the water meter.
You can increase water pressure by adjusting this valve. Here is a helpful video on how to adjust it, but keep in mind, you want to make only incremental adjustments so the pressure doesn't become too high, or too low. Use your water pressure gauge to test each adjustment you make. And remember, the ideal water pressure should be about 50 PSI.
Pro tip: If you suspect the water pressure reducing valve (or water pressure regulator) may be old or failing, contact your plumber to have it inspected. This is especially important if you bought your home recently and you're unsure of the age of the valve—it could be original equipment and therefore should be replaced.
3. Install a Water Pressure Booster
Often, low water pressure may be due to a lack of enough power to propel the water supply into your home. In this case, a water pressure booster pump may be the answer.
A water pressure booster pump is a powerful and compact electric pump that is cut into the water supply line to turbo-charge the incoming water pressure and raise it to an ideal level.
You may want to hire a licensed plumber to install this type of pump, or if you're confident in your DIY plumbing skills, many resources online can help walk you through installation. You should check with your local building department about any permits you may need.
Even if you plan to do the installation, you may want to ask your plumber to recommend the best water pressure booster based on your home and pressure needs. They can range in price from $600 to more than $1,300, based on the amount of pressure a specific booster pump can provide. When shopping for one, use your home's current PSI (the measurement you got from your water pressure gauge test) as a guide to help you select a pump with the correct booster capacity for your needs.
Having good water pressure in your home is not only preferable, but it can also help prevent unnecessary wear and tear on your plumbing system. When you suspect low water pressure in your home and have tried the steps outlined here with no positive results, your next step should be to call your plumber for further assistance.
First American Covers Plumbing Systems and More
Testing your home's water pressure regularly is one of many helpful maintenance tips that can keep your plumbing system running well. You can also help protect it—along with your other home systems and household appliances—with a First American home warranty. Learn about what our home warranty plans can cover.
If you recently bought a home, you can add a real estate home warranty up to 60 days after your closing. Contact your real estate agent or get a home buyer's warranty quote.
If you already own a home, get a personalized quote on our home warranty plans for homeowners.