When you have found a home you love, it's time to make an offer. Ideally, your offer will make the both you and the happy and everything will go smoothly.
As the buyer, you need to know how to make the best possible offer on the home. Price isn't your only concern. Your agent should advise you of all of your options while preparing your offer. The terms included in your offer can represent thousands of dollars in additional value (or additional costs) to you. These terms are important and you should carefully review them. Here are some other important items to consider when you make an offer to buy a home:
How Much Should You Offer?
The amount you offer depends on the basic laws of supply and demand: If inventory is low and multiple buyers are competing for a home, sellers will likely get full-price offers and a house may sell for more than the asking price. If demand is low, an offer for less than the asking price might be a savvy strategy. If you are considering a low-ball offer, ask your agent to substantiate the price for you.
The process of making an offer varies state to state, but typically you'll complete an offer sheet that your REALTOR will present to the owner and the owner's representative. When you make an offer you are telling the seller not just what you're willing to pay, but how you're going to do it. Your offer should also include an expiration date and provide you with an escape route if you find out something about the house that the seller won't fix. Without that, you may find yourself handcuffed to the purchase no matter what you discover.
Negotiate and Write Counteroffers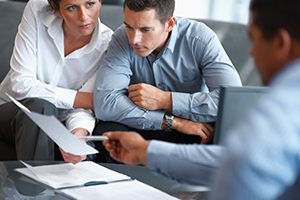 Because counteroffers are common, expect the seller to issue one (any change in an offer is considered a counteroffer). It's important for you to remain in close contact with your REALTOR during the negotiation process so that you can quickly review any proposed changes.
During offer negotiation, share personal information about yourself and your family to give the seller a reason to care about you. At some point the seller will accept or reject the offer. If your offer is rejected, ask your agent to explain why and don't repeat that mistake with your next offer.
Make an Earnest Money Deposit
The seller will want to know that you have the financing in order. A pre-approval letter, which is often required by sellers, can help give the seller confidence to accept your offer. It shows you're working with a lender and that the lender is willing to loan you the money needed to finance the home.
When your offer is accepted, you'll likely be asked to deposit an "earnest money" check or money order. The check will be placed into an escrow account and used as part of your down payment. Earnest money is essentially a deposit and shows the seller that you are serious. Your agent should help advise you about the customary amount for the market. Earnest money is the deposit you are putting at risk if you back out for reasons not outlined in your offer. Never make your check payable to the seller. And your offer should contain contingencies that will return your earnest money deposit to you if you cancel the contract. Now that your offer has been accepted and monies have been deposited, your next steps on the journey to homeownership will include:
Open Escrow / Order Title
Order Appraisal
Comply With Lender Requirements
Approve Seller Disclosures
Order Homeowner's Insurance Policy
Conduct Home Inspection
Issue Request for Repair
Remove Contingencies
Do Final Walk Through
Sign Loan / Escrow Documents
Deposit Funds
Close Escrow
Buying a home can be quite an arduous journey but it also can be exciting and well worth it when you own the home you love.