Whether you apply it inside or outside, when you add new caulk to kitchen sinks and bathroom tubs, or around windows and siding, you give the job that final touch and bring the perfect ending to the project. But caulk eventually needs to be replaced, especially in well-used areas. Caulk is an effective sealant and learning how to remove caulk and reapply it is a good skill to know to prevent costly water damage to your home. Even when you recaulk a small area it can help refresh your bathroom. So, when you start seeing signs of caulk cracking, pulling away, or growing mold and mildew, it's time to remove it and replace it.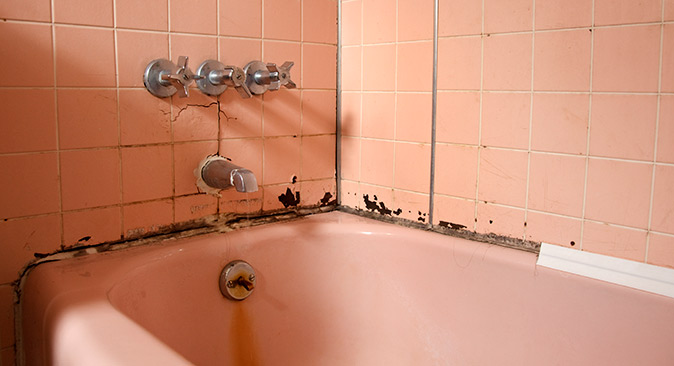 Aren't sure how to remove old caulk or how to apply it correctly? No sweat! You just need a bit of energy and patience, and the following guide, where we share key tools and techniques for removing caulk and applying a new caulk line.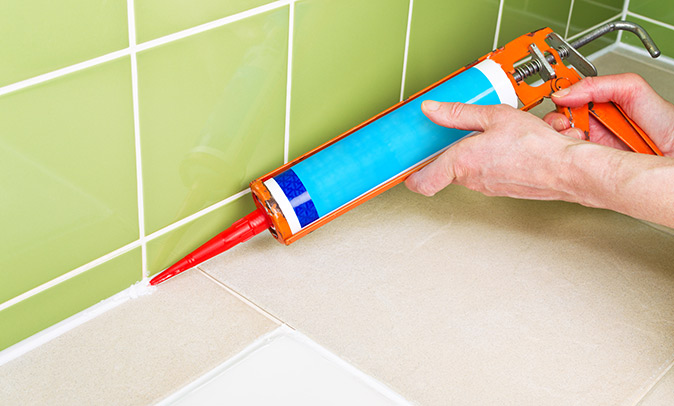 There are a couple of rules to follow when you are ready to recaulk an area of your bathroom.
Caulk needs time to dry and cure, normally 24 hours. If your home only has one kitchen sink or one bathtub, consider how this project could affect your routine and usage of those areas.
All the old caulk needs to be fully removed before any new caulk can be applied. If you've ever tried to get rid of the old caulk, you know the process can be time-consuming and difficult, especially when the old caulk is stubborn to remove. The work is worth it because your new caulk will bond more easily to the surface and look great.
How to Remove Old Caulk
Tools
Gloves
Flexible putty knife or scraper
Utility knife
Caulk remover
Bleach and water
Small bucket
Sponge
No-scratch plastic scouring pad
Removing caulk begins with using a flexible putty knife to detach already loose caulk. If you can loosen an edge, usually you can pull the caulk off in strips, like pulling the tape off when painting. Judiciously work the putty knife to avoid scratching or marring tub or sink surfaces.
Next, you want to break the caulk's bond from the surface. Carefully use a utility knife to score one edge of the remaining caulk. If the old caulk isn't too hard, continue to remove what you can until the caulk is completely lifted from the surface.
Pro tip: Caulk removers help soften caulk to ease the removal of nearly all types of caulks, including silicone, polyurethane, and acrylic latex. After soaking the caulk with remover per manufacturer directions, scrape away the softened caulk with a putty or utility knife.
Even after removing the caulk, there still might be some surface residue left, like soap scum. Make sure any residue is completely removed using a no-scratch plastic scouring pad.
Speaking of residue, if any mold or mildew is visible after removing the caulk, you will want to kill it with a bleach and water solution. Use 1/3 cup bleach to 1 gallon of water and scrub with a soft-bristled brush, making sure to focus on the void left by the old caulk. When cleaning with bleach, always wear rubber gloves and open a window for ventilation.
You also can use a special mold and mildew killer spray from your local hardware store. These sprays often require you to soak the moldy area with the formula and then wipe with a rag. Regardless of which you choose, completely rinse the area, and let it dry thoroughly before applying the new caulk.
Reapplying New Caulk
Tools:
Caulk gun
Caulk smoothing tool or spoon
Sea sponge or damp rag
Painter's tape (if necessary)
Before applying your first bead of caulk, it is important to know which caulk to use. In bathrooms, caulk is used to seal around sinks, showers, tubs, backsplashes, and fixtures. The caulk you choose needs to have strong adhesion to both porous and nonporous surfaces such as tile, ceramic, and natural stone to prevent cracking or loss of adhesion. Look for a mold and mildew resistance caulk to give you maximum protection and long-lasting durability.
Caulked joints are highly visible all around your bathroom. So, it's important they have clean, straight edges to keep it looking sharp. If you want the cleanest results, adhere painter's tape no more than 1/8 of an inch from the joint on each side. If you feel confident going freestyle, then skip this step.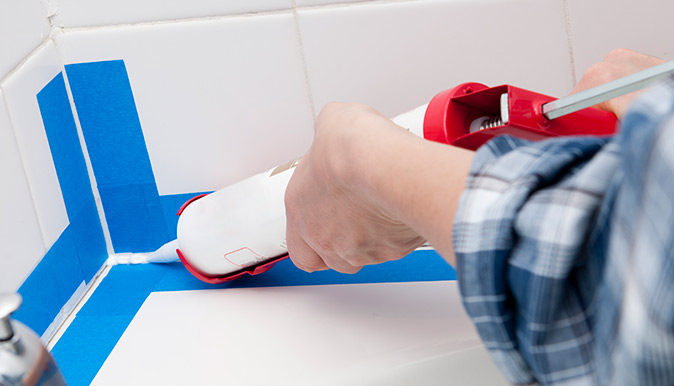 Grab your tube of mold and mildew-resistant caulk and cut the tip of the nozzle with a utility knife at a 45-degree angle. Be sure to cut a small opening as you want to match the size of the gap you're caulking. Starting small means you can cut a bigger opening if needed.
Grab your caulk gun and insert the caulk cartridge into place. Starting at one end, hold the gun at a 90-degree angle to the joint and move the gun steadily to the other end. When you have a longer run to fill and it's difficult to complete it in one shot, it's best to break the job in two long runs. Stop at some point in the middle of the first run, then start at the other end and meet where you initially stopped the first caulk run.
Pro tip: When you use a dripless, smooth-rod-style caulk gun it can help stop the flow of the caulk instantly and avoids those dreaded messy drips. For those with hand and wrist issues, it also requires less hand pressure on the trigger than the older-style caulk guns.
Use a caulk smoothing tool, the back of a wet spoon, or your gloved finger to smooth the caulk immediately after you apply the caulk. Do your best to use a steady hand with long strokes but try not to apply too much pressure. For a top-notch smooth finish, use a wet sea sponge to smooth out the rest.
Then, wipe off any excess caulk on surfaces with a damp rag. If you added the painter's tape, remove it immediately after you have smoothed and cleaned the area. Continue to the other areas you need to seal in the same fashion. Once the last of your gaps are sealed, your job is complete.
First American Home Warranty Plans
As a homeowner, it's best to be prepared for the unexpected, especially home repairs. Purchasing a home warranty is a smart financial move to make as part of your financial planning.
With more than 35 years of experience, you can trust First American with your home warranty needs. We provide homeowners with peace of mind and offer plans for every home and budget. Contact us today to learn more or get a free quote.