Learning how to weatherstrip the doors in your home is an easy, inexpensive solution that can quickly pay for itself, and potentially save you up to 20% on heating and cooling costs. Best of all, almost anybody can do it! However, you need to install weatherstripping correctly to get the most out of its cost-saving benefits. Keep scrolling to find out how to weather-seal doors properly.
Choosing the Right Door Weatherstripping
Before you get started, you need to pick the best type of weatherstripping for your door. You'll want to ensure that it can handle the changes in temperature and climate, as well as the wear and tear it will go through daily.
There are a number of types of door weatherstripping. Each have their own benefits and drawbacks.
V-Strip/Seal
This type of self-stick weatherstripping is commonly made out of vinyl and is designed to go around the top and sides of a door. It's fairly easy to install, moderately durable, and virtually invisible once in place. The downside of this type of weatherstripping, however, is that it can make opening and closing doors a little more difficult.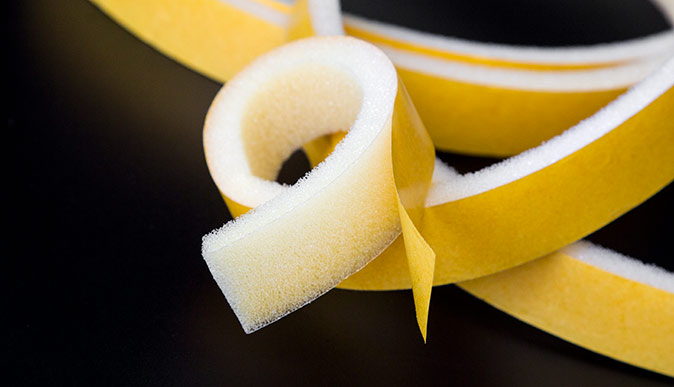 Felt
Felt weatherstripping is a great choice if you're looking for a quick fix that is affordable and easy to install. You can find felt weatherstripping in rolls of natural wools or synthetic blends. It must be stapled and tacked or glued into place. The drawbacks to this material are that is susceptible to moisture, isn't very durable, and can be noticeable.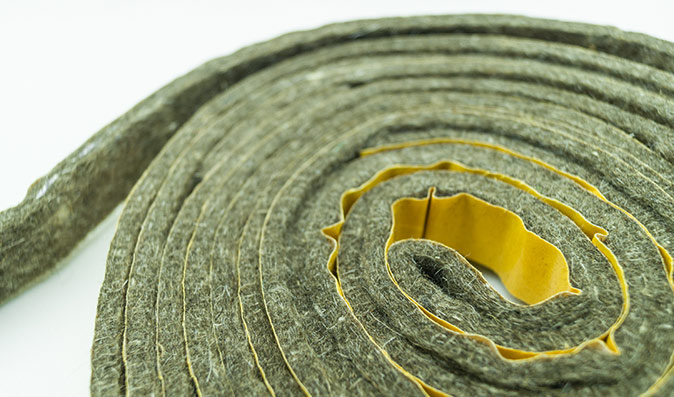 Foam or Rubber Tape
Another inexpensive option to weatherstrip doors is foam or rubber tape. Like felt, it's easy to install but it also isn't durable and can quickly break down when applied to a frequently used door. Weatherstripping tape is made from vinyl, rubber, or PVC and typically works best for doors that aren't used often.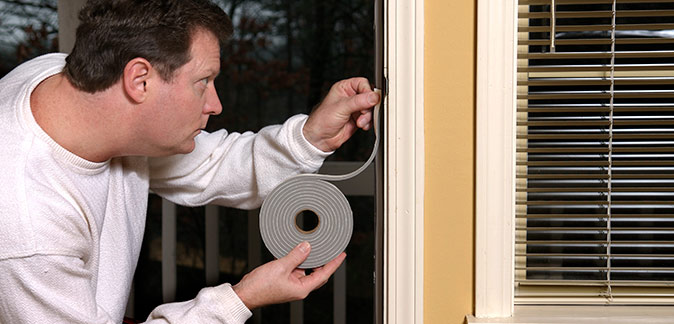 Door Sweep
A door sweeper (named for how it brushes along the ground when the door is opened or closed) is designed to keep cold air from getting in under the door. They're relatively simple to install but are best used on flat flooring surfaces, such as wood or laminate. You can find them in various styles and materials to match the design and color of your door.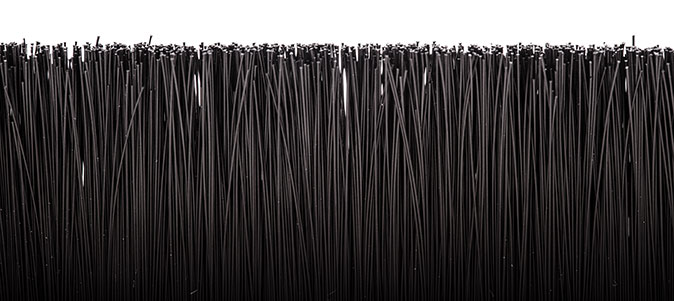 Tools You Need for Weatherstripping a Door
With a few simple tools that you probably have on hand, you can easily tackle a door weatherstrip job. The type of weatherstripping you choose will determine the exact tools you need, so before you head off to the hardware store, check that you have the following:
Tape Measure
Utility Knife
Screwdriver
Hammer
Tin Snips/Side Cutters/Hand Saw
How to Weatherstrip a Door
Door drafts not only can make your home uncomfortable, but they also make your heating or cooling system work harder (and use more energy) to maintain a steady temperature. Learning how to weatherstrip a door can go a long way toward improving your home's energy efficiency. Here's how to go about weatherstripping a door the right way:
Step 1: Clean the door and check the hinges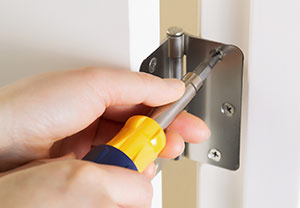 To begin, scrub the door frame and the sill (the bottom part of the door frame) as thoroughly as possible with soapy water, cleaning off as much dirt and grime as you can.
Make sure the door hinges are snug before you begin. Gently raise up the door using the handle. If there is any play (that is, the door moves upward), tighten the screws on the top hinge. Then double-check that the screws on the bottom hinge are tight. This helps ensure that the door is securely fastened, allowing the freshly installed weatherstripping to fill the gaps as evenly and effectively as possible.
Step 2: Measure the door frame
Before buying door weatherstripping, make sure you carefully measure the door frame to ensure that you purchase enough material. For tape and v-strip seal weatherstripping you will want enough material to cover the sides and top of the door frame, plus an additional 10%. If you are also installing a door sweep or shoe, measure the bottom width of the door.
Step 3: Cut the weatherstripping
For the sides and top of the door, carefully measure and cut your weatherstripping.
Hold each of your pieces up to the doorframe to ensure you've trimmed the lengths correctly before you start permanently applying the new weatherstripping. It's OK if they're a little too long; you can cut the extra when the stripping is installed.
However, if any of your strips are too short, double-check your dimensions and cut a new strip.
Step 4: Attach the weatherstripping to the door frame
If the product has an adhesive back, take it off and push it into place around the door frame perimeter, not the door itself. Even if your weatherstripping is adhesive, you may want to use heavy-duty staples or tiny tacking nails to strengthen the installation. Both will help keep the weatherstripping in place over the long term.
Step 5: Install the door sweep
Install a door sweep on bottom of the door to finish the work. Pre-tap a few holes to effortlessly nail or screw the door sweeper to the interior side of the door. When the door opens, the rubber or bristles lightly sweep the floor, and when the door shuts, the door sweeper creates a tight air seal.
Now that you know how to weatherstrip a door, you can go around your house and start sealing up other exterior doors.
Protect Your Home with First American
For more than 35 years, First American has helped homeowners to protect their budget and provide a simple solutions when appliances and home systems fail. A home warranty is a sensible investment that can provide you with peace of mind and help you save money when you need it most. It's easy to get a free quote to fit your home and budget.