Summertime means barbecue. When the weather is warm we love to live, play, eat, and cook outdoors. Our typical American barbecue gathering can include everything from ribs and tri-tip, to hot dogs and hamburgers. But with so many regional variations and customs from around the world, we would be remiss to ignore some of the deliciousness available to our backyard grills. Whether it's chicken on a skewer or charred steaks with chimichurri sauce, everyplace on the planet has its own take on barbecue. Here are some of our favorites:
Asado Beef – Argentina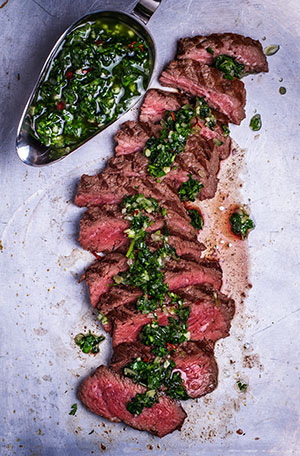 Chimichurri sauce and salt are all that's necessary if you're cooking steak Argentinian-style at home.
Ingredients
10–12 ounces per person: beef ribs or fillets, rib-eyes or sirloins
1 to 2 tablespoons kosher salt
Chimichurri Sauce
1/4 cup olive oil
1/2 cup fresh cilantro, leaves and stems
1/2 cup fresh flat-leaf parsley leaves
1/4 cup fresh oregano leaves
1 tablespoon fresh thyme leaves
2 garlic cloves, minced
2 tablespoons red wine vinegar
Directions
Prepare grill to medium-high heat. Place the beef on a platter and sprinkle both sides generously with the kosher salt. Let rest sit at room temperature while the grill heats up. Cook beef gently; continue turning the meat every few minutes for about 12 minutes total cooking time. The beef is done when its interior reaches 150°. Remove beef from heat and let it rest for 15 minutes before carving. Serve immediately with Chimichurri. Chimichurri Sauce: In food processor, pulse cilantro, parsley, oregano, thyme, and garlic until finely chopped. With motor running, slowly add olive oil and vinegar, process until combined. Season to taste with salt.
---
Yakitori Chicken - Japan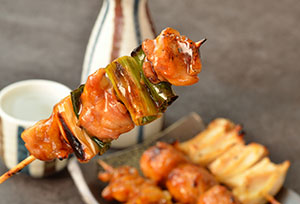 Ingredients
1 pound chicken thigh meat
½ cup dark soy sauce
1 cup cup mirin, sake, or dry sherry
¼ cup brown sugar
2 garlic cloves, peeled and smashed
1-inch piece grated fresh ginger
1 bunch scallions, cut into 1-inch lengths
Bamboo skewers, soaked in water
Directions
Cut chicken into one-inch pieces and place in a shallow dish. In a small saucepan, combine soy sauce or tamari, mirin, sake or sherry, brown sugar, garlic and ginger. Bring to a simmer and cook for about 5-7 minutes, until thickened. Reserve ¼ cup sauce for serving. Pour remaining sauce over chicken, cover, and refrigerate for at least one hour (up to 4 hours). Preheat grill to medium-high heat. Alternatively, thread the chicken and scallions onto the skewers. Grill for 7-8 minutes, turning halfway. Serve drizzled with reserved sauce.
---
Pork Satay - Asia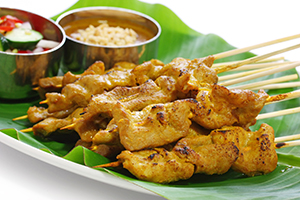 Ingredients
1 ½ lbs pork, cut in cubes
2 tablespoons peanut oil
Sesame seeds for sprinkling
Marinade
2 small fresh red chilies, or ¼ teaspoon sambal oelek, crushed
2 cloves garlic, crushed
1 tablespoon ginger, minced
¼ cup soy sauce
2 tablespoons brown sugar
2 tablespoons water
2 tablespoons peanut oil
1 teaspoon sesame oil
Satay Sauce
½ lb. fresh roasted peanuts, crushed
3 small fresh red chilies, or 1/2 teaspoon sambal oelek, crushed
1 medium onion, minced
2 cloves garlic, minced
1 teaspoon ginger, minced
½ teaspoon dried shrimp paste
1 ¾ cups coconut milk
2 teaspoons sugar
Fresh lime juice from 2 limes
Salt to taste
Directions
For the marinade, grind chilies and garlic with mortar and pestle, or add to bowl of food processor with rest of marinade ingredients. Process until blended and transfer to a medium-sized bowl. Add pork and cover with plastic wrap to marinate in refrigerator overnight. Drain pork and bring to room temperature. Set aside. For the sauce, put the put the peanuts, chilies, onion, garlic, ginger, and shrimp paste in processor or blender. Process until mixture forms a paste. Heat the coconut milk to boiling, then stir in peanut paste and sugar. Stir constantly until thickened. Stir in lime juice and salt. Set aside. Thread the pork onto the skewers. Cook over medium-hot coals for 6-8 minutes, turning frequently. Pork should be crisp and browned. Remove the pork from the heat and brush with peanut oil. Sprinkle with sesame seeds and return to barbecue for 1-2 minutes. Serve with the Satay Sauce.
---
Tandoori Chicken - India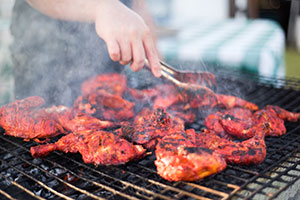 Ingredients
2 1 lbs. Whole chicken, cut into pieces
1 tablespoon red food coloring
2 tablespoons yellow food coloring
Marinade
1 onion, chopped
1 cloves garlic, minced
1-inch piece ginger, peeled and minced
½ teaspoon garam masala
½ teaspoon cumin
½ teaspoon cardamom
½ teaspoon turmeric
2 tablespoons oil
1-2 teaspoons
salt to taste
¼ cup lemon juice
1 cup plain yogurt
Directions
Prick the chicken pieces all over, making small slits in the larger pieces. Put the pieces in a large shallow dish and brush with the food coloring mixture. Combine the remaining ingredients along with the leftover food coloring in a large bowl. Mix thoroughly, then add the chicken pieces and mix together; working the marinade into the slits and coating evenly with the marinade. Cover with plastic wrap and refrigerate overnight, turning chicken occasionally. Prepare the grill and coat lightly with oil. Cook chicken on grill over medium heat for 25 – 30 minutes, basting occasionally. Serve immediately.
---
Lamb Koftas – Middle East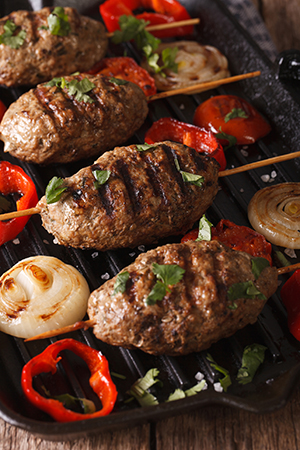 Ingredients
2 ¼ lbs lamb, minced
1 small brown onion, chopped
2 garlic cloves, crushed
1/2 teaspoon dried chilli flakes
1 tablespoon chopped fresh mint leaves
1 tablespoon chopped fresh flat-leaf parsley leaves
2 teaspoons ground cumin
1 teaspoon ground coriander
16 pre-soaked bamboo skewers
Directions
Mix together all the ingredients until well blended. Divide into 16 balls, then shape into ovals. Place on a large baking tray. Cover. Refrigerate for 20 minutes or until firm. Heat barbecue to medium-high. Thread 1 oval patty onto each skewer. Lightly oil barbecue grate. Add Koftas. Reduce heat to low and cook for 3-4 mins each side until cooked through. Don't turn until they are well sealed or the meat will stick to the grill. Transfer to a large platter and cover with foil. Rest for 5 minutes. Serve the Koftas with yogurt and spiced flat breads.