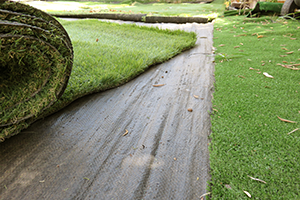 Artificial grass has come a long way since AstroTurf first hit the playing fields (and maybe your grandmother's patio). With the ongoing drought in the West, the new, improved artificial grass is becoming more and more popular for sunny, low-rainfall areas, as well as with pet owners, and people who are just tired of lawn maintenance. Today's synthetic grass is colored and textured to look like various grass types, so you can likely get a look very similar to what you could grow naturally. It is not without its drawbacks, however. Artificial grass is not cheap. Installed costs can run from $10 to $20 per square foot. Compared to natural grass, it can take up to seven to eight years to recoup the initial cost of artificial turf. It isn't easy to install either, so it might not be the best DIY project.
Best Uses for Artificial Grass
Artificial turf is a good solution if you have an area where grass simply won't grow because conditions are shady or wet. Artificial grass is a popular option with dog owners for pet runs, or if you have multiple dogs that are wearing out your natural lawn. Artificial greenery is also a great option for places like a small patio or outside space. It also works great for defined shapes within a yard where real grass edges can be tough to mow and keep weed-free.
Pros:
No need to water your lawn
No weeding or mowing
No need for fertilizers or pesticides
Looks very similar to natural grass: soft, even, and green
Does not get muddy or rutted (and keeps your house cleaner)
Cons:
Expensive
Needs to be cleaned off with water and sanitizing agents (more frequently if you have dogs)
Not easily recycled
Heats up in direct sun
Banned by some homeowners associations and municipalities

The Bottom Line
If you love the look of green grass and plan to be in your house for a while then it's worth considering an artificial lawn. For pet owners it can be a great solution, but remember it can't absorb and break down pet urine, so it will require washing (which does take water). Although it's not maintenance-free, it certainly requires less maintenance than real grass. Remember to check with your city or HOA about their rules for artificial grass.