A home maintenance log, such as the comprehensive one provided at the end of this article, acts as your home's event calendar. It can work for you in much the same way that you use your family calendar to track birthdays, doctor visits, and myriad other special dates over the course of a year. You can use a home maintenance calendar to easily log monthly and yearly tasks and add reminders about important servicing needs and upkeep for your appliances and home systems.
At-a-Glance Home Maintenance Log
What makes a family calendar so vital is its at-a-glance quality, where you can easily see what is coming up for the month. Your home maintenance log should do that too, giving you at-a-glance reminders for monthly or yearly home tasks, repairs, and updates. And using a home maintenance log helps you keep up with routine maintenance around your home, which can help prevent minor problems from turning into major repairs.
You can click to download and print our home maintenance log and start tracking the age of your home's equipment, note when to schedule important services or checkups, and record the dates when services or repairs were completed.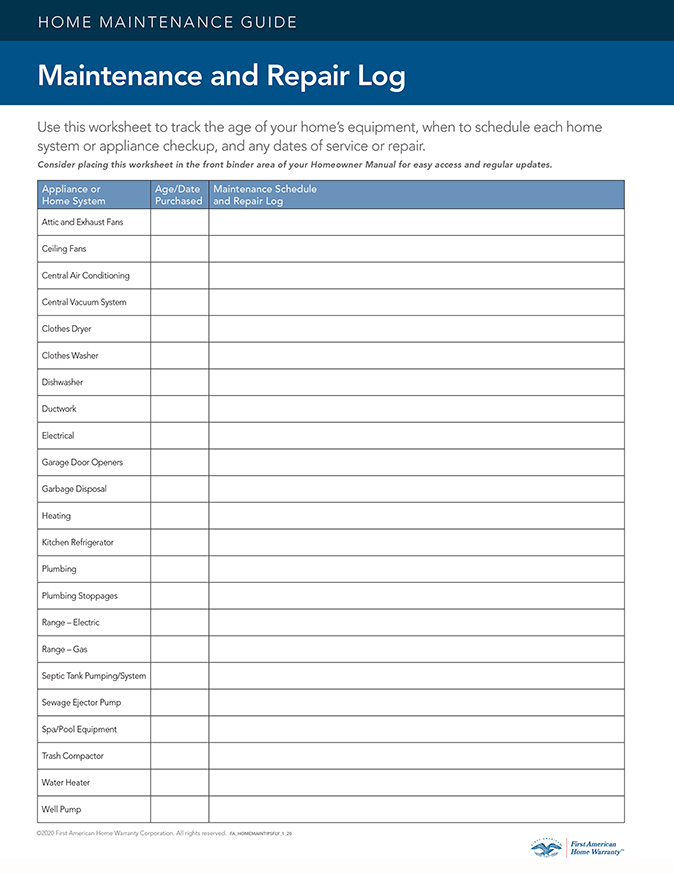 Using a maintenance log for your home's needs not only provides you with helpful reminders, it can also eliminate some of the worries that every homeowner feels when it comes to how to keep up with a house.
Pro Tip: Consider printing out this worksheet and placing it in the front binder area of your home maintenance manual for easy access and regular updates.