Autumn brings brilliant fall foliage, crisp weather, fresh apples, and the bright orange pumpkins we love to haul home. It also marks the beginning of the baking season. What better way to welcome the cooler weather than by making pies, cookies, and tarts decorated with adorable—and edible—fall leaf shapes. As the leaves start changing this season, try one of these soul-warming fall baking projects. After all, this time of year is hands down the best season for baking.
Pies and Tarts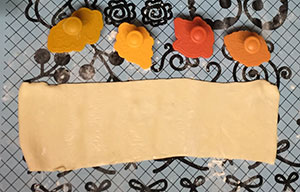 Both sweet and savory pies and tarts can be adorned with beautiful fall leaves. Embellished crusts brushed with egg yolks or painted with autumn colors will be a stunning addition to any fall table. Cut out leaf shapes from pie or puff pastry dough, bake, and use to top your favorite soup or stew.
Cookies
Cookies cut into leaf shapes can be decorated in so many different ways, from royal icing to colored sugar crystals. Or simply add the fall colors right into the dough to give it a natural coloring effect.
Chocolate and Sugar Work
Chocolate painted leaves are a beautiful way to decorate your favorite cakes and pastries. If you prefer working with clay-type substances, choose a chocolate clay, rolling fondant, marzipan, or gum paste to create your edible fall leaves. Leaves made from chocolate molds are a beautiful addition to cakes, cupcakes, and desserts.
Edible Fall Leaves Slideshow
More Fall Baking Fun