Sparklers – no other type of firework was designed specifically to be a hand-held means of playing with fire, and nothing conjures as many happy memories of summer's best holiday as the sparkler. So, in honor of this tiny, short-lived burst of flame, we have gathered some ideas we hope will spark your imagination as you celebrate this Fourth of July. From sparkling and patriotic drinks, to sparkles on red-white-and-blue strawberries, to, well…you get the idea! Happy Fourth!
---
Sparkling Berry Sangria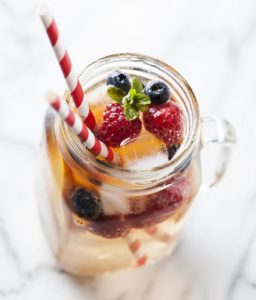 Ingredients
1 cup blueberries
1 cup raspberries
1 cup strawberries, sliced
1 cup pineapple chunks
1 cup lemon-lime soda
1 750 ml bottle white wine (typically a sweet white wine)
1 750 ml bottle champagne
Directions Combine all fruit and soda in a large pitcher. Add wine and allow to sit in the refrigerator for 3 to 4 hours. Right before serving, add champagne.
---
Patriotic Layered Punch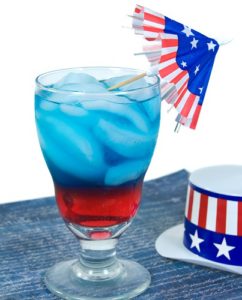 The key to layered drinks is the sugar content: The greater the difference in the sugar content, the better the layers will stay separated. The drink with the highest sugar content will stay on the bottom, and the one with the lowest sugar content will stay on the top. If you want your red drink on the bottom, think cranberry juice, pomegranate juice, red cream soda or another drink with a high sugar content. For your middle layer choose a medium-sugar drink such as Gatorade Cool Blue or Hawaiian Punch Berry Blue (for a blue layer) or homemade lemonade or coconut water (clear layer). For the top, use a no-sugar drink like diet Sprite (clear layer) or PowerAde Zero Mixed Berry (blue layer).
Directions
Fill your glass with ice – this is crucial as you need to pour onto the ice as you add each layer or the layers will mix.
Pour in your first drink. If it is carbonated, wait for the fizz to go down.
Pour the middle layer very slowly over the ice so that it doesn't mix with the bottom layer.
Pour the top layer very slowly over the ice so that it doesn't mix with the bottom layer.
Adult version: For a patriotic shot, layer grenadine, Blue Curacao, and vodka!
---
Decorating with Sparkle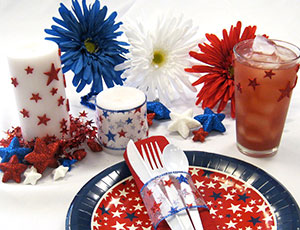 Use small star stickers to decorate glasses, pillar candles, votives, and more
Wrap festive ribbons around a pillar candles
Bandanas make great napkins. Make your own napkin rings with fancy ribbon
Make sparklers into placeholders or party favors with red, white and blue ribbon and paper tags
Make any dessert pop with sparklers and fountain candles
---
Red, White, and Blue Strawberries
There's nothing quite like ripe strawberries. This variation of chocolate-dipped strawberries is a perfect treat for your fourth of July party or other summer BBQ. They are quick and easy enough for the kids to create.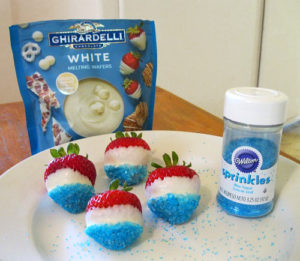 What you'll need: Strawberries White chocolate Blue sprinkles Baking sheet lined with wax or parchment paper
Directions Let your baking sheet chill in the freezer while you are preparing the white chocolate and strawberries – this will help the chocolate set and prevent it from running. Rinse strawberries and let them dry completely before you dip them. Melt white chocolate according to directions. Dip each berry in white chocolate, then in sprinkles. Set strawberries onto chilled, lined baking sheet. Refrigerate for at least 30 minutes, until the chocolate is firm. Enjoy!
---
Patriotic Dessert Pizza
Crust
1 package brownie mix (and ingredients in package directions)
Sauce
1 8oz. package cream cheese
1 7oz. container marshmallow creme
¼ teaspoon pure vanilla extract
Toppings
1 -2 baskets of strawberries
1 basket blueberries
Directions
Preheat oven and make brownie crust following directions on brownie mix. Pour into lightly greased deep dish pizza pan. You will have to adjust the cooking time. For example, for Ghirardelli Triple Chocolate Brownie Mix the recommended cooking time is 45 minutes, which we reduced to 25 minutes. Do not overbake. It should appear slightly underbaked, with the edges more done and slightly pulling away from the side of the pan. Let cool completely. With a hand mixer, mix cream cheese, marshmallow creme, and vanilla until thoroughly combined. Spread on cooled brownie crust, not quite to the edge. Slice strawberries and arrange on top with blueberries. Refrigerate any leftovers.
---