Farmers' markets have been around for thousands of years, from the Roman Forum markets, unique street markets in Asia, to the Mercado's of Latin American, growers from around the world have gathered to sell their goods directly to the public. Nowadays, farmers markets have become a favorite method for many farmers to reach their local markets one-on-one and a weekly ritual for many shoppers.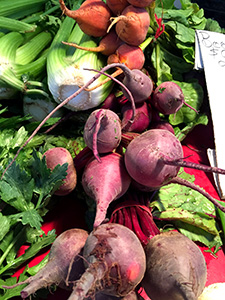 Shopping at a farmers' market is a great way to meet local farmers and get fresh, flavorful produce, yet some people often find the idea a little intimidating. Here are a few tips on how to make the most out of your trip to the local farmers market.
Be Prepared
It's like the old idea of not shopping on an empty stomach…don't arrive at the market without a plan. Have at least a few ideas of dishes you want to make or fruits and veggies you want just for snacking. If you end up nearing the end of your week and still haven't used those fresh items, they could end up in the trash. Bring a list with you of certain items based on your menu plan, but if you find something new or unique that catches your eye – go ahead a buy it. Try asking the farmer for cooking ideas if it's something you've never tried it before. You never know, it might end up being your new favorite thing! Bring some reusable grocery bags with you. Many farmers supply plastic bags but most aren't environmentally friendly and carry multiple plastic bags around isn't convenient either. It's also a good idea to bring a cooler with you if the ride home is going to be a while.
Know Where Your Food Comes From
Talk to the farmers! Your experience of shopping at a farmers market will be enriched when you begin talking with the farmers and become a regular customer. Ask them about specific types of fruits and vegetables, for instance, strawberries come in many varieties and the ones at the farmers markets are far superior flavor-wise to those from the grocery "brands". You can also ask about particular ways to prepare vegetables, or how they are grown on their farm.
Decide on a Strategy
Some people like to peruse the whole market first before deciding on what to buy. Others like to buy from just one or two favorite vendors, while others like to buy a little here and a little there. Choose a strategy that works for you and will make your visit most enjoyable.
Taste the True Flavor
The fruits and vegetables you buy at the farmers market are the freshest and tastiest available. Fruits are allowed to ripen fully in the field and are brought directly to you—the food is as real as it gets—fresh from the farm.
Follow the season
At the farmers market you'll only find fresh seasonal fruits and vegetables that are grown locally. Enjoy the flavors of spring, like asparagus and peas, or the sweet berries of summer or baked pumpkins in autumn. You'll feel connected to the earth, the weather, and the turning of the seasons.
Support Family Farmers
When you buy at the local farmers market, you're helping to support family farmers. Small family farms have a hard time competing in the food marketplace and buying directly from them gives them a better return for their produce and gives them a fighting chance in today's globalized economy.
Variety is the Spice of Life
You won't find the average supermarket produce at the farmers market. Here you'll find an amazing variety of colors, unique fruits and vegetables – some only grown at local farms. It's a great opportunity to savor and experience the biodiversity of our planet.
Connect with Your Community
What better way to spend a morning or afternoon in the outdoors amidst stalls of fresh produce and wonderful people to meet? Much better than a rolling your cart through a grocery store with trucked in food that you don't know where is come from or how it was grown! The farmers market is a community hub—a place to meet up with your friends, bring your children, or just get a taste of small-town life in the midst of a big city. Here's a map to find one near you!