Mindful Moving, Part 2
You'll have a lot to do when you first arrive at your new home. You may want to start unpacking, but try to tackle these easy, yet important tasks first. Involve the kids, even if it's tagging along with you to the hardware store, helping you put in new filters and batteries, or painting a wall in their new room with the color they picked out.
Checklist of New Home Projects to Tackle First
Re-key the locks. You don't know how many keys are floating around out there. Get new locks or re-key the existing locks as soon as possible.

Replace the batteries in smoke and carbon monoxide detectors.

Locate your home's shut-off valves and circuit breaker box. If your kids are old enough, it can be helpful to show them where these are as well, in case of an emergency.

Give your house a thorough cleaning before unpacking boxes. Have the kids take on small cleaning tasks to be part of the process.

Give the carpets a deep clean next. If possible, schedule a professional cleaning to get rid of dust and mites and any spots and stains left by previous owners and their pets. Once a year carpet cleaning after that is a good idea.

When the carpets dry, start in the kids' rooms, but just unpack necessary items, like their special box, for now. Then help them make their bed, and pull out a few days' worth of clothes.

Paint next. It's always easier to paint a clean, nearly empty room if possible. Help the kids pick out the paint for their new room before the move, if possible. Take them to the paint store so they get the full experience of a start-to-finish process. If old enough, let them help paint the walls and trim.

Once the paint dries and the paint smell dissipates, the kids can finish unpacking in a fresh, clean, newly painted room. When they help put their new room together, it can help them appreciate their own space a bit more and maybe even inspire them to keep the room cleaner.

Hang curtains and window treatments. Privacy is important, especially in unfamiliar places. Put up curtains in the kid's room first so they feel safe and comfortable.

Change the heating and cooling filters. Keep your HVAC systems running efficiently with new filters. Let the kids help with tasks – it's easy and a good lesson in how their new home works!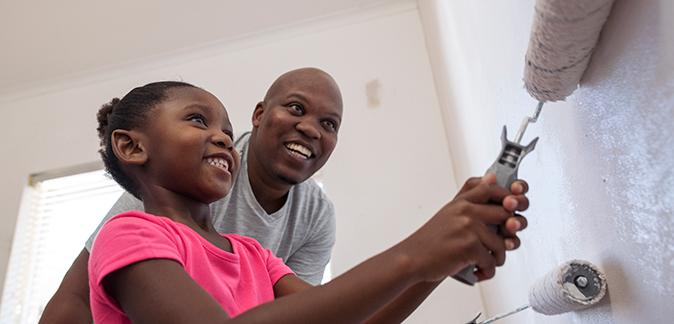 What's Next?
You may be wondering how to tackle the big unpacking job, as you stare at those piles of moving boxes. If you haven't already, start by unpacking the box with your coffee pot, make a strong cup of coffee, and then make a plan for the day ahead. Next, make sure each box is in the right room (hopefully, you were able to label boxes before the move and direct the movers where to put them as they unloaded). With coffee in hand, start in the kitchen, then bathrooms, and the kid's rooms. As you unpack, check if anything was damaged during the move and that your appliances are working properly. Let the moving company know right away if anything is damaged or missing.
Checklist to Tackle the Rest of Your Boxes
First, unpack the essentials you will be using over the next few days and keep them handy. It's pointless to try to unpack everything at once. Set up clean towels, linens, clothes, toiletries, children's favorite toys, pet food, and basic kitchen items. And make sure your bathroom and kitchen sinks, faucets, and so on are functional as you're unpacking.

Involve your children in the unpacking process to keep them busy and entertained. Give them directions on where to put clothes and toys (you can always adjust later) so they have something to do while you unpack in other rooms. Let them decorate in small ways with the items from their "special" box. For teenagers, you can assign more serious tasks and let them make plans and arrange their room the way they like.

Reorganize as you unpack. Moving to a new home is a great opportunity to try a new living room layout or change how you organize your kitchen cabinets and pantry to the way you've always wanted. Assign a shelf in the pantry for the kids to organize their snacks and favorite foods.

Don't rush to unpack everything on the same day. Take a break after a couple of hours of unpacking to walk around your new neighborhood or visit the nearest supermarket to stock up on necessities. Or use your break time to take the kids to a playground for some exercise or a visit to the nearest library to get new library cards.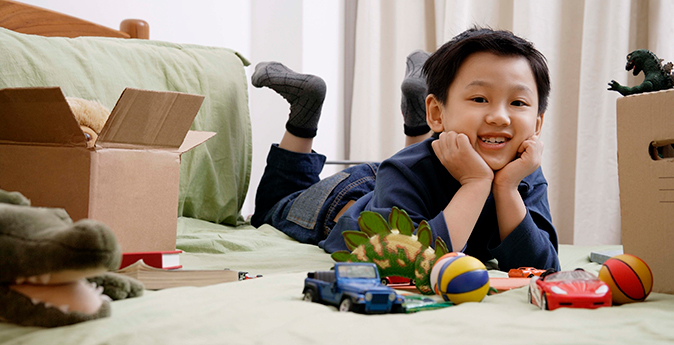 Making It Feel like Home
Everything's fresh and new as you move into a new home, but as you're unpacking that feeling of cold, empty rooms and walls may be discouraging at times. It can help to add some personal touches to recreate the sense of familiarity and stability.
Checklist of Ideas to Add Warm Touches
Start in your bedroom first, or if you have kids, tackle their rooms first. When moving with kids, make sure to prioritize their needs. When you unpack your children's room first, it can help them feel secure and also helps keep them entertained while you are taking care of the rest of the house.

Recreate familiar surroundings. Did your former home have a wall of family pictures or a mantle with special mementos? Try bringing those items into your new space – perhaps in a new place or arrangement, but giving familiarity to your new home. Connecting the old space with the new can help your new place feel like home and help your kids adjust more easily.

Familiarize yourself with your kitchen. Instead of ordering pizza, prepare a simple homemade meal for your family, even if it means eating among unpacked moving boxes. It's also a great way to test drive the oven and stove to ensure they're working.

Get back to your usual activities. Don't let short-term disruptions change your daily life permanently. Once the dust settles, resume those activities, whether bicycling, jogging, Tuesday Taco nights, going out with friends, family movie night, or grocery shopping on certain days of the week.

Host a welcome party. Once you've met a few neighbors with kids, host a post-move get-together like an ice cream social, a pizza party, or a movie night. Invite both old and new friends and neighbors to celebrate your new beginning. Fill your new home with familiar faces, laughter, and joy.
In part 3 of this series, we'll delve into what to do once the unpacking process is over, including tips to help you and your family settle into a new school and neighborhood.
You May Need to Use Your Home Warranty
As you unpack and settle in, you'll also begin to use many of the appliances and systems in your new home. Whether you have run the first load of dishes through the dishwasher or made your first hot meal in the oven, when you have a First American home warranty and discover a problem with a covered item, be sure to contact us. It's easy to request service.