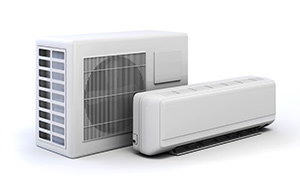 A mini-split ductless system is a type of air conditioning or heating system that lets you control the temperature in different rooms or areas of your house. Like central heating and cooling systems, mini-split ductless systems have indoor and outdoor components. Typically, mini-split components are much smaller. Mini-split systems also do not require the system of ducts that central heating and air conditioning systems use to circulate air throughout a house. These systems are very flexible and allow you to heat or cool only certain areas in your house. This way you can create just the right temperature where you need it. Mini-split ductless systems are often used instead of window AC units or baseboard heating. They are also used in situations where installing ductwork is not feasible, such as in older homes. Here are some advantages and disadvantages of these types of systems:
Advantages
Highly energy efficient
Typically easier and less expensive to install than a central air conditioning system with ducting
Provides independent cooling and heating to individual rooms or zones
Avoids the energy losses associated with ductwork in central systems
Disadvantages
More expensive than window AC units
More expensive than adding an air conditioning unit to a home that has existing ductwork
Less obtrusive than window units, but still requires an indoor air handler for each room or area to be cooled
Mini-split systems also use electricity instead of gas. This can be an advantage or disadvantage, depending on how expensive gas or electricity are in your area.
Protection for a Mini-Split Ductless System
Homeowners with a mini-split ductless system can benefit from having a First American home warranty. Home warranty plans can include coverage for mini-split systems used for cooling or heating. Take a look at our sample contract for details about our coverage for this type of system as well as many other home systems and appliances.
Resources