On May 15th let us stand and salute, with a rousing round of applause for Ruth Graves Wakefield. If it weren't for her curiosity and invention back in 1937, wondering what chunks of chocolate would taste like mixed into a sugar cookie dough, we would never know the happiness of a warm chocolate chip cookie loaded with softly melted chocolate chips. So celebrate National Chocolate Chip Day by making a batch of chocolate chip cookies, or try making one of HomeCareBuzz's favorite chocolate chip recipes.
---
Chocolate Chip Coconut Macaroons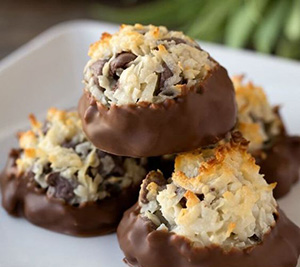 Ingredients
14 ounces sweetened coconut
2 teaspoons vanilla
1 14-ounce can sweetened condensed milk
2 cups chocolate chips
2 cups melted chocolate
Directions:
Preheat oven to 350 degrees F and line a cookie sheet with parchment or silicon mat.
Mix coconut, vanilla, condensed milk and chocolate chips in a large mixing bowl.
Scoop a tablespoon of mixture and roll into a ball. Place on cookie sheet 2 inches apart. Bake for 15 to 20 minutes until golden brown. Watch carefully so they do not burn.
Cool completely on wire rack.
Melt chocolate in a double boiler over very low heat. Dip the macaroons into the chocolate so it coats the bottom and ½ inch up the sides. Place on wire rack covered in wax paper. Transfer rack to refrigerator for at least 15 minutes.
---
Chocolate Chip Cookie Dough Pops
Ingredients
For the pops:
1/2 cup butter
1/4 cup sugar
1/2 cup brown sugar
3 tablespoons of half and half
1 teaspoon vanilla
1 1/3 cup flour
2/3 cup mini chocolate chips
For the coating:
2 cups of chocolate chips (melted)
Pop sticks
Directions:
Cream butter and sugar together. Add remaining ingredients and mix well. Roll into 1-inch balls and place on a parchment lined baking sheet. Refrigerate for 30 minutes.
Melt chocolate slowly in a double boiler over low heat just until melted or on half power in the microwave, stirring every 30 seconds. Be sure to NOT burn the chocolate.
Insert stick into each ball and dip halfway into the melted chocolate. Use a knife to help remove excess chocolate from bottom of ball. Place on the cold baking sheet. Refrigerate until chocolate is firm, about 15 minutes.
You can also not use the sticks and dip the whole ball into the chocolate to make truffles.
---
Chocolate Chip-Walnut-Banana Bread
Ingredients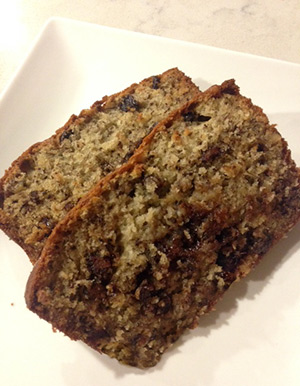 1 cup sugar
½ cup butter, softened
2 eggs
1 teaspoon vanilla
1 1/2 cups flour
1 teaspoon baking soda
½ teaspoon salt
1 1/2 cups mashed ripe banana (about 3 medium)
1 1/4 cups coarsely chopped walnuts
1 1/4 cups semi-sweet chocolate chips
Directions:
Preheat oven to 350 degrees F. Grease loaf pan with cooking spray, set aside.
In a large bowl, using an electric mixer, cream sugar and butter. Beat in eggs and vanilla. Measure flour and stir in baking soda and salt. Slowly mix these dry ingredients into wet ingredients until thoroughly blended. Stir in mashed bananas, chopped walnuts, and chocolate chips. Pour into prepared loaf pan and bake for at least 50-60 minutes (depending on your oven and size of pan, cooking time may vary).
Remove from pan when cool.
---
Chocolate Chip Buttermilk Scones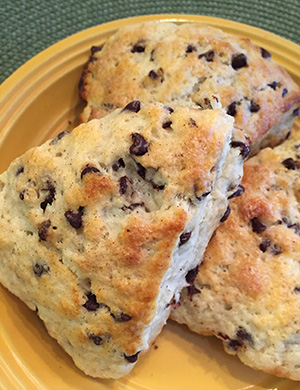 Ingredients
3 cups all purpose flour
1/3 cup sugar
3/4 teaspoon salt
½ teaspoon baking soda
1 tablespoon baking powder
3/4 cup cold butter, cut in pieces (You can use half cold butter, half cold shortening)
1 cup mini chocolate chips
1 cup buttermilk Buttermilk for topping
Granulated or coarse sugar
Directions:
Preheat the oven to 425° degrees F. In a large mixing bowl, whisk together all the dry ingredients.
Using a pastry wand, work in the butter just until the mixture is crumbly; it's OK for some larger chunks of butter to remain unincorporated. (You can also use a food processor: Pulse dry ingredients to incorporate. Add butter in chunks and process until lightly crumbly. Add mixture to a large mixing bowl.)
Stir in the chocolate chips
Stir in the buttermilk until mixture starts to hold together.
Turn out dough onto lightly floured board. Lightly knead 3 or 4 times until dough holds it shape, adding flour as needed. Roll by hand, like a cigar, into an 8-inch long cylinder. Cut in half. Turn each half cut side down on board, pat each half into an 8-inch circle. Cut into wedges and place each wedge on a parchment lined baking sheet 1-2 inches apart.
Brush each wedge with buttermilmilk and sprinkle with sugar. Bake the scones for 15 to 20 minutes, or until they're golden brown.