When it comes to home improvement and beautification, rain gutters may not immediately come to mind. But gutters and downspouts play important roles in your home's overall health, diverting water away from your foundation to prevent structural damage and soil erosion. In fact, a uniform water distribution system is essential to help stop water damage from seeping into your household budget.
With today's range of gutter styles and innovative gutter accessories such as rain chains, splash blocks, gutter guards, and more, it's easier than ever to upgrade your gutter system to work more efficiently, so read on for useful tips and ideas.
Why Rain Gutters Matter
You'd think a well-designed gutter system is a required component of a home, yet many homes, especially those built in dry climates where it seldom rains, are built without gutters. In fact, in many new construction projects, gutters are optional add-ons. Even if it only rains one or two times a year, however, a well-thought-out gutter system still pays off. That's because, over time, any amount of water near your home's perimeter will literally rot your house and cause potential soil erosion if it's not diverted away from your foundation.
Without gutters, rain cascading over your roof carries enough force to quickly wash away dirt, eroding any landscaping close to your home and creating a muddy mess. Water can enter your home through poorly sealed windows and doors, permeating your interior walls and leading to mold and mildew, and eventual rot. It can chip away at your exterior paint, staining and rotting the siding. Frequent pooling can cause water to percolate through cracks in the foundation, weakening the concrete and flooding the basement or crawl space—and putting the entire home's structural integrity at risk.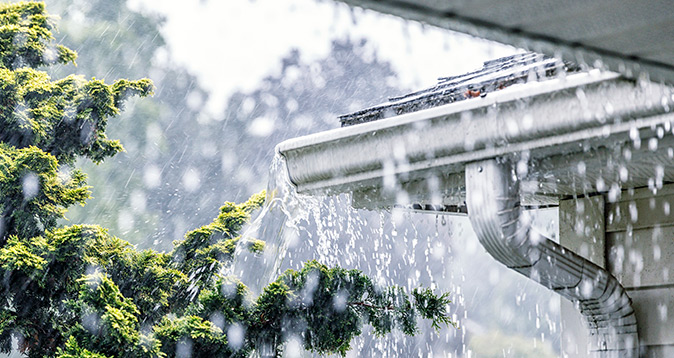 The good news is that rain gutters are inexpensive and readily available. What's more, you can add a variety of gutter accessories and options to create a customized gutter system that works efficiently for your home.
Gutter Styles
Rain gutters come in two basic styles: sectional and seamless:
Sectional gutters are available in 10- to 20-foot sections that are attached manually and linked together using connectors. If you're handy, sectional gutters are easy DIY installation projects. You'll need to continually check sectional gutters to ensure the seals between each section are still working to prevent leaks, but damaged sections can be easily replaced.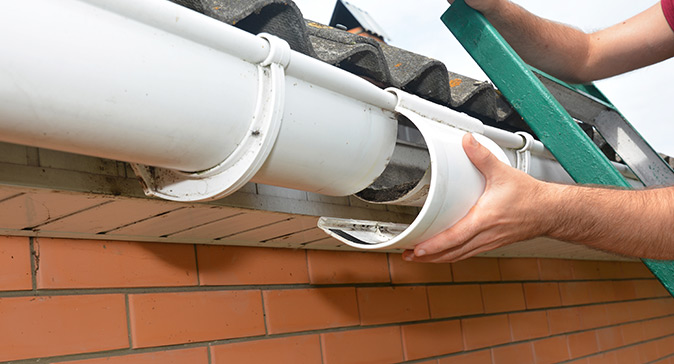 Seamless gutters are made of one continuous piece of material and usually only have joints at the corners and downspouts. By design, seamless gutters can significantly lessen the chance of leakage and are easier to maintain.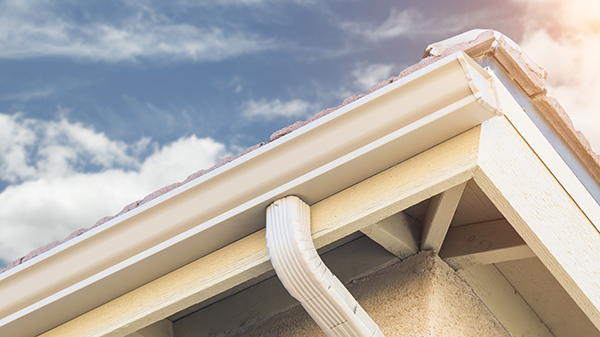 Once you decide which style of rain gutters you prefer for your home, you can turn your attention to the material and shape you want. You'll find a greater assortment of seamless gutter styles, but you'll still have many options to choose from if you opt for sectional gutters. You'll also want to consider the following gutter accessories and upgrades.
Rain Diverters
Rain diverters are low-profile strips installed at any level on a roof to redirect water sideways. They can be any length, from as small as a foot to several feet long, and are usually made of stainless steel, aluminum, copper, and even PVC. Rain diverters are used in tandem with rain gutters as a way to channel excess water away from a gutter that is handling too much water and into another area of the gutter to create a more uniformly distributed flow of water.
Downspout Extensions
A common way to divert water away from your home is with downspout extensions. These handy devices are basically extra sections of downspout that you connect to your existing downspout at right angles, so they run horizontally at ground level to channel water away from your home. You can make them any length you like. You can also choose to install them underground, where they are less apt to disrupt your curb appeal.
Some downspout extensions have the ability to roll up and out of the way during the summer. Many flexible models even allow you to curve the extension to direct the water flow to a specific area of your yard.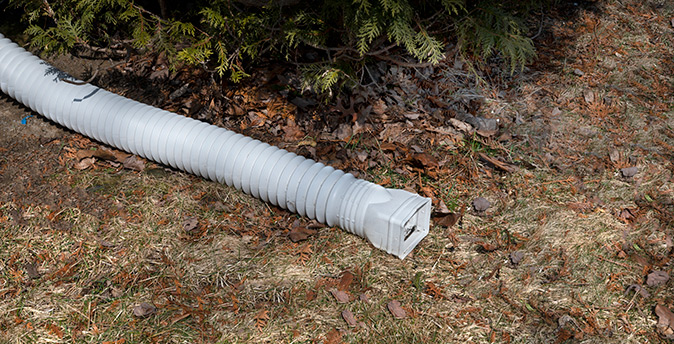 Gutter Guards
These popular gutter accessories offer a maintenance-free solution to gutter cleaning and upkeep. Best of all, they can be installed on existing rain gutters—no need to replace your existing gutters. Gutter guards keep leaves and debris out of your gutters, which is especially helpful if you have large trees near your home that drop leaves every fall. Even if you don't, gutter guards still help stop leaves from your neighbor's trees and other debris from accumulating in your gutters during high winds. By preventing buildup in your gutters, gutter guards also help thwart rust and rot.
They come in a wide variety of styles and materials, so it's important to do your research when considering gutter guards for your home. Even with gutter guards, you may find you need to clean your gutters every so often, so be sure to take this into account when selecting them—some styles of gutter guards are easier than others to remove or lift temporarily.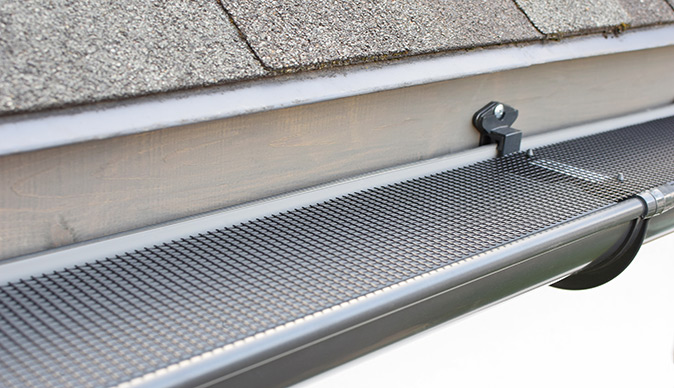 French Drain
Often called ground gutters, French drains help redirect the flow of water away from a home and reduce standing water in a yard. A French drain (named for its inventor, Henry French) is a perforated drainage pipe wrapped in a water-permeable fabric and placed in a trench dug in the ground. French drains are often used as adjuncts to rain gutters when you want water in your yard channeled away from your home's foundation or basement/crawl space.
Since gravity causes water to flow downhill, accumulated rainwater drains down into the hollow drainage pipe. The pipe is set at a slight angle to divert water to a specified area of your yard, or to a catch basin (such as a rain barrel) where the collected water can be used to water a garden or lawn.
Splash Blocks
Similar to downspout extensions, splash blocks help catch and channel rain runoff away from your home's perimeter. Typically made of concrete, resin, or plastic and available in many earth tones, they're placed directly below your downspouts, preventing nearby soil erosion and water seepage.
Splash blocks have low profiles and can be easily hidden with plants and shrubbery to blend in nicely with existing landscapes. They come in many sizes so you can choose one that's capable of handling heavy runoff if you live in a wetter climate prone to downpours, or something smaller if your climate is mild. Many people combine splash blocks with downspout extensions to help prevent erosion in specific areas of a yard prone to water pooling.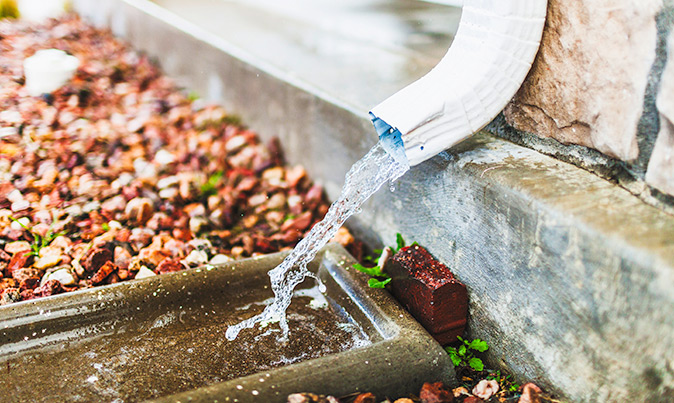 Rain Chains
If you're looking for an aesthetically unique alternative to conventional downspouts, consider rain chains. These beauties originated in Japan, and exude elegance and tranquility when rainwater trickles down their chain links.
Rain chains can be as simple as a metal chain or as delightful as an ornate piece of art formed from linked colored glass beads—and you can even make your own to suit your particular taste. Functioning like downspouts, rain chains are connected to rain gutters or eaves. Rainwater collects in the gutters and travels down the chains toward the ground. To protect your home's foundation from water damage, be sure your rain chains flow into something that collects and redirects the water away from your home's perimeter.
Quick tip: Splash blocks pair nicely with rain chains, but you can also collect your rain chain runoff water in rain barrels or pretty basins and use it to water your garden plants or fill a birdbath.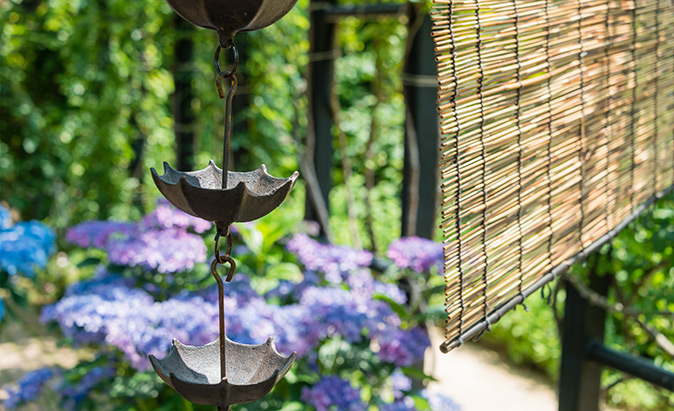 Protect Your Home From the Outside In
Exterior forces like rainwater can damage your home if it's not properly protected with rain gutters and some combination of available gutter accessories. On the inside, safeguarding your home starts with a good home warranty to protect your budget when covered appliances and systems stop working. Find out more about home warranties and get a quote today.