Whether you're grilling a dinner for Dad, for a party, or because it's too hot to cook indoors, use your grill for more than just cooking burgers and grilled corn this summer. Just about anything you can think of can be cooked on the grill. Here are a few recipes to get you thinking differently about your grill.
---
S'mores on the Grill
Use your grill for a quick and easy way to make this favorite campfire treat.
Ingredients
Graham crackers
Milk or dark chocolate candy bars (or peanut butter cups, chocolate-covered mint patties, Nutella, peanut butter and jelly, etc.) Marshmallows
Aluminum foil (torn into square sheets)
Preheat the grill to medium heat. Break graham cracker in half and place on sheet of foil. Place chocolate (or your favorite candy or sweets) on cracker and then top with a marshmallow. Add remaining graham cracker half and then wrap loosely in foil. Place on the grill and heat 3-4 minutes until marshmallow is melted.
---
Grilled Warm Potato Salad with Corn and Red Pepper
Salad Ingredients
1 pound new potatoes
2 ears yellow or white corn, husked
2 tablespoons olive oil
1 red bell pepper
½ red onion
Dressing Ingredients
4 tablespoons olive oil
2 tablespoons fresh lemon juice
2 tablespoons apple cider vinegar
1 large clove fresh garlic, finely minced
½ teaspoon kosher salt
1/4 teaspoon ground black pepper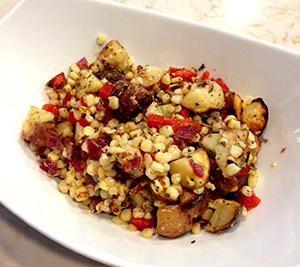 Heat grill to 375 degrees. Clean and oil the grate. (If you prefer, you can use a grill pan, but you won't get the roasted flavors and coloring.)
Rinse new potatoes and cut in half. If they are very small, leave whole. Toss potatoes, ears of corn, onion, and whole red pepper in olive oil. Place on hot grate. Cover and cook for approximately 15 to 20 minutes, checking and turning so grilled evenly. Remove from grill. Slice potatoes into bite size pieces. Cut corn off the cob, holding vertically and slicing downward with a small knife. Remove stem, core, seeds, and peel from the red pepper and discard. Chop pepper into small pieces (I cooked a large pepper so I only used half). Chop the onion into small pieces. Toss all into a bowl.
In a separate bowl, whisk together the dressing ingredients. Taste and adjust the seasonings. I added more salt, pepper and lemon. Gently toss into the warm salad, you may not need all the dressing. Garnish with fresh parsley if desired.
4 servings
---
Grillin' Summer Peaches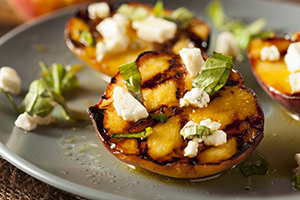 Sweet is the operative word for grilled peaches, and if you're looking for an easy dessert to add to your dinner menu, this tasty dish does the trick.
Ingredients
3 large ripe peaches
3 tablespoons of sugar
¾ cup of balsamic vinegar
3 ounces crumbled blue cheese
Basil or mint, torn
Directions
When you are ready to place the peaches on your grill slice them in half (do not peel) and remove pit.
Add balsamic vinegar and sugar to a saucepan and stir over medium heat. Reduce liquid to approximately one half. When liquid thickens to a glaze, remove from heat.
Brush your grill with olive oil and turn up the heat to medium. Place the peach halves on the grill with the sliced side face down. When the peach peel starts to caramelize (usually about 5 minutes), gently flip the peach halves over. Using a pastry brush, add the glaze mixture and grill for two more minutes.
Remove peaches and drizzle any remaining mixture over the halves. Add crumbled blue cheese and basil and serve.
2-4 servings
---
Pizza on the Grill
Pizza on the grill is delicious and easy. Everyone can make their own pizzas when you set-up a pizza station near the grill – great for parties and easy weeknight cooking. The pizza dough has additional cornmeal added to give the dough more stability and keep it from dripping through the grill rack. It's a delicious rustic pizza that will be your new grilling favorite!
Ingredients
2 teaspoons active dry yeast
Pinch of sugar
2/3 cups warm water
1 2/3 cups all-purpose flour, plus more for work surface
1/4 cup cornmeal
1 1/2 teaspoons coarse salt
2 tablespoons extra-virgin olive oil, plus more for bowl
Your favorite toppings and sauce
Directions
Stir the yeast and sugar into the water; let sit for about 10 to 15 minutes, until foamy. Combine the flour, cornmeal, and salt in a large bowl. Make a well in the center, and add the yeast mixture and oil. Slowly stir ingredients with a wooden spoon just until dough starts to come together. Turn out dough on a lightly floured work surface, and knead until smooth and elastic, 5 to 7 minutes. The dough should feel soft and just a little sticky.
Transfer the dough to a lightly oiled bowl that's at least twice the size of the dough and cover with a damp dishtowel. Let rise at room temperature until almost doubled, about 1 hour. The dough is ready when you poke a finger in it and it holds the impression. Punch down the dough and divide it into eight 4-ounce balls. Put each ball on a floured surface and, with your hands, flatten and stretch it into a disk that's about 1/2 inch thick. The dough will be fairly elastic and will tend to spring back. Cover each piece with plastic and let rest for 5 minutes. Line a rimmed baking sheet with parchment or waxed paper and layer the rounds on it with a sheet of parchment or waxed paper between each. Use the dough immediately or cover and refrigerate for up to 4 hours.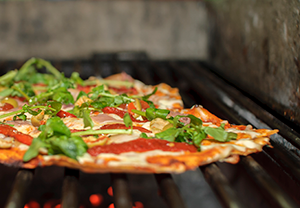 Brush the top of the dough with olive oil and sprinkle with salt. Carefully place the rounds on the grill, oil-side down. Close the grill and cook for 2 to 3 minutes until pizza browns and develops grill marks on the bottom; check frequently to prevent burning.
Punch down and bubbles on the top of the pizza and remove from the grill to a plate. Oil the uncooked side and turn over so grilled side is facing up. When you add toppings to your pizza, add them in the opposite order as a usual pizza: cheese first, toppings next, and sauce last.
Brush grilled side with more olive oil and sprinkle with Italian spices. Add cheeses, meats, veggies, and dot with any sauces you like. Return to grill and close lid. Cook until cheese melts and toppings are heated through, about 3 to 8 minutes. Check the bottom frequently to prevent burning.
Transfer the pizza to a cutting board and slice. Serve immediately.
Yields enough for eight small pizzas