Why not explore a few new ways to enjoy your Thanksgiving leftovers? Make new dishes out of your leftover turkey, mashed potatoes, stuffing, and cranberry sauce by transforming them into delicious soups, stews, side dishes, and more.
Thanksgiving Leftovers Stuffed Peppers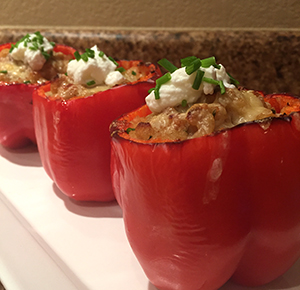 Ingredients
4 large red bell peppers
Olive oil
3 cups stuffing
1 ½ cups pulled/shredded turkey
1 ½ cups gravy
1/3 cup gruyere cheese, grated
4 tablespoons greek yogurt
¼ cup chives
Directions
Preheat the oven to 375 degrees F.
Cut ¼ inch off of the top of each bell pepper and hallow out the insides. Coat the inside of each pepper with a little olive oil and season the inside with salt and pepper.
In a large bowl, toss together the leftover stuffing, turkey and gravy.
Spoon about 1 cup of the mixture into each pepper. Place peppers in a greased baking dish and bake for 15 to 20 minutes.
Remove dish from the oven, sprinkle the peppers with cheese.
Broil the peppers for 2 to 3 minutes, or until the top is bubbly and golden.
Garnish with a tablespoon of yogurt and a sprinkle of chives.
Original recipe: http://abc.go.com/shows/the-chew/recipes/thanksgiving-stuffing-stuffed-peppers-daphne-oz
Individual Turkey Pot Pies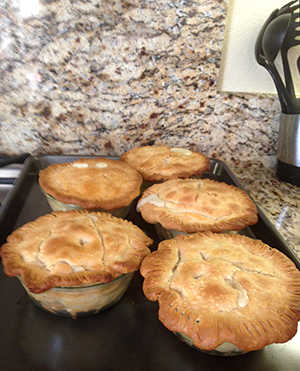 Yield: 5
Ingredients
1 pound cooked leftover turkey meat, cut in small cubes or large shreds
1 cup sliced carrots
1 cup frozen green peas
1/2 cup sliced celery
1/2 cup butter
1/3 cup chopped onion
1 clove fresh finely chopped garlic
1/2 cup all-purpose flour
1/2 teaspoon salt
1/4 teaspoon black pepper
1/4 teaspoon celery seed
2 cups low sodium chicken broth
2/3 cup milk (or more)
5 nine-inch unbaked refrigerated piecrusts (roll out slightly and cut 10 circles larger than 10oz ramekin, approx. 1/2" overhang)
Directions
Preheat oven to 425 degrees F (220 degrees C.)
In a saucepan, combine carrots, peas, and celery. Add water to cover and boil for 15 minutes. Remove from heat, drain and set aside.
In the saucepan over medium heat, cook onions in butter until soft and translucent. Add garlic and cook for a minute. Stir in flour, salt, pepper, and celery seed. Slowly stir in chicken broth and milk. Simmer over medium-low heat until it becomes a thick gravy. Remove from heat and set aside.
Gently press the piecrust in the bottom of the ramekin with edges slightly hanging over.
Place turkey and the vegetable mixture in bottom pie crust. Spoon hot gravy on top, carefully mix. Cover with top crust, seal edges, and cut away excess dough. Make several small slits in the top to allow steam to escape.
Bake in the preheated oven for 30 to 35 minutes, or until pastry is golden brown and filling is bubbly. Cool for 10 minutes before serving.
Note: Be sure you use enough gravy in each pie. There's nothing worse than a dry pot pie!
Mashed Potato Samosas and Spicy Cranberry Chutney
Mashed Potato Samosa
Ingredients
1 tablespoon ginger, grated
½ teaspoon garlic, grated
2 chilies, minced
½ cup onion, minced
1 tablespoon cilantro, finely chopped
Juice of ½ lemon
½ teaspoon turmeric
¼ teaspoon cayenne
Salt to taste
½ teaspoon garam masala
1 ½ - 2 cups mashed potatoes
½ cup peas
½ cup leftover veggies (or 1 cup total veggies of whatever you have on hand)
1 package frozen puff pastry
Directions
Thaw puff pastry. Heat 3 tablespoons of oil; add ginger, garlic, chilies. Sauté for 1 minute, add onions and sauté til light brown. Add cilantro, lemon juice, turmeric, cayenne, salt, and garam masala. Sauté for 2 minutes. Add mashed potatoes, stir to combine completely and cook for 2 minutes. Gently stir in peas and veggies. Set aside to cool.
Heat oven to 350 degrees F. Roll a sheet of puff pastry into a 14-inch square, then cut into 16 smaller square and place 1 tablespoon of filling in the center of each.. Brush the edges with a beaten egg, fold into triangles and wrap outside points around center – like a large tortellini. Shape with your fingers into a cone and place on a parchment lined cookie sheet. Brush with a little melted butter or eggwash and bake for 20-25 minutes. Serve with Spicy Cranberry Chutney.
Spicy Cranberry Chutney
Ingredients
2 teaspoons ghee or oil
1 teaspoon cumin
2-inch piece of ginger, minced
2-3 hot chilies, according to taste
¼ teaspoon turmeric
¼ cup onion, finely chopped
2 cups of fresh cranberries or leftover cranberry sauce
1/3 – 1/2 cup sugar
Salt to taste
1/8 cup cilantro, finely chopped
Directions
In a medium size pan, heat the oil and then add the cumin. Stir for 1 minute. Add the ginger, chilies, turmeric, and onion. Sauté for 2 minutes. Add the fresh cranberries plus ½ cup water or leftover cranberry sauce and enough water to loosen the mixture. Add the sugar. Cook on high until the berries pop. Mash the berries with the back of a spoon and cook the mixture until thickened. Adjust sugar and salt to taste. Add the cilantro and stir to combine. Remove from let and let cool.
This chutney is also delicious served over brie, camembert, or goat cheese.