Is managing your time a daily challenge? The New Year is a great opportunity to make changes. Whether you are running a household, home business, or working outside the home, it's easy to feel frustrated at the end of the day when you are exhausted and haven't accomplished what you had set out to. Consider behaviors, patterns, and habits that may not be benefiting you when it comes to managing your time. Be aware of what is consuming and/or wasting your time. Also, take a close look at what may be derailing your productivity. Making some small positive changes can result in big benefits.
Tools to Organize Your Time
Whether it's a smart phone, spreadsheet, pen and paper, sticky notes, or a combination of tools, figure out the best method for you to organize your tasks and priorities.
Your To-Do List
Is it realistic? It's ok to have a long list as long as you prioritize. Make time for the must-do items, keeping in mind there are only so many hours in the day, so keep it real. Make note of what you've got started, even if it's not complete. Cross off or highlight what you've accomplished. You just might realize that you are more efficient than you thought. Remember, even the smallest of tasks can create distraction and mental chatter. If you are thinking about it, it must be important, so make note!
Re-evaluate Priorities Daily
Ask yourself if it's truly a priority or if it's an obligation that can be shifted. Try to be proactive by looking ahead and balancing your schedule. Consider re-scheduling flexible meetings, lunches, or Dentist appointments when you know you are going to be overbooked.
The Big Stuff
If you've got a large project/task, tackle it when you know you are most productive and can limit distractions. For some, all-out attack mode is the way to go. For those who feel overwhelmed, breaking time out into manageable pieces and chipping away works best.
Control Distractions
Set up your home or work environment to maximize your focus. You may find that something as simple as headphones can help cut distractions at work. Avoid texting or checking e-mails and social media until you are done. Communicate with your family or co-workers about what you are working on and the importance. You might even get a little unexpected support!
Be Aware of Non-productive Behavior
Procrastination can lead to wasted time. If you are procrastinating about a task, fill the time with other things on your list until you are ready to commit, then block out the time and stick to it.
Take Planned Breaks
Walking away from a project or task for 10 or 15 minutes can help you see it with fresh eyes and new focus. If it's helpful, get input or feedback before proceeding.
Keep Energy Levels Up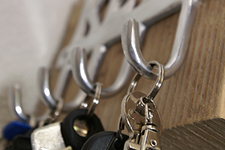 You've heard it before, but drinking plenty of water and eating healthy during the day really can keep your focus and energy up. Too much caffeine and sugar can crash your energy. If you are tired all the time, try getting a little more sleep. Changing sleep patterns can be very difficult. Start by adding 15 minutes a night. Increase the time until you notice you are feeling more alert and well rested.
Get Organized
If you are wasting time daily looking for files, phone extensions, car keys, etc., take the time to create a system that works for you. You'll be amazed how much time, and frustration, you'll save in the long run.
Be Positive and Flexible
If you have been working hard on a project, plan, or event, and it gets derailed or even cancelled, move on. Keep your perspective and know that effort is never wasted.
Balance
The goal is not to get as much done in a day as possible, but to be efficient and have a happy, balanced life. Remember, it takes time and repetition to effectively replace old habits. Positive changes happen when we realize our efforts are wor