It's that time of year when you have zucchini coming out of your ears. If you're tired of stuffed zucchini and zucchini bread, and you're looking for new ways to eat your zucchini – try using a spiralizer! Turn you zucchini into pasta-shaped noodles like spaghetti, angel hair pasta, and ribbon shapes. But don't feel limited to treating your "zoodle" like spaghetti with sauce only, we've come up with some recipes for baked dishes, salads, and one-pot meals.
Using a spiralizer can make your meal pretty guilt-free. Eaten cooked or raw, zucchini is non-fat, low to no carb, and extremely low in calories – just like water – well, sort of. And when you run out of zucchini, try zoodling sweet potatoes, carrots, cucumbers, and other firm veggies. There's a whole new world of zoodles just waiting to be explored.
---
French Onion Zoodle Bake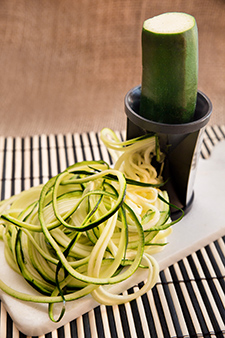 If you love French Onion Dip, you'll love this dish that turns your favorite dip into a healthy side or main dish.
Ingredients
2 1/2 cups spiralized zucchini noodles, about 2-3 small zucchini
1 large yellow onion, sliced thinly
1 teaspoon sugar
1 teaspoon fresh thyme, chopped
1 tablespoon butter
1/4 cup beef broth
2 teaspoons Worcestershire sauce
1 cup fontina cheese, grated salt and pepper to taste
Directions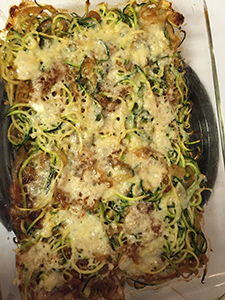 Preheat oven to 400 degrees.
Add zucchini to a large bowl and toss with 1 teaspoon salt. Set aside.
In a skillet preheated to medium heat, melt butter. Add onion and cook until starting to soften. Add salt, pepper, sugar, Worcestershire sauce, and thyme. Stir and cook for another couple of minutes. Add beef broth and cook until onions are golden brown about 20 minutes. Stir occasionally to keep the onions from burning.
Spray a small baking dish with cooking spray. Drain the zucchini of water that has accumulated in the bowl, squeezing out any extra water in the zoodles. Add the French onion mixture and stir carefully to combine. Pour the French onion zoodle mixture into the dish and top with Fontina cheese. Cover with foil or lid and bake for 15 minutes. Remove foil and bake for another 5-10 minutes or until golden brown. Remove from oven and cool slightly before serving. Garnish with fresh thyme.
Serves 4
---
Cheesy Taco Zoodle Skillet
One pot for easy clean-up and all the flavors of Taco Pie with none of the calories. Ok, maybe not none but certainly a much more calorie friendly version. Ole!
Ingredients
4 medium zucchini, spiralized
1 pound ground beef or turkey
Taco Sauce:
1 14.5 oz. can tomato sauce
2 tablespoon tomato paste
2 tablespoon chili powder
2 tablespoon cumin
1 teaspoon onion powder
1 teaspoon garlic powder
¼ teaspoon paprika
⅛ teaspoon cayenne
¼ teaspoon salt
¼ teaspoon pepper
1 14.5 ounce can black beans, drained and rinsed
1 cup fresh or frozen corn kernels
1 cup shredded cheddar cheese
1 cup cherry tomatoes, halved
1 avocado, sliced
Green onions or chives, garnish
Cheddar Cheese, for garnish if desired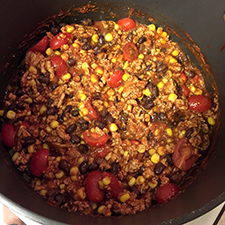 Directions
Spiralize the zucchini using the ribbon; pat dry with a paper towel and set aside.
Heat a large skillet over medium-high heat and spray with nonstick cooking spray.
Add in the ground beef or turkey and cook until browned, about 3-4 minutes, making sure to crumble into small pieces as it cooks; drain excess fat.
Add the tomato sauce, tomato paste, chili powder, cumin, onion powder, garlic powder, paprika, cayenne, salt, and pepper. Stir well to fully incorporate. Cook for 2 to 3 minutes until starting to thicken. Add the black beans, corn, cheddar cheese, and cherry tomatoes. Cook until heated through. Add the ribboned zoodles, cook for 5 minutes, stirring every 2 minutes or so. Remove from heat, top with sliced avocado and sprinkle with green onions and more cheddar cheese if desired.
Serves 6
---
Sesame Almond Butter Zoodles
Ingredients
5-6 zucchini, spiralized
2 tablespoons olive oil, more as needed
For the Sauce:
1/4 cup creamy nut or seed butter (I prefer sun butter but almond or peanut works well)
1/4 cup reduced-sodium soy sauce
2 1/2 tablespoon hoisin sauce
1 1/2 teaspoon Sriracha sauce, or to taste
2 teaspoon sesame oil
1/2 teaspoon minced garlic
1/8 to 1/4 teaspoons five-spice powder, to taste
1/4 teaspoon ground ginger

Garnish:
Sesame seeds Sliced scallions
Directions
Spiralize the zucchini and set aside.
In a large bowl, whisk together sauce ingredients and set aside.
In a large skillet set over medium heat, add olive oil. Add zoodles and cook for about 4-6 minutes, stirring frequently until tender.
Remove skillet from heat and pour in sauce. (Drain skillet first if there is excess water from the zoodles). Stir zoodles and sauce to evenly coat. Serve with a garnish of sesame seeds and/or sliced scallions.
Serves 4
---
Caprese Zoodle Salad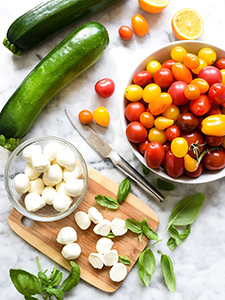 Everyone loves a Caprese Salad. This one combines zoodles, mozzarella and basil for a refreshing change. And the longer it marinates, the better it tastes!
Ingredients
2 medium zucchini, spiralized and trimmed to 5 inches or less
1 cup cherry or cocktail tomatoes, halved
For the marinade:
1 tablespoon lemon juice
3 tablespoons balsamic vinegar
2 tablespoons olive oil
1 medium garlic clove, minced
Kosher salt and freshly ground black pepper
12 small mozzarella balls, drained and halved
½ cup thinly sliced basil leaves
Directions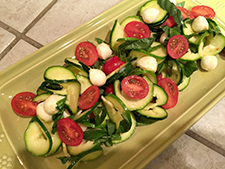 Spriralize the zucchini into ribbon noodles and cut into 5-inch lengths. Place the zucchini and tomatoes in a large bowl.
Add the marinade ingredients to a food processor or blender and pulse until the garlic is smooth.
Pour the marinade over the zoodles and tomatoes, and toss gently to combine. Cover with plastic wrap or a lid and refrigerate for at least 10 minutes to marinate the zoodles and tomatoes.
Add the mozzarella and basil to the zucchini noodles, toss to combine, and serve.
Serves 2-3
---
Spicy Shrimp with Pesto Zoodles
Ingredients
4 medium zucchini, spiralized
For the Pesto:
1 cup kale
1 cup spinach
1 cup mixed basil and/or parsley (more basil is better, but substitute parsley if you don't have enough)
¾ cup pine nuts or almonds
½ cup olive oil
¼ cup water
½ teaspoon salt
2 cloves garlic
Juice of one lemon
For the Shrimp and Zoodles:
2 tablespoon butter or olive oil, divided
1 lb. shrimp
1 to 2 teaspoons each chili powder and cumin
Salt and pepper to taste
Directions
Spiralize the zucchini noodles and set aside in a large serving bowl.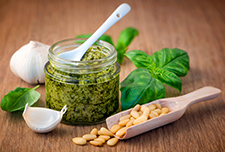 For the pesto, pulse all the ingredients in a food processor or blender until smooth. This will make about 2 cups of pesto. Set aside one cup for this recipe and remainder another use. (Try freezing in ice cube trays for a quick and handy dash of pesto anytime you need it.)
Toss the shrimp with the spices. Heat the butter or oil in a large pan over medium high heat.
Add the zoodles and cook until just tender. Season with salt and pepper and return to the large bowl. Add the pesto to the zoodles and toss to coat evenly. (You can also cook the zoodles with 1-2 cloves of minced garlic). Add more butter or oil to the pan and add the shrimp. Sauté until they are fully cooked (they will no longer be translucent) about 2-4 minutes. Top with the shrimp and serve immediately.
Serves 4