Whether you have a chlorine or salt water pool in your backyard, May is the perfect time to start pool cleaning and prepping for summer fun. But before you jump in, be sure to follow these important tips on how to maintain a pool so opening day goes swimmingly.
1. Clean and Reassemble Equipment
The first step is carefully cleaning your pool maintenance system and reattaching any components that you disassembled in winter. While you're at it, clean your pool skimmer and basket, too, and remember to open all valves (if you previously plugged them). If you own a chlorine pool with a cartridge filter, clean the filter and consider replacing it if it's old or unusually dirty. Sand and DE (diatomaceous earth) filters can be backwashed to remove debris.
Chlorine-based pools rely on pre-made chlorine in either liquid, powder, or tablet form, while salt water pools electrically process salt into usable chlorine using something called a salt water generator. The chlorine it produces is a chemically milder form compared with the chlorine in a chlorine-based pool, which is why some people believe the water in a salt water pool feels softer.
If you own a salt water pool, you'll want to clean the salt water cell in your generator. Be sure to shut off your generator completely before doing this to avoid the risk of shock. Good salt water pool maintenance also involves checking for any mineral deposits (white chalky substances) on your salt cell and scrubbing them away. If your generator is self-cleaning, you may be able to get away with a quick rinse to remove any deposits. After cleaning, reconnect your salt cell—but don't start up your generator just yet.
2. Remove Any Debris
Remove your pool cover and clear away any leaves and debris that may have found their way into your pool during the winter. Take your time and be as thorough as possible. For proper pool maintenance, scrub the tiles as needed and use a brush or vacuum to clean the pool's sides and bottom surface.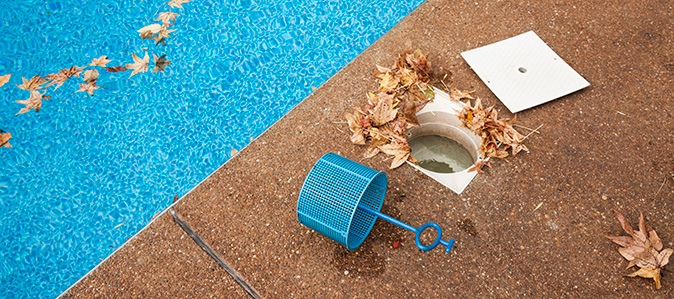 3. Check the Water Level
Chances are that your pool lost water during the winter months, so now's the time to top it off. When filling up, it's good pool maintenance to run the water until it reaches the middle of the pool tiles.
Quick Tip: Unlike some types of above ground pools, which can be drained and dismantled in wintertime, an in-ground pool should not be emptied when summer is over unless it needs structural work. In fact, an empty pool in a region with a high water table can actually pop out of the ground without the weight of the water holding it down.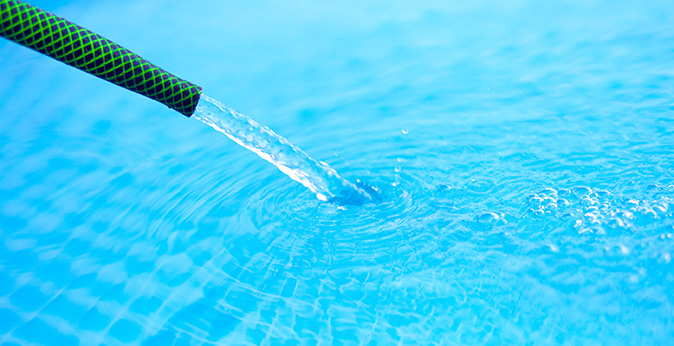 4. Test and Balance Pool Chemicals
Test your pool water with your home pool test kit, and also bring a sample to your favorite pool store for testing. If you don't normally frequent a pool store, a quick online search for "pool service near me" will reveal many options; however, it's important to make sure you choose one that is familiar with your type of pool, especially if yours is a salt water pool.
A professional pre-opening day pool test will provide accurate readings on your water's mineral content, alkalinity, pH, and chlorine levels. Added bonus: If your home test values are different from the professional test values, you'll know it's time to replace your pool test kit.
Based on test results, follow these guidelines to restore proper pool chemical levels:
Chlorine: 1–3 ppm (parts per million)
pH: 7.2–7.6
Alkalinity: 80–120
Bromine: 3–5 ppm
Calcium hardness: 150–250 ppm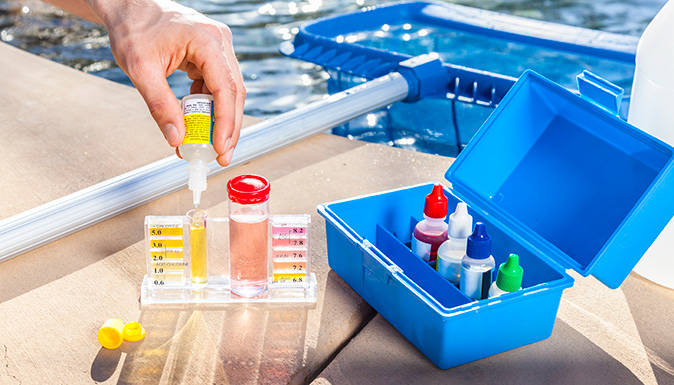 As a salt water pool owner, you'll also want to test your pool's salt level, and add enough salt to raise it to an optimal amount depending on your pool generator manufacturer's recommendations, typically between 2,500–3,500 ppm. Be accurate; the amount of salt in your water affects your generator. Too much causes corrosion and inaccurate chlorine readings; too little causes insufficient chlorine levels.
Whether you have a chlorine or salt water pool, be prepared to wait several days for the pool chemicals to do their work. When your pool water clears and you can easily see the bottom of your pool, take another water test.
5. Shock Your Pool
Shocking your pool increases the chlorine amount beyond normal, oxidizing any bacteria, algae, and other organic contaminants. Many pool owners perform a pool shock at the start of the swimming season, and then several times throughout the summer.
Chlorine shortage 2021: Be sure to stock up on your chlorine supplies early this season! Fire damage to a major chemical plant that produces chlorine products is causing a national shortage that could last through the summer. Chlorine prices have soared, and with pool owners spending more time at home enjoying their backyard lagoons, the chlorine shortage isn't expected to diminish anytime soon.
It's best to shock your pool in the evening after the sun has gone down since UV rays can break down and reduce chlorine levels. Start by filling a 5-gallon bucket with water and adding your oxidizer (typically liquid, granular, or tablet chlorine, or a combination of these) according to the manufacturer's instructions. Pour the shock mixture into your pool and let the pump run for at least six hours.
If you're shocking a salt water pool, follow the manufacturer's shock instructions. You may also have a "shock" or "superchlorination" button on your generator, which you can use. However, this puts a heavy load on the salt cell and could shorten its lifespan. So, shocking your pool "by hand" with a bucket is a wise choice if you want to preserve your salt cell's maximum life expectancy.
6. Re-Test and Adjust Pool Chemicals
After shocking, re-test your pool water and adjust your pool chemicals as necessary to make sure they are properly balanced, then run your filtration system. If you have a salt water pool, now's the time to turn on your system, although you may need to temporarily lower the chlorine output for a few days to compensate for the shock.
Quick Tip: If your salt water pool is heavily used during the summer, set your generator to 80–100%—you'll need maximum chlorine output to offset the UV rays' dissipating effect on chlorine. Fortunately, most salt water generators regulate chlorine levels for you, which makes managing your pool easier. But because salt water-generated chlorine is unstabilized, consider adding a stabilizer like cyanuric acid to your pool water to boost chlorine longevity.
For proper swimming pool maintenance throughout the summer, stay on top of routine pool cleaning, and test your water daily with your pool test kit to fine-tune chlorine, stabilizer (in salt water pools), and mineral levels, and maintain good pH and alkalinity.
And remember, besides covering many home appliances and systems, First American home warranty plans also have optional add-on coverage available for pools, making it even easier to care for and enjoy your chlorine or salt water pool!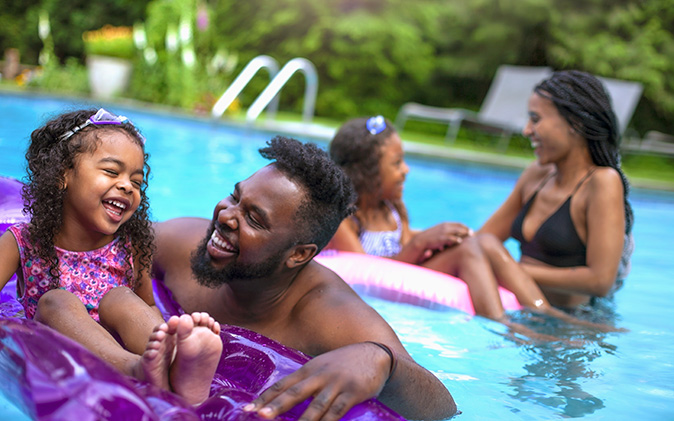 Poolside Reading
Pool Pros and Cons: Salt or Chlorine?