Is Your Family Ready?
With all of the things a busy life requires you to remember, it's helpful to have reminders to be prepared for the "what ifs." National Preparedness Month reminds us all that when it comes to preparing for an emergency, it's no time to snooze. Now is the ideal time to reevaluate your family preparedness plan in case of emergency or natural disaster.
And if you don't have a plan, Ready.gov has many resources for helping you put a preparedness plan in place. This article highlights the four most important factors to consider, whether you are making your family preparedness plan for the first time, or updating your current plan.
1. Know Your Hazards
Your family's planning depends on where you live. The natural hazards you might face will impact every other aspect of your emergency plan. Forget "lions and tigers and bears." Your family might have to contend with tornados, hurricanes, earthquakes, wildfires, floods, mudslides, winter storms, and epidemics. No matter where in the U.S. you live, you do have a possibility of some kind of natural disaster or emergency occurring in your area. Talking with your children about possible hazards and involving them in creating your family preparedness plan can help them manage better if an actual emergency occurs.
2. Know the Plan (and add some Plan B's)
Communicating with family will be your most immediate concern during an actual disaster. And this is often the hardest aspect of planning for an emergency. Talk to your kids about how cell phone service might be available only for a few seconds after an earthquake, for example, before the system becomes overwhelmed, or how a wildfire might consume cables, telephone poles, or substations, shutting down phone and internet capability. For preparedness planning, it's important that your family know to: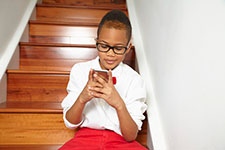 Text first. During a disaster, sending a text (or an email in the absence of a mobile phone) should be the first option in your plan. Why?
Texts require less real-time bandwidth, so mobile carriers are able to set up messages in a queue to deliver the instant their systems are available again. Email works the same. The ability to make voice calls will be the last thing carriers make available.
Create a family text group that everyone uses to message each other in an emergency. Tell your kids to keep the first text short: "I am OK" and provide location.
Call next. (To a designated person outside of your state.) Designate a family member or a friend outside your state that everyone will call to check in when there's been an emergency. Why?
In an emergency, local calling shuts down quickly from too many people dialing at once. Long distance lines are not likely to become congested as quickly. Long distance lines are also usually the first lines to be restored after a disaster.
Be sure all of your children's cell phones have the designated person's phone number saved to their contacts list. Explain that after texting to the family group, they should try to call that person next.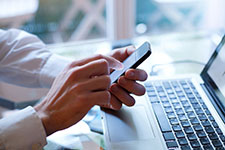 Use technology. Certain apps and websites can be helpful to your family in an emergency.
Add the FEMA app to your family's mobile phones. It sends alerts about threatening weather, provides locations and directions to shelters if needed, and tips to stay safe during many kinds of hazardous events. The app also has push notification reminders to update emergency kits, change smoke-alarm batteries, and more. (Android, iOS)
Bookmark the American Red Cross Safe and Well website on all family mobile phones, iPads, and laptops. In emergencies and natural disasters you can place yourself on the Safe and Well list on the site and also search for loved ones who have registered there.
Use social media for older kids. A Twitter account allows kids to reach a broader group with information, which could prove helpful in emergencies.
Use pen and paper. Kids too young to carry a cell phone can carry an emergency contact card in their backpack or jacket pocket. (And if you use a Sharpie to write your kid's last name into their jackets, you could also include a phone number):
Create your own contact card for your young children or you can use this earthquake preparedness website's card.
Add the American Red Cross number (1-800-RED CROSS or 1-800-733-2767) to a paper list of contacts you keep at home for your children. Its automated system lets family members select the "Disaster" prompt and register in cases of emergency.
3. Know What You Need in Your Kit
The most important next step in preparedness planning is building the emergency kit. Once the initial shock of a disastrous event is over, and you have located and gathered your family back together, you are going to need to be prepared for the aftermath. Local and state first responders will be busy so you must be able to rely on yourselves for at least three days or more, including pets.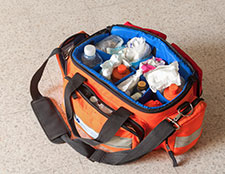 Make building your kit a family project. Engaging your family in the process makes something potentially serious and unknown seem less scary. And getting everyone involved means your kit is more likely to have the things everyone needs. Many websites have premade kits you can buy, though you may need items that are not included in a premade kit.
These sites provide suggestions that allow you to build your own kit based on your family's specific needs:
Ready.gov: Disaster Supplies Kit
American Red Cross: People with Disabilities
Humane Society: Pet Disaster-Preparedness Kit Once your family's kit is complete, be sure to store it where everyone knows where to
4. Know Your Coverage
Check your homeowners insurance policy and your home warranty coverage. Sufficient coverage can give your home and your budget two of the best ways to ensure protection when something unexpected happens.
After you've prepared your emergency kit, review your homeowners insurance with an eye to whether your home is underinsured. Often, as your home increases in value, you may find you need to adjust your policy as well.
Next, review your home warranty coverage. Keep in mind, a home warranty is a service contract that can be renewed each year. If you've added certain new appliances or home systems that are not covered under your current plan, when it is time to renew, you can find out whether there are options or upgrades that can be added to cover those items. Ready to renew? Using your zip code, you can view sample coverage for your area (for homes not involved in a real estate transaction), or call our Consumer Sales department at 888.875.0533.