Perfect pairings deserve a special day. Pumpkin and cheesecake have their day on October 21. National Pumpkin Cheesecake Day celebrates the delicious combination of flavors that turns pumpkin, sugar, spice, and cream cheese into a sweet, creamy, favorite dessert for autumn. Here are three delicious recipes for you to enjoy. Two are classic baked versions, ideal for ending a holiday or special meal. The other is an easy no-bake version using cupcake cups, for anytime. Enjoy!
---
Pumpkin Cheesecake
Ingredients
CRUST
1 1/2 cups graham cracker crumbs
1/3 cup butter or margarine, melted
1/4 cup granulated sugar
CHEESECAKE
3 packages (8 oz. each) cream cheese, softened
1 cup granulated sugar
1/4 cup packed light brown sugar
2 large eggs
1 can (15 oz.) pure pumpkin
2/3 cup (5 fl.-oz can) evaporated milk
2 tablespoons cornstarch
1 1/4 teaspoons ground cinnamon
1/2 teaspoon ground nutmeg
TOPPING
1 container (16 oz.) sour cream, at room temperature
1/3 cup granulated sugar
1 teaspoon vanilla extract
Directions:
PREHEAT oven to 350° F.
FOR CRUST: Combine graham cracker crumbs, butter, and granulated sugar in medium bowl. Press onto bottom and 1 inch up side of 9-inch springform pan. Bake for 6 to 8 minutes (do not allow to brown). Cool on wire rack for 10 minutes.
FOR CHEESECAKE: Beat cream cheese, granulated sugar and brown sugar in large mixer bowl until fluffy. Beat in eggs, pumpkin, and evaporated milk. Add cornstarch, cinnamon, and nutmeg; beat well. Pour into crust. Bake for 55 to 60 minutes or until edge is set but center still moves slightly.
FOR TOPPING: Combine sour cream, granulated sugar, and vanilla extract in small bowl; mix well. Spread over surface of warm cheesecake. Bake for 5 minutes. Cool on wire rack. Refrigerate for several hours or overnight. Remove side of springform pan.
Very Best Baking by Nestle
---
Bourbon Pumpkin Cheesecake
Ingredients
CRUST
3/4 cup graham cracker crumbs (from five 4 3/4- by 2 1/4-inch crackers)
1/2 cup pecans or walnuts (1 3/4 ounces)
finely chopped 1/4 cup packed light brown sugar
1/4 cup granulated sugar
1/2 stick (1/4 cup) unsalted butter, melted and cooled
FILLING
1 1/2 cups canned solid-pack pumpkin
3 large eggs
1/2 cup packed light brown sugar
2 tablespoons heavy cream
1 teaspoon vanilla
1 tablespoon bourbon liqueur or bourbon (optional)
1/2 cup granulated sugar
1 tablespoon cornstarch
1 1/2 teaspoons cinnamon
1/2 teaspoon freshly grated nutmeg
1/2 teaspoon ground ginger
1/2 teaspoon salt
3 (8-ounce) packages cream cheese, at room temperature
TOPPING
2 1/2 cups sour cream (20 ounces)
2 tablespoons granulated sugar
1 tablespoon bourbon liqueur or bourbon (optional)
Garnish: pecan halves
Directions:
Make crust: Invert bottom of a 9-inch springform pan (to create flat bottom, which will make it easier to remove cake from pan), then lock on side and butter pan. Stir together crumbs, pecans, sugars, and butter in a bowl until combined well. Press crumb mixture evenly onto bottom and 1/2 inch up side of pan, then chill crust, 1 hour.
Make filling and bake cheesecake: Put oven rack in middle position and Preheat oven to 350°F. Whisk together pumpkin, eggs, brown sugar, cream, vanilla, and liqueur (if using) in a bowl until combined. Stir together granulated sugar, cornstarch, cinnamon, nutmeg, ginger, and salt in large bowl. Add cream cheese and beat with an electric mixer at high speed until creamy and smooth, about 3 minutes. Reduce speed to medium, then add pumpkin mixture and beat until smooth. Pour filling into crust, smoothing top, then put springform pan in a shallow baking pan (in case springform leaks). Bake until center is just set, 50 to 60 minutes. Transfer to rack and cool 5 minutes. (Leave oven on.)
Make topping: Whisk together sour cream, sugar, and liqueur (if using) in a bowl, then spread on top of cheesecake and bake 5 minutes.
Cool cheesecake completely in pan on rack, about 3 hours. Chill, covered, until cold, at least 4 hours. Remove side of pan and bring to room temperature before serving.
Cooks' note: Baked cheesecake can be chilled, covered, up to 2 days.
Recipe adapted from: Gourmet Magazine, Bourbon Pumpkin Cheesecake
---
No-bake Pumpkin Cheesecake Cups
Ingredients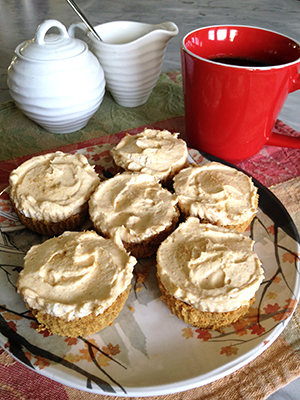 1-1/2 cups graham cracker crumbs, plus 2 tablespoons to sprinkle on top
2 tablespoons packed brown sugar
5 tablespoons melted butter
1 (8 ounce) package cream cheese, softened
1/3 cup granulated sugar
1/3 cup canned pure pumpkin
1/2 teaspoon pure vanilla extract
1/2 teaspoon pumpkin pie spice
½ cup cold heavy whipping cream
Directions:
Place 12 paper baking liners in a muffin pan. Using a mixer, thoroughly mix graham cracker crumbs, brown sugar, and melted butter in a bowl. Distribute evenly between 12 baking cups, approximately 2 tablespoons per cup, and pack firmly (I used the back of a small ladle) to make crust. Freeze 10 minutes.
In a large bowl, with an electric mixer, beat cream cheese and sugar on medium speed until smooth and creamy. Mix in pumpkin and pumpkin pie spice until combined.
In separate bowl, beat whipping cream with electric mixer on high until stiff peaks form. Fold whipped cream into cream cheese mixture until just combined.
Spoon and spread cream cheese mixture into each muffin cup, dividing evenly. Cover and refrigerate about 4 hours or until filling is set and chilled.
Just before serving, Sprinkle muffin cups with graham cracker crumbs.