There are a ton of pumpkin recipes popping up everywhere since it is now officially fall, and this one is a must-try! Most pumpkin cupcakes are dense and muffin-like, but these are light and moist. The frosting is airy whipped cream which is perfect for those who aren't a fan of traditional heavy frosting. These can be enjoyed any time: in the morning with a cup of coffee, as a lovely afternoon pick-me-up, or after a hearty autumn dinner. Careful though, it's hard to eat just one!
Pumpkin Butter Cupcakes
Yield: 20-24 cupcakes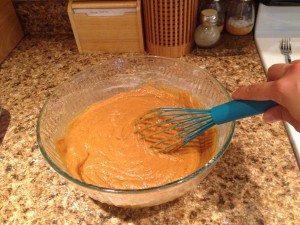 ¾ cup unsalted butter
2 cups all-purpose flour
1 ½ tsp. baking soda
3 tsp. ground cinnamon
1 tsp. ground ginger
1 tsp. salt ¼ tsp. allspice
1 ½ cups sugar
½ cup packed brown sugar
1 ½ cups pumpkin puree
3 eggs
½ cup sour cream
24 cupcake liners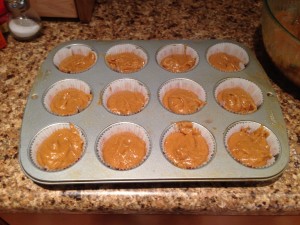 Preheat oven to 350°
Melt the butter in a saucepan over medium heat. Cook, stirring occasionally until the butter turns golden brown and smells like caramel. Pour the butter into a small bowl and set aside to cool, making sure it doesn't solidify.
Combine the flour, baking soda, cinnamon, ginger, salt and allspice in a medium bowl.
In a separate bowl, mix together the pumpkin puree, both sugars, eggs and sour cream. Slowly stir in the flour mixture until just combined, then whisk in browned butter. Be careful not to over-stir the mixture as this will make your cupcakes dense.
Line your cupcake tins with papers. Divide batter, filling each liner about half full.
Bake cupcakes 20-25 minutes until an inserted toothpick comes out clean and they spring back when pressed in the middle.
Cinnamon Frosting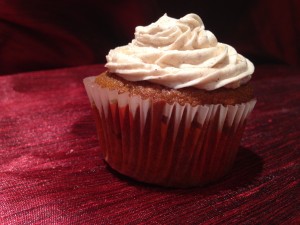 1 ½ cups sugar
¼ cup all-purpose flour
1 ½ cups milk
¼ cup heavy cream
3 sticks unsalted butter, slightly soft but still cold, cut into cubes
2 tsp. cinnamon
Combine the sugar and flour together in a medium saucepan over medium heat. Slowly whisk in the milk and cream little by little, forming a thickened mixture. Cook for about 20 minutes, whisking occasionally, until slightly boiling and thickened.
Pour mixture into a bowl and beat on high speed with an electric mixture to release heat. Place in the refrigerator for 20-30 minutes to chill, then whip again. Once cool, add the butter and beat on low speed until thoroughly mixed.
Increase the speed to medium and beat until light and fluffy. Add vanilla and cinnamon. If frosting is too soft, place in fridge to chill and then beat to the right consistency to pipe or spread on top of cupcakes.
Once the cupcakes are cool, frost them using a frosting bag and coupler for a whipped design.