Pumpkin is an incredibly versatile squash, adding a moist creaminess and golden hue to a variety of dishes. Plus, it's a flavorful source of vitamin A, fiber, and potassium.
To celebrate autumn's rich bounty, we've collected some of our favorite pumpkin treats below. You'll find spicy pumpkin swirl bread, velvety pumpkin cheesecakes, moist and fluffy pumpkin cupcakes, and a pair of hot pumpkin soups just perfect on a crisp evening. Each is a delicious way to bring the warm flavors of autumn into your home. So go ahead, indulge.
Spicy Pumpkin Swirl Bread
Ingredients
Pumpkin Bread
1 3/4 cups all-purpose flour
1 tablespoon pumpkin spice
1 teaspoon baking soda
1/2 teaspoon salt
1 can (15 oz.) pure pumpkin
1 cup granulated sugar
1/2 cup packed brown sugar
2 large eggs
1/2 cup vegetable oil
Directions
Preheat your oven to 375° F.
FOR BREAD: In a medium bowl, whisk flour, pumpkin spice, baking soda, and salt until blended. In a large bowl, combine pumpkin, and both sugars. Beat in eggs and vegetable oil. Add the flour mixture to the pumpkin mixture and stir until smooth. Separate the batter into thirds.
Ingredients
Cream Cheese Filling
1 package (8 oz.) cream cheese
1/4 cup granulated sugar
1 large egg yolk
1 teaspoon vanilla extract
Directions
For Filling: In a medium bowl, beat cream cheese until smooth. Add granulated sugar, egg yolk, and vanilla extract and beat until thoroughly combined. Separate filling into equal halves.
Assemble the Bread: Pour a third of the pumpkin batter evenly into a greased 9 x 5 loaf pan. Carefully spread half of the cream cheese filling evenly over the top. Pour another third of the pumpkin batter over the filling. Spread the remaining half of the filling over it, then pour the last third of batter on top. Drag a knife through the batter in gentle up/down motions to swirl the layers of cream cheese.
Bake bread 40-45 minutes until a toothpick inserted in the center comes out clean. Cool before slicing
---
Pumpkin Cheesecake
Ingredients
CRUST
1 1/2 cups graham cracker crumbs
1/3 cup butter or margarine, melted
1/4 cup granulated sugar
CHEESECAKE
3 packages (8 oz. each) cream cheese, softened
1 cup granulated sugar
1/4 cup packed light brown sugar
2 large eggs
1 can (15 oz.) pure pumpkin
2/3 cup (5 fl.-oz can) evaporated milk
2 tablespoons cornstarch
1 1/4 teaspoons ground cinnamon
1/2 teaspoon ground nutmeg
TOPPING
1 container (16 oz.) sour cream, at room temperature
1/3 cup granulated sugar
1 teaspoon vanilla extract
Directions
PREHEAT oven to 350° F.
FOR CRUST: Combine graham cracker crumbs, butter, and granulated sugar in medium bowl. Press onto bottom and 1 inch up side of 9-inch springform pan. Bake for 6 to 8 minutes (do not allow to brown). Cool on wire rack for 10 minutes.
FOR CHEESECAKE: Beat cream cheese, granulated sugar and brown sugar in large mixer bowl until fluffy. Beat in eggs, pumpkin, and evaporated milk. Add cornstarch, cinnamon, and nutmeg; beat well. Pour into crust. Bake for 55 to 60 minutes or until edge is set but center still moves slightly.
FOR TOPPING: Combine sour cream, granulated sugar, and vanilla extract in small bowl; mix well. Spread over surface of warm cheesecake. Bake for 5 minutes. Cool on wire rack. Refrigerate for several hours or overnight. Remove side of springform pan.
Very Best Baking by Nestle
---
Bourbon Pumpkin Cheesecake
Ingredients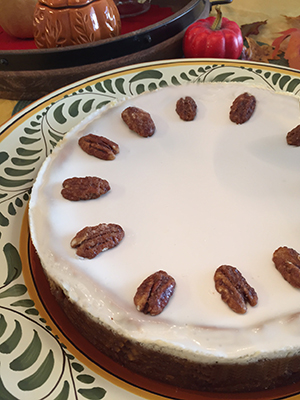 CRUST
3/4 cup graham cracker crumbs (from five 4 3/4- by 2 1/4-inch crackers)
1/2 cup pecans or walnuts (1 3/4 ounces)
finely chopped 1/4 cup packed light brown sugar
1/4 cup granulated sugar
1/2 stick (1/4 cup) unsalted butter, melted and cooled
FILLING
1 1/2 cups canned solid-pack pumpkin
3 large eggs
1/2 cup packed light brown sugar
2 tablespoons heavy cream
1 teaspoon vanilla
1 tablespoon bourbon liqueur or bourbon (optional)
1/2 cup granulated sugar
1 tablespoon cornstarch
1 1/2 teaspoons cinnamon
1/2 teaspoon freshly grated nutmeg
1/2 teaspoon ground ginger
1/2 teaspoon salt
3 (8-ounce) packages cream cheese, at room temperature
TOPPING
2 1/2 cups sour cream (20 ounces)
2 tablespoons granulated sugar
1 tablespoon bourbon liqueur or bourbon (optional)
Garnish: pecan halves
Directions
Make crust: Invert bottom of a 9-inch springform pan (to create flat bottom, which will make it easier to remove cake from pan), then lock on side and butter pan. Stir together crumbs, pecans, sugars, and butter in a bowl until combined well. Press crumb mixture evenly onto bottom and 1/2 inch up side of pan, then chill crust, 1 hour.
Make filling and bake cheesecake: Put oven rack in middle position and Preheat oven to 350°F. Whisk together pumpkin, eggs, brown sugar, cream, vanilla, and liqueur (if using) in a bowl until combined. Stir together granulated sugar, cornstarch, cinnamon, nutmeg, ginger, and salt in large bowl. Add cream cheese and beat with an electric mixer at high speed until creamy and smooth, about 3 minutes. Reduce speed to medium, then add pumpkin mixture and beat until smooth. Pour filling into crust, smoothing top, then put springform pan in a shallow baking pan (in case springform leaks). Bake until center is just set, 50 to 60 minutes. Transfer to rack and cool 5 minutes. (Leave oven on.)
Make topping: Whisk together sour cream, sugar, and liqueur (if using) in a bowl, then spread on top of cheesecake and bake 5 minutes.
Cool cheesecake completely in pan on rack, about 3 hours. Chill, covered, until cold, at least 4 hours. Remove side of pan and bring to room temperature before serving.
Cooks' note: Baked cheesecake can be chilled, covered, up to 2 days.
Recipe adapted from: Gourmet Magazine, Bourbon Pumpkin Cheesecake
---
No-Bake Pumpkin Cheesecake Cups
Ingredients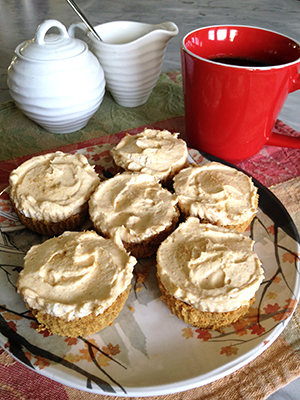 1-1/2 cups graham cracker crumbs, plus 2 tablespoons to sprinkle on top
2 tablespoons packed brown sugar
5 tablespoons melted butter
1 (8 ounce) package cream cheese, softened
1/3 cup granulated sugar
1/3 cup canned pure pumpkin
1/2 teaspoon pure vanilla extract
1/2 teaspoon pumpkin pie spice
½ cup cold heavy whipping cream
Directions
Place 12 paper baking liners in a muffin pan. Using a mixer, thoroughly mix graham cracker crumbs, brown sugar, and melted butter in a bowl. Distribute evenly between 12 baking cups, approximately 2 tablespoons per cup, and pack firmly (I used the back of a small ladle) to make crust. Freeze 10 minutes.
In a large bowl, with an electric mixer, beat cream cheese and sugar on medium speed until smooth and creamy. Mix in pumpkin and pumpkin pie spice until combined.
In separate bowl, beat whipping cream with electric mixer on high until stiff peaks form. Fold whipped cream into cream cheese mixture until just combined.
Spoon and spread cream cheese mixture into each muffin cup, dividing evenly. Cover and refrigerate about 4 hours or until filling is set and chilled.
Just before serving, Sprinkle muffin cups with graham cracker crumbs.
There are a ton of pumpkin recipes popping up everywhere since it is now officially fall, and this one is a must-try! Most pumpkin cupcakes are dense and muffin-like, but these are light and moist. The frosting is airy whipped cream which is perfect for those who aren't a fan of traditional heavy frosting. These can be enjoyed any time: in the morning with a cup of coffee, as a lovely afternoon pick-me-up, or after a hearty autumn dinner. Careful though, it's hard to eat just one!
---
Pumpkin Butter Cupcakes with Cinnamon Frosting
Yield: 20-24 cupcakes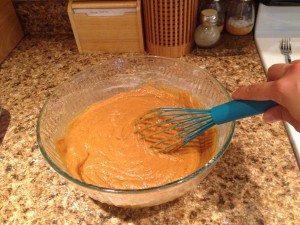 ¾ cup unsalted butter
2 cups all-purpose flour
1 ½ tsp. baking soda
3 tsp. ground cinnamon
1 tsp. ground ginger
1 tsp. salt ¼ tsp. allspice
1 ½ cups sugar
½ cup packed brown sugar
1 ½ cups pumpkin puree
3 eggs
½ cup sour cream
24 cupcake liners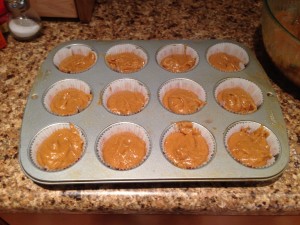 Preheat oven to 350°
Melt the butter in a saucepan over medium heat. Cook, stirring occasionally until the butter turns golden brown and smells like caramel. Pour the butter into a small bowl and set aside to cool, making sure it doesn't solidify.
Combine the flour, baking soda, cinnamon, ginger, salt and allspice in a medium bowl.
In a separate bowl, mix together the pumpkin puree, both sugars, eggs and sour cream. Slowly stir in the flour mixture until just combined, then whisk in browned butter. Be careful not to over-stir the mixture as this will make your cupcakes dense.
Line your cupcake tins with papers. Divide batter, filling each liner about half full.
Bake cupcakes 20-25 minutes until an inserted toothpick comes out clean and they spring back when pressed in the middle.
Cinnamon Frosting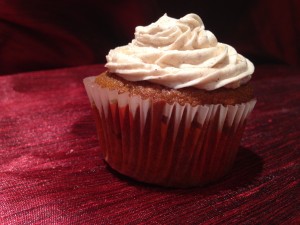 1 ½ cups sugar
¼ cup all-purpose flour
1 ½ cups milk
¼ cup heavy cream
3 sticks unsalted butter, slightly soft but still cold, cut into cubes
2 tsp. cinnamon
Combine the sugar and flour together in a medium saucepan over medium heat. Slowly whisk in the milk and cream little by little, forming a thickened mixture. Cook for about 20 minutes, whisking occasionally, until slightly boiling and thickened.
Pour mixture into a bowl and beat on high speed with an electric mixture to release heat. Place in the refrigerator for 20-30 minutes to chill, then whip again. Once cool, add the butter and beat on low speed until thoroughly mixed.
Increase the speed to medium and beat until light and fluffy. Add vanilla and cinnamon. If frosting is too soft, place in fridge to chill and then beat to the right consistency to pipe or spread on top of cupcakes.
Once the cupcakes are cool, frost them using a frosting bag and coupler for a whipped design.
Recipe adapted from Sprinklebakes.com
---
Pumpkin Curry Soup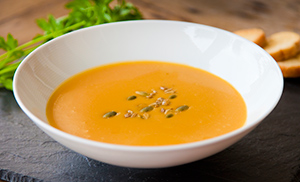 Ingredients
1 can 100% pure pumpkin (15 oz.)
1 cup light coconut milk
2 large fresh garlic cloves, minced
1 small yellow onion, chopped
3 tablespoons olive oil
3 cups low-salt chicken or vegetable broth
1 teaspoon curry powder
1/4 teaspoon ground coriander
1/4 teaspoon crushed red pepper flakes
Salt and pepper to taste
Roasted, or raw pumpkin seeds for garnish
Directions
In a soup pot, cook chopped onion in olive oil over medium heat until soft and translucent. Add garlic and cook a few more minutes. Stir in broth, curry powder, coriander, and red pepper flakes.
Cook over medium-high heat, stirring, until mixture just comes to a boil. Cover and simmer for 20 minutes, stirring occasionally. Add the pumpkin and coconut milk. Whisk well and simmer another 5 minutes uncovered.
Puree until smooth with an immersion blender, or food processor/blender. If you're using a food processor/blender, be careful to puree in very small batches and allow steam to escape while blending. Return the pureed soup to the pot and re-heat to serving temperature. Add salt and pepper to taste before serving.
Garnish with pumpkin seeds. Enjoy!
---
Pumpkin Sage Soup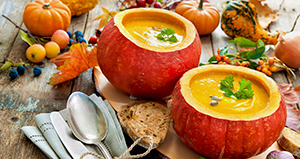 Ingredients
4 medium sugar pumpkins
1 tablespoon olive oil, or butter
3/4 cup shallots, diced
3 cloves garlic, chopped
4 cups vegetable stock or chicken broth (low sodium recommended)
1 tablespoon fresh sage
Salt and pepper to taste
Low fat sour cream and fresh sage leaves for garnish (optional)
Directions
Make the bowls: Preheat the oven to 400 degrees F. With two of the pumpkins, use a paring knife to cut a large circle around the stem of each pumpkin (make a zigzag cut, if desired). Remove the lid and scoop out the seeds and fibers. Sprinkle the inside of each with 1/2 teaspoon each sugar and salt. With the remaining two pumpkins, cut them in half vertically and scoop out the seeds. Place all the pumpkins and lids on a baking sheet; roast until tender, 35 to 50 minutes, depending on their size, until tender.
When the pumpkin is cooked and cool enough to handle, use a spoon to scoop out the flesh of the vertically cut pumpkins. This should make about 5 cups. Save the other 2 to use as bowls.
Make the soup: Heat the butter (or olive oil) in a large soup pot over medium heat. Add the shallots and sauté for about 4 minutes. Next, add the garlic and sauté for another minute or so until tender. Stir in the pumpkin, vegetable stock, or broth, sage, and salt and pepper. Gently bring ingredients to a boil, then cover pot and simmer on low, for 15 minutes. Pour mixture into a food processor/blender or immersion blender and puree until soup is a smooth texture. Add salt and pepper to taste. Pour into pumpkin bowls and garnish with a dollop of sour cream and place sprig of fresh sage on top. Serve immediately. Thank you to Skinnytaste for the sage inspiration.