Dryer not drying? Garbage disposal hums but doesn't grind? Take a deep breath and try these quick fixes before you reach for the phone. Some fixes really are simple. When they aren't, if you've got a First American home warranty, you can simply sign in at fahw.com and request service.
Garbage Disposal
Often ignored until it isn't working right, your garbage disposal likely gets a lot of use, and can be temperamental if "fed" the wrong diet.
Doesn't Turn On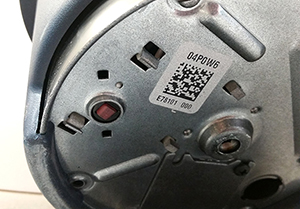 Reach inside the sink cabinet and press the reset button located on the bottom of the disposer. Flip the wall switch again. If it works, great! But if the motor hums, shut it off and proceed to the next step.
Hums, But Doesn't Grind
Something is likely jammed in the disposal. Unplug the disposal and check to see if you see something in the disposal. Use tongs to remove any items you may find. If your disposal is still jammed, try using a garbage disposal wrench.
Smells Terrible
Add small strips of lemon peel (not the whole rind!) along with ice cubes. Then run water as you turn the disposal on and let it grind the ice and lemon.
Clothes Washer
Won't Spin or Drain
If you have a top-loader, check to make sure your lid switch is engaging properly. If it is bent or broken, your lid will not close completely, which may prevent the washer from completing its cycle.
Rocking and Shaking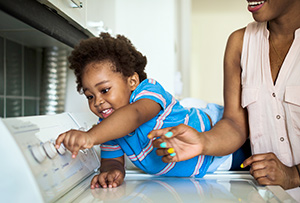 First, check your laundry load to make sure the clothes are distributed evenly. Too many clothes can cause the washer to become imbalanced and rock or shake. Next, use a level to check the balance of your machine. If it is off-balance, adjust the feet and test again.
If you're still hearing a loud noise during or after the spin cycle, it may be time to call for service. But if it's only minor shaking, you can try easy-to-install "anti-vibration" pads that help reduce vibration and noise. Find additional tips here for keeping up with the regular maintenance needs of a washing machine.
No Hot Water
First, test that your water heater is working by checking the hot water at a nearby sink. Then check that the hot water valve to your washer is turned on. Next, check your washer hoses and the filters between the hose and the washer. They can become clogged over time and may need to be cleaned or replaced.
Clothes Dryer
Not Drying Clothes
It might sound silly, but first, check to make sure your dryer isn't set to Air Dry or Air Fluff. Repair personnel say this happens more than you might think. Little hands find buttons, knobs, and dials irresistible and it's often easy to accidentally change settings. Next, check the lint filter. Remove and clean the lint filter each time you use the dryer. Use a long nozzle to vacuum out the area under the lint filter. Finally, check and clear any obstructions in the vent hose. If flexible ducting is used, be sure it isn't kinked and is installed properly. Make sure the outside wall vent is not obstructed.
If your dryer stopped spinning, this helpful guide can help you troubleshoot what to do and provides tips on the parts to check when the dryer won't spin.
Dishwasher
Not Cleaning Dishes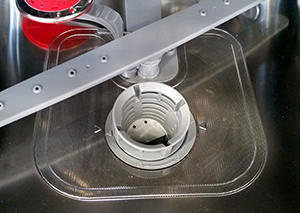 If your dishes aren't coming out clean, check the filter at the bottom of the dishwasher (the filter usually looks like the cap of a laundry detergent bottle). If it's clogged, then this reduces the water flow so dishes won't get as clean. A clogged filter can also create unpleasant odors.
Discovered that the dishwasher won't drain? Follow the tips in this step-by-step guide on how to unclog a dishwasher. You may find that a bit of DIY can help you when water isn't draining from a dishwasher, rather than calling for a plumber.
Bad Odor
First check your dishwasher's filter (see Not Cleaning Dishes, above) and clean if necessary. Next, in an empty dishwasher, add a cup or two of white vinegar to a dishwasher-safe container on the top rack. Run the dishwasher on a normal cycle (without any other dishes).
You'll find many more helpful tips here for keeping your dishwasher cleaning its best.
Refrigerator
Not Cool Enough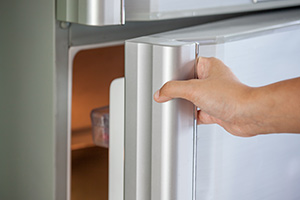 First, check that the door is closing and sealing. Look for large items, such as trays, platters, and pizza boxes that may interfere with door closure. Next, make sure the door gaskets are clean and able to seal properly. Finally, check the temperature setting. The temp control can accidentally be bumped to a warmer (or cooler) setting.
And when it comes to the proper care of refrigerator coils and other useful fridge maintenance tips, look no further than this refrigerator maintenance guide to help you keep your running on and on.