As the saying goes, there's beauty in the air when it rains. And when it comes to rain chains, nothing could be closer to the truth. What is a rain chain? Functionally, a rain chain channels rainwater away from your home, like a downspout in a gutter system. Artistically, they hold an almost mystical appeal, taking gutter-glam to a whole new level.
For craft enthusiasts, rain chains are the ultimate DIY project—a DIY rain chain makes a lovely enhancement to your home's exterior—whether it's a patinaed copper rain chain or a silvery aluminum one, or any other whimsical design you choose to create. So let's dig in and learn more about rain chains and how you can beautify your home with these delightful ornaments.
Rain Chain Origins
Rain chains (called "kusari doi" in Japanese, which means "chain gutter ") originated in Japan, where they have been used for hundreds of years. Traditionally, they were associated with Japanese tea ceremonies, adorning tea houses and providing spiritual and auditory significance as rainwater gently trickled down the links to collecting basins on the ground. Because tea masters preferred rustic aestheticism over formality, rain chains were originally made of natural elements like bamboo and wood.
Today, homeowners, landscapers, gardeners, and designers have fallen in love with rain chains and it's easy to see why. They're an elegant alternative to conventional gutter downspouts—and you can even add them to homes that don't have downspouts. They also accentuate architecture and add curb appeal, turning the utilitarian task of deflecting water away from a house into a graceful, multi-sensory water feature that adds charm and beauty to outdoor spaces.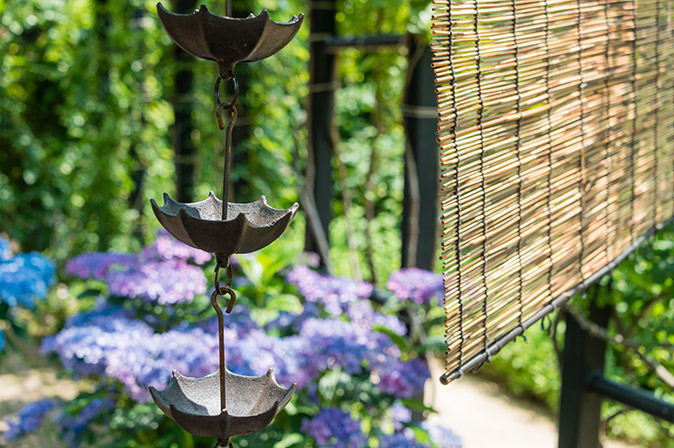 How Rain Chains Work
Some people refer to a rain chain as a rain chain for gutters, since essentially, a rain chain is a decorative substitute for a downspout. The chain is attached to the end of a roof gutter, where a downspout typically would be, to divert water away from a home's foundation. Made of a linked chain design or a cup design, water flows down the rain chain into a rain barrel or other collection basin, making it the ultimate rain harvesting system.
The soothing trickle of water gliding over the interlocking components produces a sense of tranquility and calm that Japan's tea masters cherished. And besides the serene aesthetics associated with rain chains, they come with an important operational advantage: they're far less likely than a traditional downspout to clog. You could almost say they're clog-free by design since leaves and other debris have a hard time collecting in their links and causing obstructions.
Rain Chain Styles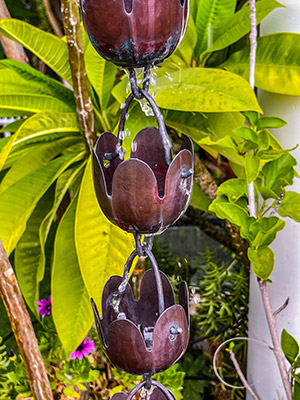 Rain chains can work as effectively as traditional downspouts if scaled to match the amount of rainfall you experience. You'll also want to choose the best style, either cup or link, to handle the rain you receive:
Cup style: Cup rain chains are basically a series of delicate cups linked together. Most have a small hole in the bottom of each cup that allows rainwater to drain from one cup to the next. Others are made so that rain collects in the top cup and then spills over into subsequent cups as it travels down the chain. You can choose from a virtually endless array of sizes, shapes, and motifs—tulips, lotuses, and other flowers and foliage, modern squares, stars, bell-shaped designs, cups with fluted and scalloped edging, and even cups resembling tiny umbrellas and watering cans.
Link style: Link rain chains are comprised of links more closely resembling a traditional chain. Some designs incorporate hummingbirds, umbrellas, hearts, leaves, fleur-de-lis, and other motifs into the links. Thicker and thinner chains are available in a variety of sizes and metals, and some feature links in the shape of diamonds, squares, and other silhouettes.
Quick tip: Of the two styles, cups are more suitable for areas with excessive rainfall (choose a larger cup size if you receive lots of rain). Linked rain chains are ideal in drier regions with infrequent rain, as the links can be quickly overpowered during a heavy downpour.
Common Rain Chain Materials
When it comes to rain chain materials, keep in mind that these beauties spend their lives outside in the elements, constantly exposed to wind, rain, and sunlight. That's why it's important to choose a material that's suitable for your climate and able to handle the amount of rainfall you receive.
Copper: A copper rain chain is popular due to its deep rich color and resistance to rust. Available in a smooth or hammered (textured) finish, a copper rain chain will oxidize to develop an elegant verdigris (green) patina over time, making it a timeless option.
Brass and bronze: Rain chains made from brass and bronze are very strong and durable, and because these materials are copper-based alloys, they'll develop a rich patina as they weather, much like a copper rain chain.
Stainless steel: Choose stainless steel if you want a heavy, sturdy rain chain (the thicker the better) that will perform well in windy areas with heavy rainfall. Stainless steel blends in nicely with contemporary homes, and despite its rather industrial reputation, can look both elegant and stylish.
Aluminum: Because aluminum is by nature a lightweight material, aluminum rain chains work wonderfully in more protected areas that experience little wind. Generally silver in color, an aluminum rain chain can develop a light patina over time.
Glass: As you might guess, a glass rain chain is extremely delicate and best for drier, protected spaces, and is absolutely stunning when sunlight hits it at just the right angles. Choose from glass beads, larger glass "rock" designs, and other shapes and motifs, in colors that accentuate your home.
Plastic: This is generally considered a cheap rain chain material because it can be easily broken or damaged in the wind, performs poorly during heavy rainfall, doesn't produce that gentle tinkling sound that metal rain chains do, and can grow mold when exposed to water and outside elements.
How to Make Your Own Rain Chain
The beauty of a DIY rain chain is that you can choose your style (cup or link), your material, and your design—and the sky's the limit when it comes to your options. A popular DIY rain chain idea is attaching tiny terra cotta pots to links to form a whimsical rain chain that's perfect for a garden-themed décor. You can leave the pots as they are, paint each pot a different color, or choose one paint color that complements your home's exterior. Small steel buckets linked together are another common DIY rain chain idea.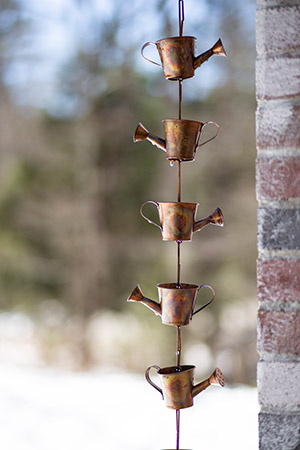 Select your material and style based on how much rainfall your area receives, and also on where your rain chain will be hung. If your intention is to make it a focal point of your home's exterior décor, plan on spending more time and money on the finished design (as opposed to making a cheap rain chain that's more utilitarian).
Link-style rain chains are the easiest to assemble as they basically involve connecting a series of links until you have the desired length you want. A cup-style rain chain requires a bit more effort; here is an easy technique to try:
Start by measuring how long you want your finished rain chain to be, and then cut a chain in your selected material to that length.
Decide how much space you want between each cup (6 to 12 inches is standard, but could be more depending on the depth of your cups), and then cut your chain into lengths equal to that measurement. For example, if you want each cup to be eight inches apart, cut your chain into 8-inch pieces.
Hook a small S-hook through one end of a chain piece and into the drainage hole of a cup. Then connect the second piece of chain to the other side of the S-hook. Continue fastening chain pieces to your cups using the S-hooks.
After you've attached all the cups to your chain pieces, you're ready to hang your rain chain.
Installing a Rain Chain to Your Gutter
If you have existing gutters and downspouts, it's easy to replace your downspouts with rain chains, and you have some options for how to do it. One of the easiest ways is with a V-hook. After removing your downspout, put the top link of your rain chain up through the hole in your gutter where your downspout used to be. Loop the V-hook through the top link, then gently drop it down to secure it inside the hole. The V-hook should be large and durable (heavy) enough so that it will securely hold the rain chain in the opening.
The V-hook method works best in areas with lighter rainfall. For more moderate to heavy rain, or if you want a more secure installation, consider a rain chain installation kit. Kits come in many sizes and metals (copper, aluminum, and more), and typically include a short tube with a flange and a U-bracket. For best results, choose a kit with a tube diameter that fits the hole in your gutter. Some kits also provide an additional wider flange plate that you can use if you need to cover a larger hole.
To use a kit, simply spread a thin layer of all-weather caulk on the flange, all around the tube, and then secure it in place in the hole. Once it's dry, attach your rain chain to the tube using the U-bracket provided.
If your gutter downspout hole is too close to your home's exterior, you can purchase a rain chain gutter adapter, which fits into your gutter hole. This handy device has a slight jog in it (offset by a few inches, depending on the particular adaptor), which enables your rain chain to hang that many inches away from your home. Most rain chain gutter adapters come with a U-bracket for attaching your rain chain, so you don't need a separate installation kit when using one.
If your home doesn't have downspouts, you have some options. One is to install a short gutter section, adding a hole at the end where you want your rain chain to hang. Another is to add a 90-degree corner leader head, which fits snugly into the area where two roofs intersect, like a corner of the house. Many are quite decorative and generally come with everything you need for easy installation, including a small tube at the bottom where you can attach your rain chain using a U-bracket.
Collecting Your Rain Chain Water
It's extremely important that you direct the water from your rain chain into a water barrel, a decorative basin, or a splash guard; otherwise, the water will simply flow into the ground where it can seep into your home's foundation and lead to dry rot, cracking, and additional structural damage. Another benefit is that doing so prevents your rain chain from blowing around in high winds.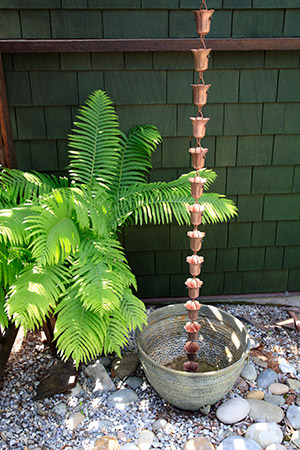 Happily, you have as much creativity in selecting your water collection system as you do in choosing your rain chain. Select a material and design that matches your rain chain for a cohesive, visually appealing look. Or go with an entirely different vibe for something more eclectic.
You can use the water you collect for watering your garden, washing a vehicle, cleaning outdoor surfaces, and more. Some rain barrels even come with a faucet and hose attachment, making it easy for you to access and use the water you've harvested.
To secure your rain chain to a water barrel or basin, attach a small hook or ring to the bottom of the barrel/basin's interior using strong all-weather adhesive, and then connect it to the end of your rain chain. Some basins conveniently come with a ring already attached. You can do the same to anchor your rain chain to a splash guard. Or for a decorative touch, try propping a heavy ornamental rock or watering can (filled with rocks for added weight) over the end of the rain chain to secure it to the splash guard.
Protect Your Home with a Home Warranty
Rain chains are delightful, unique components of a comprehensive gutter system—and a charming way to safeguard your home from water damage. Another way to protect your home is with a home warranty because our plans cover many of the major home appliances and systems you use every day. Read more about our home warranty coverage and the convenience and budget protection it provides. You can also get a personalized home warranty quote.