It's easy to forget about fridge maintenance when all is running smoothly. However, this essential appliance needs more care than you may think. When was the last time you did more than reorganize the shelves or wipe up a spill? Your fridge may be ready for some attention.
Refrigerator maintenance doesn't have to be an elaborate chore. Simple everyday practices can keep your fridge running properly and prolong its life. Here are some refrigerator maintenance tips to keep your fridge in tip-top shape for years to come.
1. Clean the Cooling Coils
Condenser and evaporator coils work together to condense the refrigerant and release heat. When the coils become clogged with dust, dirt, and other particles, it puts stress on your fridge's system, which can cause it to work inefficiently or even fail. You may need to clean your condenser coils every three months, and more often if you have furry pets.
The first step in this type of fridge maintenance is to unplug the appliance. The coils are usually located on the back of the refrigerator or underneath it, so you may need to move your fridge away from the wall. If you can't locate the coils, consult your owner's manual. To access and clean the coils, you will either remove the front kickplate or remove the fridge's back panel. You may need a screwdriver for this step. Then, using the brush attachment on your vacuum cleaner, gently vacuum over and under the coils to remove any debris.
Care and maintenance of refrigerator coils can help keep your fridge from breaking down. Knowing which appliances need to be cleaned and how to approach maintenance for each one can save you money on potential repairs.
2. Check the Temperature
Keep your refrigerator at the manufacturer's recommended temperature to allow it to run more efficiently. When you set your fridge to colder than needed, it can put more strain on the compressor, potentially causing components to fail sooner than they might otherwise. Maintaining the ideal refrigerator temperature can reduce your electric bill and prolong your refrigerator's life.
So, what temperature should a freezer be? What about the fridge? The refrigerator compartment's optimum setting is at or below 40 °F, and the freezer is 0°F. The lifespan of appliances is largely affected by how you use and maintain them, so following these recommendations is key to getting the most out of your fridge and freezer.
3. Close the Door
A simple refrigerator maintenance practice is to minimize how often you open and close the door. Opening the door frequently within a short time or leaving it open for minutes at a time forces the refrigerator to work harder to maintain its set temperature. These actions also waste energy and reduce your refrigerator's efficiency. Instead, reduce strain on your fridge's system by thinking ahead about what you want and removing everything at once.
Two-door fridges can be more efficient than their one-door counterparts. If your single-door refrigerator is getting older, consider replacing it with a side-by-side or French-door model. Manufacturers continue to improve refrigerators to comply with the latest federal energy-efficiency standards, which means buying a new fridge can help reduce your electric bill.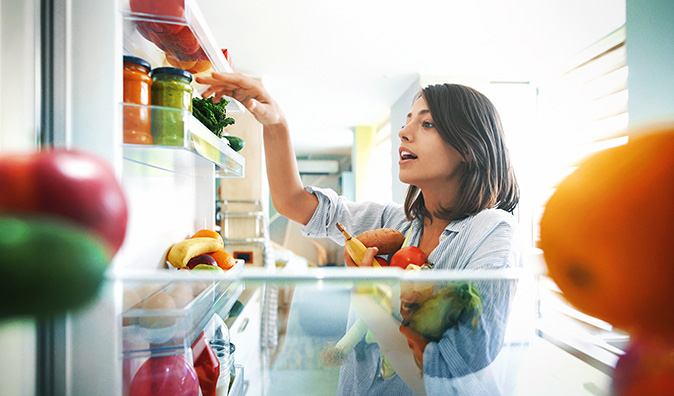 4. Inspect and Clean Door Gaskets and Seals
It's a good idea to check door gaskets as part of your routine fridge maintenance. Look at the refrigerator and freezer gaskets and seals to ensure that the seals are tight, and that food buildup or other residue does not impede closure. A blocked or loosening door seal can cause cold air to seep out, leading to higher electric bills and food spoilage. Clean your door gaskets and seals at least every six months using a soft toothbrush and a DIY housecleaning solution like baking soda and warm water.
You should also inspect the gasket regularly for any signs of cracks or deterioration as part of your refrigerator care and cleaning. Replace door gaskets if you see signs of wear and tear.
5. Replace the Water Filter
If your fridge dispenses water or ice, it probably has a water filter. Many homeowners don't know that their refrigerator has one or more water filters, nor that these filters need to be changed regularly. Replacing the water filter every six months will keep your water and ice clean and help prevent clogs and leaks.
If you're doing your own fridge maintenance, check your manufacturer's manual for the filter's location and instructions on how to replace it. After you replace the filter, run a few gallons of water through it to remove any air or residue before you drink the water.
6. Keep it Level
When your refrigerator is not level, it can cause the motor to strain, making your fridge less efficient and potentially reducing longevity. If you notice the refrigerator door does not close tightly, and the issue is not gasket-related, it could be a sign that the fridge is not level. Use a level to check your fridge's position and adjust the feet as needed. Your manufacturer's guide can help you find the instructions for leveling your fridge.
7. Fill Your Fridge
A full refrigerator uses less energy. It may seem surprising, but when you have a fridge full of food and beverages, you are helping it work well. Refrigerators need "thermal mass" to maintain a consistent temperature. As the food in a full fridge reaches the set temperature, the cold items assist in keeping the overall air temperatures down, so the fridge expends less energy to maintain its temperature.
Expert tip: While a full fridge is beneficial to your energy bill (and when you're hungry), be careful not to overcrowd it to the point of blocking vents or controls.
8. Empty the Ice
One of the best fridge maintenance tips is to empty your ice tray regularly, which helps keep your freezer fresh. Ice absorbs freezer odors, and when the tray is too full, ice can also block or clog the dispenser.
To keep your freezer smelling clean, empty your ice bins monthly and clean them. Putting an open box of baking soda in the freezer also helps to absorb odors. Be sure to turn off or empty the icemaker when the container starts to get packed to prevent solid ice blocks from forming at the dispenser.
9. Store Food Properly
A few simple food storage tips can also help with general refrigerator maintenance. For example, storing leftovers in closed containers minimizes moisture in the refrigerator, which can help it run more efficiently. Use securely fitting lids or cover your food tightly with foil or plastic wrap.
Also, be sure that hot food has completely cooled before placing it in the fridge; it takes extra energy to cool down warm dishes.
Are Your Appliances Covered by a Home Warranty?
Proper refrigerator maintenance keeps this important appliance running well and helps it last. You can also protect essential appliances and home systems with First American home warranty coverage. Contact us to learn more about fridge home warranty coverage or get a quick, no-obligation home warranty quote.