Skunks, rodents, and other small wildlife can be difficult to remove once they've decided your property is a great place to live. But ridding your house or yard of these invaders is not impossible. If you have a rodent control issue around your home, you've got nontoxic, humane rodent removal options you can deploy. We'll cover those options, as well as long-term prevention tips you can use so uninvited visitors don't return year after year. The pros call this process "eviction and exclusion."
Eviction (a.k.a. Rodent Removal)
Rodents and other small animals typically will move into your yard because they've found a food or water source, but they will also enter a home for the same reason. Other reasons include seeking shelter and to nest.
If an unwanted animal has entered your home somewhere, the solution to getting them out is to make it easy for them to find their way out. While your instinct might be to close up the space where they got in, that may only trap animals or rodents inside to wreak havoc, and worse, die in the home.
Dos and Don'ts of Rodent Control in Your Home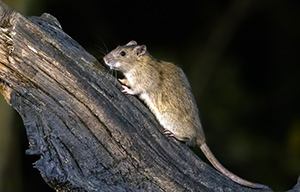 There are some simple tips to try, such as playing loud music, leaving a bright light on in the area, and banging on the walls or ceilings, if you know precisely where the animal is located in your home.
Alternatively, you may be tempted to reach for rat or mouse poison to eliminate them quickly, but these off-the-shelf poisons are especially hazardous to you, your kids, and pets, and even can be harmful to the environment. Plus, you may experience an awful outcome:
The animal or rodent will most likely die in a wall or other inaccessible area of the home.
When the animal dies, that smell can be long-lasting and extremely difficult to eliminate.
You may also consider live-trapping to be a humane method of wildlife or rodent removal, but many states have made this illegal, and the U.S. Humane Society strongly advises against it for these reasons:
You could be injured, scratched, or bit by what would be a very frightened animal that you've trapped.
You could live-trap the adult(s) but leave behind the offspring to die in your home.
If successful, you would need to bring the animal to a new place and it may not survive the transition.
What's Your Best Option for Control of Rodents
Most of the time, it's difficult to know where in the home an animal or rodent may be hidden. Often, despite your best efforts at enticing them to leave, they won't for fear of abandoning their offspring. When faced with these challenges, the best rodent control step you can take is to call in a local rodent abatement professional.
A local expert can take care of the eviction for you. The person you hire will identify the type of animal or rodent in your home, determine if offspring are present, and decide on the best–and least toxic–method of rodent removal. Once the problem has been resolved, your local pro will begin the exclusion process, which involves specific steps, which we'll cover in the "Exclusion" section.
Typically, a rodent control expert will deploy one of two solutions:
A special one-way door. These let small animals exit easily, but once out, there is no way back in.
Multiple bait traps are set in key areas with the type of bait that attracts and then quickly exterminates rodents.
Often, the choice between the two methods will depend on the level of infestation found.
Finding the Best Rodent Control Pro
Wildlife and rodent control experts will know the laws in your area when it comes to dealing with animals or rodents that have entered inhabited places. They also know which techniques to try for your situation.
Search online for local experts by typing in "rodent abatement" or "wildlife and rodent removal services." Many of these services offer state-of-the-art thermal imaging and motion-activated cameras (costlier measures) to help locate critters in your home.
Also, check if the company you contact has one- or two-year warranties for their work. The additional item to ask about is what kinds of "exclusions services" they offer, as they will be the important next steps to take to truly rid your world of unwanted guests.
Exclusion (a.k.a. Rodent Abatement)
After the pro you've hired has completed the wildlife or rodent eviction step, "exclusion" is next. Rodent control experts should do a comprehensive inspection of the outside of your home, the attic, and basement or crawl space areas.
It's a good idea to be on hand to point out areas of the home you are concerned about, as well as answer questions about your home. You'll also be able to ask questions during the inspection.
These are typically the areas an expert will inspect closely:
Windows, screens, and doors for wear and tear, cracks in caulk, and so on
Visible cracks or crevices where:

siding comes together
utility pipes and dryer vent exit the home
TV/cable wires enter the home

Visible cracks or wear and tear in:

siding
foundation and vent covers
chimney, roof, soffit, flashing, and exhaust vents
Once identified, the exclusion expert will seal any suspect or open areas using a variety of options, such as applying new weather-proof silicone caulk for windows and doors. (This also has the added benefits of sealing up air leaks and can help make your home more energy efficient.) For closing up exposed areas in the structure, some of the typical materials used can include spray foam, steel mesh, and chicken wire.
Finally, be sure to ask about follow-up visits as part of the company's exclusion service. You should expect to have an expert return for at least two to three additional appointments to check traps, if used, remove animals if need be, and ensure no signs of continued infestation.
Rodent Control Tips for Home and Hardscape Areas
Here are some of the best rodent control tips for making your yard, crawl space, chimney, and even the attic less friendly for rodents of all the usual sizes, as well as skunks, raccoons, squirrels, and other small animals you did not choose to share your home with.
Securely cover garbage, recycle, and compost bins. Also, pick up any trash or debris around the area where you store your bins so it doesn't become an area for rodents, skunks, and opossums to snoop for food scraps.
Install solar or motion detector lights outside. Small animals like skunks and raccoons prefer to work in the dark so add light. Focus your attention on unlit areas and near porches or decks.
Inspect foundation areas and around porches or decks regularly for access points. Many rodents can get through even the smallest openings, particularly during the breeding season in early spring. Any easy access points or dark, warm areas will be attractive places to them. Board up any holes or use steel mesh or chicken wire on any exposed areas, where small animals can crawl through.
Use natural deterrents. Ironically, most animals do NOT like strong smells; for example:

Skunks don't like any kind of citrus. So if you have signs of skunk activity near your home, try leaving lemon, lime, or orange peels around suspect areas. You can also make your own citrus spray and safely spray it on porch or deck foundations and also around any areas you've sealed up.
Mice don't like the smell of apple cider. Mix one part apple cider vinegar with one part water in a spray bottle and spray it around suspected areas inside or outside the home.
Other safe, natural odor deterrents include strong oils such as peppermint and patchouli, which have the added benefit of being smells humans often like.

Remove food sources. It's best to never leave pet food outside or in the garage and especially not overnight. If you have outdoor-only cats, train them to come to eat at certain times of the day and only when you are around, so that you can take the bowl back inside after they are finished eating.
Remove water sources. Like us, all animals need water to survive, so if you are fighting to control an infestation, make sure you don't give them a source of water. Fix leaky faucets or pipes, don't leave water in trays under houseplants, and don't leave pet water bowls out overnight. Even dampness or high humidity can appeal to rodents, skunks, and other small animals.
Keep the kitchen clean. It may not always be a favorite chore, but daily kitchen cleanup will deter mice and rats looking for a free meal. Wipe down your countertops with a solution of half water and half vinegar. Put dirty dishes in the dishwasher, put away all food, remove garbage and recycling often, and keep items like grains, nuts, and dry pet food sealed in glass or plastic containers.
Rodent Control Tips for Landscaped Areas
Clear overgrown areas. Rodents, skunks, and raccoons like wide varieties of berries so if you have wild blackberries in the yard, cut them way back and remove them at the root if possible. If you have strawberries or other berries coming up in your garden, pick them as soon as they ripen and remove any fallen or rotting fruit to avoid attracting skunks.
Harvest your vegetable garden at its peak. Be sure to remove or compost excess harvest—and remember, veggies are just as tempting to wildlife as berries.
Pick up around fruit trees. Apples and other fruit that fall from your trees make nice snacks for rodents and their offspring, so remove any tasty temptations daily.
Dig up roots and bulbs. Squirrels, chipmunks, and skunks are diggers and will forage and consume these bulbs, leaving you to fill in the holes they've dug. (Quick tip: If you have a skunk problem, get helpful advice on how to get rid of skunk smell in the house, on pets, or on clothes.)
Reduce grub populations naturally. Skunks, raccoons, and moles all like to dig for grub worms, particularly on a green, un-mowed lawn. Mowing regularly and using a natural, non-toxic solution helps mitigate this problem. Native plantings that promote bird-friendly yards also help—grubs are also a natural food source for birds but unlike skunks, they don't dig up your lawn.
Maintain compost pile in the yard. Be sure to bury all food scraps you add and turn the pile regularly to avoid attracting rodents, skunks, and so on. You can find more helpful tips on composting here.
Check the yard around bird feeders regularly. Got a pretty bird feeder hanging outside your window? It can be fun to watch visiting birds but they are messy eaters. A lot of feed ends up on the ground, where many small animals will soon discover yet another regular food source. If you love that feeder, you can try raking up what you can; better yet, don't overfill the feeder—simply add a little more every few days instead. Alternatively, get a hummingbird feeder, which doesn't use seeds.
Get a cat. As deterrents go, cats can often be one of the most effective, and natural, ways to discourage rodents and other small wildlife from visiting your property. Plus, they purr, snuggle, and can generally improve your overall home life.
As you have gathered by now, rodents, skunks, raccoons, and many other small animals are omnivores. Everything you can do to remove easy access to food and water can help with the control of rodents. These tips offer effective prevention measures that keep your home from becoming an attractive refuge for them and leave you pest-free to enjoy your home as you please.
How Home Warranties Help Homeowners
While a home warranty cannot protect your home from the occasional wildlife invasion, it can help you by protecting the appliances and systems you rely on—when one of them breaks down, a First American Home Warranty can cover its repair or replacement. Homeowners know the unexpected happens sometimes, and home warranty coverage can help you deal with some of those events. Find out more about our plans, and get a personalized quote in minutes.