September is REALTOR® Safety Month, but your safety should be a year-round focus. To help you stay safe, we've researched the latest safety apps designed for personal safety. These tools include wearable safety devices and savvy smartphone apps. You can use them to alert co-workers, loved ones, or the police when you need to get help quickly.
Smartphone Safety Apps
Check out these free or low-cost safety apps, many of which are recommended by the National Association of REALTORS® (NAR). These apps can help you stay secure and some can bring help if you need it. In addition, safety apps such as TrustStamp (and the more expensive PeopleSmart website) can help you establish the identity (and trustworthiness) of strangers before you meet them.
Free safety apps
Safety apps with a small monthly fee or initial cost
Wearable Safety Devices
These wearable devices all use Bluetooth technology to connect to a safety app on your Apple or Android smartphone.
Guard Llama
Guard Llama uses a small hand-held device with a button. When you press the button twice, it sends a signal to the app on your phone (phone must be within 150 feet). The app sends your GPS location and personal info to Guard Llama's dispatch center. They then dispatch the police, who have your exact location. Plans start at about $9 per month and include the device.
V.ALRT
V.ALRT is a small wearable button that you can carry with you. The button connects to a mobile app on your smartphone (within up to 75 feet inside and 300 feet outside). When you push the V.ALRT button, it has your smartphone send a personalized text message and your GPS location to up to three contacts. The device is just under $40, the app is free, and there are no monthly subscription fees.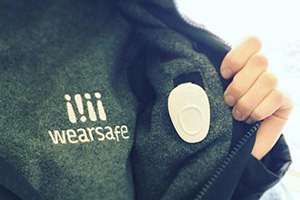 © Image courtesy of Wearsafe.com
Wearsafe
Wearsafe is a small Bluetooth-enabled tag that you carry with you. It works within 200 feet of your smartphone to send an instant alert when you press the tag. The alert goes out to the people you have set up to receive mobile notifications that lets them know you need help – so they can alert police to your location. The Wearsafe tag is free, but you'll pay a monthly subscription of $5 to $7 per month.
Online Technologies
We also found two online programs worthy of mention: Kitestring and Open Door Partners.
Kitestring
Kitestring checks up on you when and lets you check in with a simple text message. The free version allows you to add one emergency contact to the account you set up online. Then, any time you are heading out on a trip or visit, you set a time for Kitestring to check in on you. If you don't reply to the text that Kitestring sends to you, Kitestring alerts your emergency contact immediately. The free version allows 15 trips per month, but for a mere $3 per month you can have unlimited emergency contacts and trips.
Open Door Partners
Real estate offices around the country have been partnering through Open Door Partners to create collective spaces in reception areas of commercial businesses for unaffiliated real estate agents to safely meet a new client nearby to perform a quick safety check-in. Meeting in a professional environment, rather than at a coffee shop or an unoccupied home for sale, helps to keep real estate agents safe. Find out if a location near you is available, or talk to your office manager about partnering to provide a safe space for other real estate agents in your area. All of these technologies can act as the companion you might invite to join you when you are going somewhere. Think of these tools the way you might the concept of safety in numbers – for those times when you don't actually have that trusted companion with you. And remember that, as NAR advocates, the number one safety tip for real estate agents is to prequalify your customers. If a potential client isn't willing to meet you in your office first, or at another office you designate, and be willing to provide a driver's license, then they may not really be a client.