It's high summer so our guide to skunk smell removal arrives just in time to save your evening. We've gathered the most effective tips on how to get rid of skunk smell, no matter where, or upon whom or what, it has most unsettlingly settled.
How Long Does Skunk Smell Last?
If you, or a person or pet in your life, have been sprayed by a skunk, your second question is likely to be, how long does skunk smell last? (Your first question, which we'll cover next, undoubtedly is, how do I get rid of this skunk smell?) Unfortunately, depending on how much spray the skunk released and how direct the "hit" was, the smell can last as long as two to three weeks. But if you act fast, you may be able to reduce the amount of time you'll have to deal with this most unpleasant of scents.
Skunk Smell in House?
For many of us, nothing triggers memories of our first summers as a kid like the distinctive smell of skunk spray in the air. If you're lucky, that is as close as you ever got to that scent. If you have pets though, chances are, one of them has at some point come bounding in on a summer eve in full distress, only for you to notice too late that what followed your pet into the house was an awful skunk smell that is now wafting through your living room.
Having pets, however, is not the only reason why you may need to know how to get rid of skunk smell in the house. We'll cover how to care for a "skunked" pet later in this article, but let's walk through what you can do to get the smell out of your house.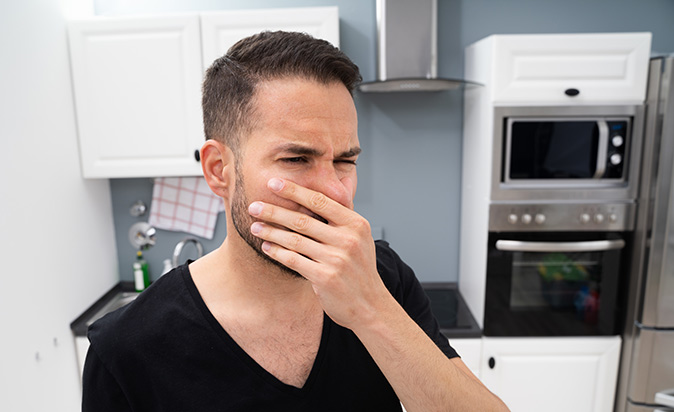 How to Get Skunk Smell Out of the House
Skunks are most active late at night, so if you suddenly wake up to an overpowering odor that has you wondering if a skunk is in the room, you may not be far off location-wise. It is likely that a skunk sprayed under the house, porch, or deck, or near an open window.
Your first instinct may be to open every window but doing so may not have the desired effect right away, given that skunk odor lingers long in the outside air. So, first, find out where in your house the smell is strongest; then open the windows (and exterior doors if possible) in all the other parts of the house.
Next, immediately:
1. Turn on Air Conditioning System
If you have central AC or heat, turn it on right away and set the temperature either low or high enough to get the air moving. If you have a portable or window unit or a mini-split system, get the fan running on the highest possible setting.
2. Get the Air Circulating
If your home doesn't have an HVAC system, the next thing to do is turn on ceiling fans in a counterclockwise direction to push air down and out the open windows or doors. If you have floor fans, face them towards open windows and set them to the highest settings. If you have an attic fan you can turn on, get it going too.
No matter what you are using to get air circulating, be sure to run it continuously for at least the next 24 hours.
3. Try Using White Vinegar
Depending on the size of the room where the odor is strongest, pour 1-3 cups of vinegar into a good-size bowl and place it in a safe spot in the "stinky" room where it can't be knocked over. Then, open windows in the room, and shut any doors to other rooms. This vinegar trick is worth doing even in conjunction with running an HVAC or other system if you have one because doing so can help speed up the skunk smell removal process.
Do these three steps the next day:
1. Try Some Deodorizers
Certain air sprays can also help as a skunk odor remover. However, you want to look for an air freshener that deodorizes the air. Many air sprays simply mask strong odors like skunk spray. Let your local hardware store specialist know you need help with how to neutralize skunk odor in your home so you're sure to purchase a spray that can neutralize that smell.
2. Replace Used Vinegar
Typically, vinegar can neutralize strong odors in about 24 hours, but if you still detect skunk spray, replace the vinegar and wait another 24 hours. Repeat as needed.
3. Change the AC Filter
It's important to keep your HVAC or other system running continuously to keep the air moving. However, if the system you're running uses air filters, replace the filter with a new one within 24 hours. You'll be surprised by how stinky that old filter will be so toss it immediately.
If you use a washable filter, you'll need to clean it, but you'll also need one in place to keep your system running continuously until the washable one has dried thoroughly. So, measure the size of the filter in use and head to a local hardware store to purchase a replaceable filter. When you are ready to use the washable filter again, be sure to first do a sniff check—it may need a second cleaning—or you may find you have to buy a new washable filter.
Pro Tip: Do Not Use Your Air Purifier Right Away
You may be tempted to run an air purifier, if you have one, in the room where you can smell skunk odor. Don't do it. The carbon filter in purifiers will absorb strong odors quickly, so unless you can change the filter within a few hours, running a purifier will only end up recycling the stink back into the room. Save that air purifier to use after a few days to get the most benefit from it in removing any lingering odor.
One last tip: Nose blindness is a thing and humans quickly adapt to even strong odors in their home, so if you are concerned that the skunk smell may still be lingering in your home, the easiest solution is to invite a trusted friend over to do a quick sniff check.
How to Get Skunk Smell Out Of Dogs or Other Pets
Unlike humans, domestic cats and especially dogs will often stray too close to a skunk, whether it's an unwitting encounter or the result of being (regretfully) curious. If your pet has been sprayed, do not go to the store to buy tomato juice—that is an urban myth.
The first thing to do is check your pet's eyes. If your pet is squinting or their eyes are red, watery, or irritated, call your vet right away. Getting skunk spray in the eyes of pets and humans alike can sometimes cause temporary blindness and even damage the cornea, so this needs immediate attention. Your vet can supply you with an eye wash solution for your dog or cat.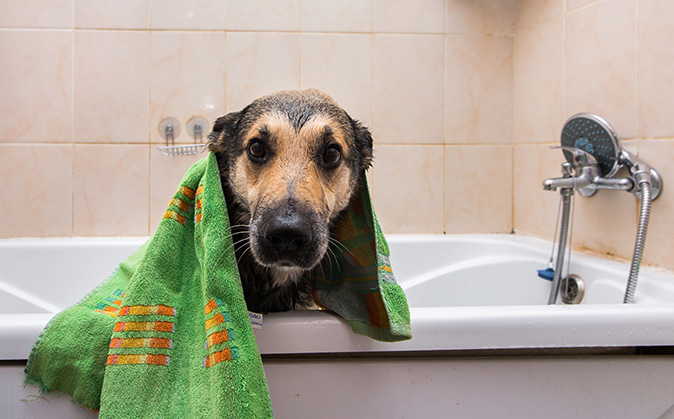 Skunk Odor Remover for Your Pets
If you don't need to get to the vet, bathe your pet immediately. Here is the vet-recommended recipe and steps for how to get skunk smell out of dogs or cats:
Mix one quart of 3% hydrogen peroxide, 1/4 cup of baking soda, and 1 to 2 teaspoons of liquid hand soap or dishwashing soap.
Wear rubber gloves and wash your pet's entire body, but be careful to keep the solution away from your pet's eyes.
Rinse your pet thoroughly in warm water to remove the hydrogen peroxide solution. Be sure to rinse the solution off of your pet within 5 minutes or less. The hydrogen peroxide can lighten their fur color.
Next, purchase a skunk-removal treatment shampoo as soon as possible from your vet or local pet store and repeat the bathing.
Lather the shampoo all over your pet with warm water and rinse thoroughly. Repeat as needed.
For your cat, chances are, she or he does not like water. If using the above solution to bathe your cat is not an option, contact your vet for a waterless solution you can try.
How to Get Skunk Smell Out Of Clothes and You
As you help your pet that's been sprayed, your clothes will quickly smell like skunk. Being sprayed is very distressing to dogs and cats so it helps them when you remain calm and soothing. Those needed hugs you give them will, of course, stink up everything you're wearing.
If You Need to Wash Skunky Smelling Clothes
When it comes to how to neutralize skunk odor, the good news is you don't need to toss your clothes. You can use your everyday laundry detergent and mix into the load a half cup of baking soda. Set the cycle to hot water and if you have a power wash cycle on your machine, use that. Repeat the detergent/baking soda and wash cycle, as needed.
Do not put the washed clothes in the dryer. Instead, hang them outside to dry. Sunlight is a natural disinfectant that can help neutralize the odor in your clothes.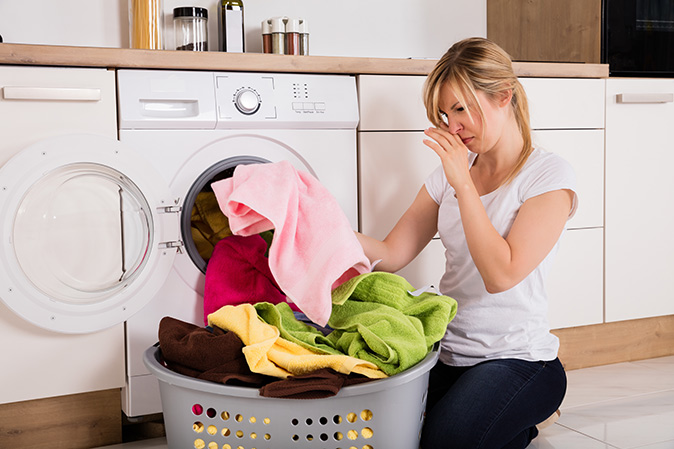 If You Are Sprayed by a Skunk
The first thing to do is take a bath right away. If you or a family member gets sprayed directly by a skunk, the smell can soak into your skin making it harder for the odor to go away quickly. You can use regular or liquid soap and scrub gently, soaking in the tub for at least 15-20 minutes. After a good soak, rinse off in the shower and repeat this bathing and showering process until you can no longer detect the smell on your skin. As with a skunk smell in the house, be patient with yourself and/or your pet—the skunk smell removal process can sometimes be a slow one, but it won't last forever.
How Home Warranties Help Homeowners
Dealing with skunks and other critters around the outside of your home is a hassle, but you have many ways to easily manage the unpleasantness when it affects you. Managing problems that arise inside your home may not be as easy, particularly when you have to deal with an appliance or home system that breaks.
A First American home warranty can cover repair or replacement costs when one of your home's appliances, such as the dishwasher, oven, or water heater breaks down. Plus, home warranty coverage also protects home systems, including plumbing, electrical, and heating. You can take the hassle out of this aspect of homeownership. Learn about how our home warranty protection works, or get a free, personalized quote in minutes.