Slow cookers are a great way to save time and create delicious meals, from tasty appetizers to fabulous dinners and desserts. Some recipes even allow you to put all the ingredients together in a freezer bag and freeze ahead so you've got a meal ready to cook when needed. Search "Frozen Crockpot Meals" online for more ideas and techniques. Here are some basic crockpot cooking hints:
Leave the lid on while cooking. Every time you take the lid off you could be adding up to 20 minutes of cooking time. No stirring unless the recipe calls for it.
Don't overfill. Don't fill beyond 2/3, and be sure the lid fits properly on top.
Fatty and tougher meats become tender when slow cooked while leaner cuts of meat can dry out. An example is dark meat chicken. It will be moister than white meat chicken when slow cooked. Remove skin from chicken and trim off excess fats from all meats before cooking.
You can brown meats before placing in the slow cooker, and if you want a thicker sauce dredge the meat in flour before browning.
High level takes ½ the time as cooking on low. If a recipe calls for 8 hours on low, generally you can cook it 4 hours on high. This is not always recommended, some meats need the longer, slower cooking method to tenderize.
If adding dairy products, it is usually at the very end.
If adding seasoning at the beginning, use whole herbs and spices, if adding at the end, use crushed.
---
Crockpot Mexican Chicken Soup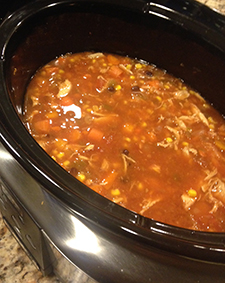 Ingredients
1/2 pound carrots, peeled and chopped
1 medium-sized yellow onion, chopped
3 large cloves of garlic, minced
2 small Roma tomatoes, chopped
1 cup tomato juice
1/2 teaspoon cumin
1 teaspoon fennel seeds
1-1/2 teaspoons chili powder
1 teaspoon salt
1 cup canned corn (drain/rinse) or fresh
1 cup canned black beans (drain/rinse)
1 4 oz can mild diced green chilis (drained)
1 pound boneless skinless chicken breasts
4 cups fat-free, reduced-sodium chicken broth
Shredded cheddar, jack, or pepper jack for garnish
Directions
Combine all ingredients in crockpot and cook for 4 hours on high or 8 hours on low or until chicken is cooked through and carrots are soft. Remove chicken, shred with a fork, and place back in cooker.
Serve in bowls and top with shredded cheese if desired. Yield: 4-6 servings

Carolina Slow Cooked BBQ Pork
Ingredients
2 yellow onions, quartered
Rub:
2 tablespoons packed brown sugar
1 tablespoon Paprika
2 teaspoons salt
1/2 teaspoon black pepper
1 4-6 lb pork butt or shoulder roast, trim excess fat
3/4 cup cider vinegar
4 teaspoons Worcestershire sauce
1 1/2 teaspoons crushed red pepper flakes
1 1/2 teaspoons sugar
1/2 teaspoon dry mustard
1/2 teaspoon garlic salt
1/4 teaspoons cayenne
Directions
Place quartered onions in bottom of slow cooker. Mix the 4 rub ingredients and thoroughly rub on pork roast. Place roast over onions in slow cooker. Combine the rest of the ingredients and pour over pork. Cook on LOW for 10 hours. Remove meat and onions. Shred pork and put back in pot with the liquid (you may need to skim fat after removing meat from pot.)
Great for filling tacos and burritos as well as serving over rice or noodles. Delicious piled on a slider bun with BBQ sauce and slaw!
---
Crockpot Pecan Apple Crisp
Ingredients
Nonstick cooking spray
6 tablespoons granulated sugar
1 teaspoons lemon juice
1 1/2 teaspoons cornstarch
1/4 teaspoon ground cinnamon
6 large tart cooking apples, peeled (if desired) and cut into 1/4 - 1/2 inch wedges
Topping:
1/2 cup all-purpose flour
1/2 cup granulated sugar
1/4 cup packed light brown sugar
1 teaspoon ground cinnamon
5 tablespoons butter, cut into pieces
¼ cup quick oats
1 cup coarsely chopped pecans
Vanilla bean ice cream (optional)
Directions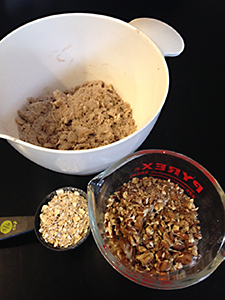 Coat a 2 - 4-quart slow cooker with cooking spray. In an extra-large bowl combine 6 tablespoons granulated sugar, lemon juice, cornstarch, ¼ teaspoon cinnamon. Gently stir in apples. Place apple mixture evenly in prepared cooker.
To make topping: In a small bowl stir together flour, 1/2 cup granulated sugar, brown sugar and 1 teaspoon cinnamon. Using a pastry blender (I find it much easier using my hands), cut in butter until mixture resembles coarse crumbs. Stir in oats and pecans.
Sprinkle topping evenly over apple mixture. Cover and cook on low-heat setting about 4 hours or on high-heat setting about 2 hours or until apples are tender. Remove lid and let sit to cool slightly before serving. I recommend serving with vanilla bean ice cream for a delicious dessert!