The Internet of Things continues to impact many of your everyday appliances and home systems with improvements or upgrades to them that make use smart technology.
Science in Your Appliance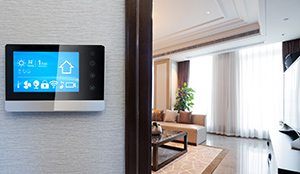 What are these smart technologies? A simple example is when your home gets too warm or too cold for your liking. A smart device can regulate the temperature to your set preferences. How a smart device works has a lot to do with the concept of the "Internet of Things" (IoT). If that's a new term, you can learn more with a quick web search. A simple definition is the connection of any device to the Internet that you control and use to benefit your life, your work, your home, and so on.
IoT has had impact on many devices. This article offers an overview of different smart technologies in devices you're already using in the home. We organized smart devices by kitchen, heating and cooling systems, and plumbing and irrigation. The devices can help make your house a smarter home.
Kitchen
Smart technology continues to revolutionize the kitchen and our everyday lives. Search for:
Smart refrigerators: Newer model "smart refrigerators" have touchscreen displays. You can browse the Web, check your calendar, track grocery lists when foods run out, and add a food inventory after a grocery run. Some also suggest recipes, find coupons, and even send you notifications on expiring food. Other smart models have modules that work with your smart phone. You can alert the fridge to make more ice, or the fridge can alert you when the door is left open. These modules can also set the fridge to energy saving mode when you're away and send you alerts when problems arise with the system.
Smart ovens: You just picked up some dinner that you want to keep warm while you serve the hors d'oeuvres. Smart ovens can preheat remotely using proprietary apps. Remote preheating is also a time-saver when you need to get dinner cooking as soon as you walk in the door. New smart convection ovens go beyond just remote preheating. A smart phone can send alerts via an app when a dish is properly cooked and let you change the oven temperature on the fly. Voice-controlled ranges also have been making some recent heat waves.
Smart dishwashers: Most newer model dishwashers allow you to set a time for the machine to run. Smart dishwashers let you turn it on from anywhere. That can be handy when you realize at work that you forgot to turn it on and need those dishes clean for a dinner party later that night.
Smart coffee makers: Have your coffee ready to drink the minute you wake up and set the times for weekday and weekend times so you never miss a beat. This is the easiest appliance upgrade to make; simply plug in a smart coffee maker, connect it to wi-fi, and save your settings via your smartphone.
Smart kitchen lighting: It's possible to create smarter lighting within your existing system of dimmers, switches, bulbs, and light fixtures. Search for starter kits that utilize smart switches and bulbs that you can control using home wi-fi and an app on your smart phone.
Heating and Cooling
Regulating temperature in your home saves money, but with smart devices you can do much more. Search for:
Smart air conditioner controls: Now you can use your smartphone to adjust your home's temperature so it's cooled down just when you arrive home. If you forget to turn off the AC while you're away you can also do that from your phone. These smart controls can save you money on energy costs while letting you control the temperature from anywhere.
Smart thermostats: Take your programmable thermostat to the next level when you install a smart one. Beyond the ability to remotely control your home's temperature, these thermostats track real-time energy consumption, learn from your habits, and adjust temperatures depending on weather and activities in the home.
Smart vents: This is a newer smart tool that shows promise. When you install a smart vent, it uses occupancy sensors that can close vents in rooms it detects as empty. Smart vents also use thermometers to regulate air flow, so the vents will close if they detect that a room's temperature is too high or too low.
Plumbing and Irrigation
Smart plumbing: You can install smart sensors that use collected data to recommend ways to use less water and save on your bill. The sensors can also detect leaking pipes, which can prevent water damage. Some sensors even provide alerts to potential problems that could lead to future systemic issues.
Smart irrigation: If you install smart irrigation, the sensors can turn off drip or watering systems when it rains, change the amount or the days to run when the seasons change, and more.
Smart water heater: You can set a smart water heater to turn off at bedtime, since you don't need hot water when asleep. Instead set it to start warming up the water for morning showers. You can also adjust the temperature remotely, if you're on vacation, or a home is empty.
Other Ways to Create a Smarter Home
Curious about a smart device you've heard about and want to learn more about it? Simply include the word "smart" or "IoT" with your search term. For example, try "smart bread maker." You'll find there's a lot of science in many types of appliance.