There is nothing quite as startling as the shrill beeping of a smoke detector suddenly sounding the alarm. If you've ever had a malfunctioning detector, you've likely wanted to rip it off the ceiling or pull out the battery just to make it stop. Smoke detectors, however, are important for the safety of your home and loved ones. So even if the loud noise you hear emanating from a smoke alarm is not to warn you of a potential fire, it is likely to alert you that it is time to maintain or replace it.
Smoke detectors and carbon monoxide detectors are great set-it-and-forget-it safety features in a home, but they still wear down with time. If either of these devices is old or malfunctioning, it's time to replace or upgrade the units.
The following guide will show you the different types of alarms you can choose from, and lay out some easy steps to install them properly.
Smoke Detector vs. Carbon Monoxide Detector vs. Smoke and Carbon Monoxide Detector
Smoke Detectors
Essentially, this type of detector senses when there's smoke or other small particles (like steam) in the air. So, if there's any type of combustion going on, whether it's smoke from the oven or a lit candle that managed to burn the curtains, this device will alert everyone around.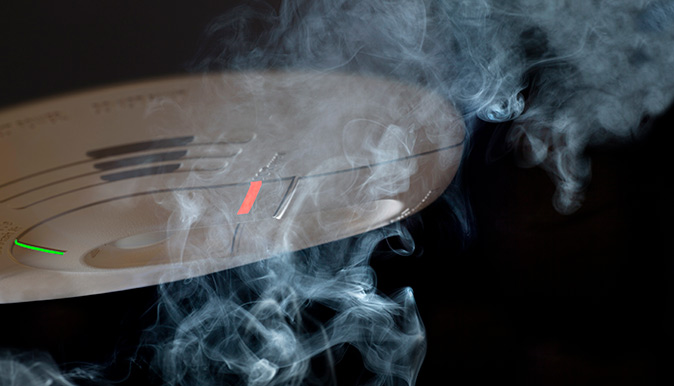 When you shop for a new detector, you will see three types of alarms. This is because fires burn differently: some flare and some smolder. Ionization smoke detectors best detect quick-to-start flaming fires but tend to sound a false alarm with basic cooking smoke. Photoelectric smoke detectors are less prone to false alarms and sniff out the smoldering, smokey fires best.
Even with safety as the ultimate consideration, no one wants to install two different detectors in every room. Luckily, dual-sensor alarms are effective at detecting both types of fire. They use both ionization and photoelectric technology to detect a range of fires and smoke.
Smoke alarms also come specifically designed for different areas of your home. Bedroom alarms come with a 10-year lithium-ion battery to prevent a low-battery beep from waking you up at night. Bedroom detectors also have a voice-alert feature, which starts soft and then grows louder to wake you without startling you. Also, kitchen smoke detectors come as a smoke and carbon monoxide detector combo designed to detect real fires faster, detect carbon monoxide, and trigger fewer false alarms.
Carbon Monoxide Detectors
Carbon monoxide (CO) detectors are less complicated than smoke detectors. Carbon monoxide detectors will sense the presence of carbon monoxide in your home and sound an alarm. Most of these detectors work the same way and use a similar sensor across models and brands. The main difference between carbon monoxide detectors is how they are powered: battery, hardwired, or plug-in. The battery-operated alarms usually have a ten-year lifespan to help prevent you from needing to change the battery frequently. The plug-in alarms simply plug into an outlet and some also have a battery backup in case of a power outage.
Some carbon monoxide detectors models include backlit digital LED displays with an easy-to-read screen that shows the temperature and the carbon monoxide concentration levels when detected.
Quick tip: Remember, carbon monoxide detectors do not detect smoke or explosive gases, such as natural gas, propane, and methane.
Smoke and Carbon Monoxide Detector Combo
Much like the dual-sensor smoke detectors, smoke and carbon monoxide detectors use both ionization and photoelectric technology along with carbon monoxide detection. There are also smart smoke detectors, like the Nest smoke detectors that are becoming more popular. These types of smart smoke detectors come packed with features including smartphone alerts for low batteries and detection of carbon monoxide (CO) or smoke, and a "silent" button from your phone.
Hardwired vs. Battery (Standalone)
Smoke and carbon monoxide detectors, especially the battery-powered versions, can be installed quite easily without the help of a professional.
A hardwired smoke detector is connected directly to your home's electrical system. This type of detector also includes a battery backup to keep it functioning during power outages. Hardwired detectors are standard in new home construction.
Battery-powered detectors are standalone and don't require electrical wiring. Either a 9-volt or AA battery is all the power the alarm needs. Many new models use lithium batteries which can last up to 10 years and save you from changing the battery several times a year (you should still test them monthly, however).
Plug-in carbon monoxide detectors plug directly into an electrical wall outlet. The plug-in design isn't practical for smoke alarms but works for carbon monoxide alarms.
Where to Place Your Smoke and Carbon Detectors
When you install a smoke detector, it must be installed in the proper locations in your home. The kitchen, laundry room, bedrooms, hallways, and living room are the common areas you want to place alarms—no need to overdo it with too many in one area though. Space them out well enough so they can be heard when an alarm goes off in another area of the house.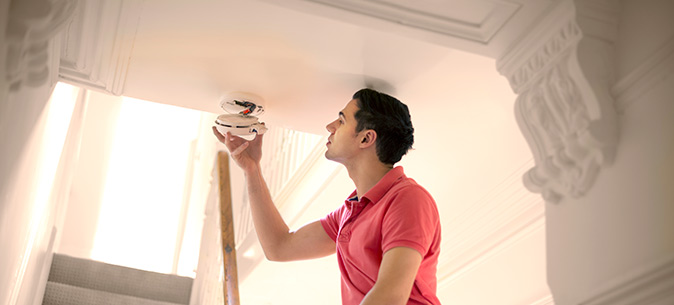 The best position for your alarms is on the ceiling, as smoke and gas rise. Directly in the center of the room is perfect, but if that position is not possible, make sure your alarm is at least four inches from the wall.
If you must place detectors on a wall, place them at least four inches from the ceiling and wall corners. Detectors need as much space around them as possible to better sense smoke. Do not position detectors over stovetops, ovens, clothes dryers, or other areas where there's a significant chance of triggering false alarms.
While building code requirements vary by state, according to the National Fire Protection Association, its Fire Alarm and Signaling Code:
"[Requires] as a minimum that smoke alarms be installed inside every sleep room (even for existing homes) in addition to requiring them outside each sleeping area and on every level of the home. (Additional smoke alarms are required for larger homes.)"
Installing Smoke and Carbon Monoxide Detectors
Now that you have an idea of which smoke detector, carbon monoxide detector, or combo you need, it's time to install them. It's best to make sure to follow manufacturer instructions for specific units, especially for hardwired detectors.
Installing a Battery-Operated Detector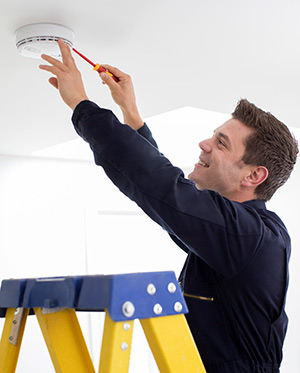 If you are replacing or upgrading a battery-operated smoke detector or carbon monoxide detector, then you should have an easy time replacing the alarm, especially if you use the same brand. The mounting plate usually will accept newer alarms from the same brand. However, when upgrading to a more expensive type or a different brand, the mounting brackets can differ. Refer to these instructions and the manufacturer's instructions for proper installation.
Unbox the alarm and ensure you have the alarm, its mounting plate, and the hardware needed to install.

Select a drill bit that is slightly smaller than the wall anchors supplied as the anchors need to fit snugly in the wall or ceiling.

Hold the mounting base to mark the screw holes on the ceiling or wall.

After you marked your spot, drill holes and tap the anchors into the drilled holes. You may need to lightly hammer the anchors in depending on the size of the drill bit you used.

Screw the supplied screws partially into the ceiling or wall leaving the head of the screw up a little.

Line up the mounting base with these screws and twist the alarm base into position under the heads of the screws.

Tighten with a screwdriver until the base is secured against the wall or ceiling.

Mount and lock the alarm onto the base by twisting it.
Quick tip: Some smoke and carbon monoxide detectors that come with batteries have tags in the battery cavity to prevent battery drainage before they are sold. Make sure you pull the tag if your alarm has one.
Installing a Hardwired Detector
With safety being the number one concern when it comes to fire and carbon monoxide, upgrading a battery-operated alarm to a hardwired alarm is often the best choice. These smoke and carbon monoxide detectors have a battery backup to provide extra protection in case the household power goes out.
If you are lucky enough to already have a hardwired alarm and you are simply replacing it, staying with the same brand may help with installation. Your new alarm may simply plug into the old, hardwired plug-in harness. Align the plug-in with the alarm and see if they connect. If not, a little wiring is needed to install the new plug-in harness.
Turn off power to the alarm area at your electrical breaker panel.

Pull out the detector wiring system and remove any tape and the old plug-in by unscrewing the wire nut from the plug-in harness and electrical wires. Discard the old harness.

Grab the supplied wire harness and connect the set of wires supplied with the alarm making sure to match the same color harness wires (white to white, red to red).

Wrap the wire connectors with electrical tape for extra protection. Tuck wires back through the mounting plate and into the electrical box leaving the harness sticking out.

Plug in the harness to your new detector and place in a battery if applicable for your device.

Twist and lock your alarm into place.

Turn on the power. Check to see if the alarm's light is on and test your alarm. If the alarm does not sound, turn off the power at the breaker panel and double-check your connections. If the plug appears to connect but the alarm's light won't come on, your unit could be defective, and you will need to exchange it.
Pro tip: Moving or adding a hardwired smoke detector or carbon monoxide detector to a new location in your home is a big level up. It requires knowledge of electrical systems and building codes. If you need to move this type of detector, it's best if you call a contractor or electrician to help.
Regular Maintenance for Smoke and Carbon Monoxide Detectors
It is best practice to test your smoke alarms once a month and especially important to check them when you buy a new home. Most units have a test button to ensure that the alarm sounds and the batteries are still working. According to the U.S. Fire Protection Administration, about two-thirds of fatalities from fires are caused because the detectors were not maintained or were in proper working order. Here are a few other tips for regular alarm maintenance:
Change the batteries at least once, or even better, twice per year, even if you're not hearing warning beeps. If you have a lithium-ion battery model, change the batteries every ten years.
Dust or wipe each detector, using either a duster or lightly damp cloth.
Check the manufacture date on each unit periodically to review their expiration date.
Invest in Home Warranty Coverage
Investing in quality smoke and carbon monoxide detectors can help protect you and your loved ones from two potentially perilous home safety hazards. It's also an important home maintenance task then to regularly inspect and/or replace these two safety devices. Another beneficial investment you can make–which can help protect your home's systems and appliances from unexpected breakdowns–is the purchase of a quality home warranty plan. Learn about how First American home warranties work or get a personalized quote in minutes.
Additional Home Safety Resources for You
Do You Have a Fire Extinguisher in Your Home?