Springtime is historically the best time of the year to sell your home. The snow is melting and spring flowers are blooming. This change in season brings out the largest numbers of buyers who are actively searching for a new home. So when getting ready to sell your home, don't discount the importance of improving the curb appeal.
Potential homebuyers form their first impression of a home from its curb appeal. An attractive front exterior and well-maintained landscaping can add real value to your home. If possible, give yourself 2-3 weeks of preparation time before you plan on showing your home. That should be enough time to "stage" the outside of your home and get it looking just right.
Start with the Landscape
Declutter the yard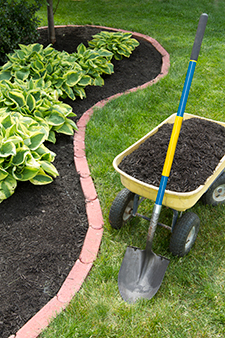 Remove any items in your yard that could distract potentional homebuyers from your home's exterior. Items that may be seen as clutter include benches, chairs, lawn art, and toys. These items will probably move with you anyway, so put them in storage and let the natural elements of the exterior capture the eye.
Add or replace the mulch
A new application of mulch can make a tired exterior look clean and new. Apply a fresh layer in all your garden beds and around shrubs and trees. Mulch is also relatively affordable and very easy to apply and comes in a variety of colors which can enhance the contrast of the surrounding plants and make everything stand out.
Tend to flower and plant beds
Tidy up the plants and flowers that don't look as good as they could. You may need to remove plants that are in bad shape. Replace with new plants or even decorative pots. It's also the perfect time to remove any weeds and trim and shape plant and tree foliage to give it a clean-cut look. If you intend to remove any landscape plants that you want to take with you to your new home, you'll need to let the buyer know exactly which plants you plan on taking.
Add a pop of color with plants
Seasonal colors make the landscape pop. Flats of annuals are relatively inexpensive so choose splashes of several colors or use a more monochromatic scheme – whatever best suits the look of your home.
Clean up the water features
After a long winter, remove any visible algae, leaves, and accumulated dirt so that the water is crystal clear. A water feature that doesn't look attractive or work properly can be a negative to most buyers.
Get out the power-washer
If you don't already own one, consider buying or renting a power washer to clean paved surfaces. With very little effort, you can make grungy, grimy surfaces look brand new. Power washers also do a great job of cleaning fences, as well as brick and vinyl siding.
Installing outdoor lighting
Highlight existing features in your yard. If wiring fixtures into your outdoor areas is too costly, solar models are readily available. Singular non-permanent outdoor lights are also convenient and come in a multitude of sizes and shapes.
Next Step – the House
Inspect the exterior walls
Clean exterior walls and trim to make great first impression. Power wash areas that are beginning to look a little worn.
Add some spring touch-ups
Touch up the paint on walls, shutters, and accent trim. Shutters and accent trim do a lot for your curb appeal by highlighting interesting features of your home. You might want to consider changing the trim and accent colors to bring in a fresh new look.
Replacing exterior hardware
Whether it's old railing on the front steps or rusty gutters and downspouts, you can give your home a fresh look by replacing them with a quick trip to the hardware store. A new door knocker or door handle can also transform the entire look of your front porch. You can also try adding stylish address numbers for a defining new accent
Mailboxes
Mailboxes are a great opportunity for a makeover. Whether it's a brand new box or a new coat of paint, updating your box will add to the overall exterior look. To really make your mailbox stand out, consider adding some surrounding plants.
Clean those windows
Even if everything else looks fresh and clean, dirty or cracked windows will drag down the appearance of your home. Along with cleaning and replacing the panes, you should spend time cleaning every part of the window frame. If you find peeling paint during the cleaning, some prep work and touching up is definitely in order.
Dress the front door
A clean, attractive doorway will help set the tone for the home. Your goal is to make the main entryway as appealing as possible. A simple wreath that calls attention to the door design is worth considering. Replace your welcome mat with a new one and flank the door with a few potted plants. A new front door can make your house look brand new. But don't overlook the value of fixing up the old one with a fresh coat of paint. Add some new hardware and your work is done.
Remember that buyers have weathered the winter season and are now ready to see what's on the market. The time and money you invest in preparing your home for sale can increase the value of your home and make it stand out in a competitive market.