Winter can bring extremes to many areas of the country. Those in the northeast may see record breaking snowfall, while those in the west sometimes don't have much of a winter at all, leading to drought worries. No matter what this winter was like where you live, your lawn is probably in need of a little TLC. Here is how to bring your yard back from the dead after rain, snow, or drought.
---
After Rain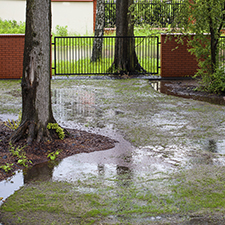 If your area had a rainy winter, your lawn may be in very good shape. However, there is a point where there may have been too much rain and lawns can become waterlogged, especially if you have clay or heavily compacted soil. Waterlogging is caused when water sits on the soil surface and drains slowly, or fails to drain at all.
The Problems
Algae, lichens and liverworts
Moss
Clumps of rush may seed themselves, forming tussocks
Dry patches
The Solution
Sweep off any excess water.
Aerate your lawn with 1-inch deep holes for mild waterlogged lawns and 4-6 inches for more severe cases. This can be done by hand, or with power tools like a hollow tiner.
Fill the holes with a free-draining material, such as lawn top dressings or horticultural sand which will allow the water to flow from the surface to deeper, less compacted layers.
Remove moss and algae and spray with moss killer.
Fertilize.
Prevention
Spiking it every few years in autumn
Feeding in autumn with a lawn feed, rich in phosphorus
Install a drainage system
Replace your lawn using turf laid on a bed of sharp sand
---
After Snow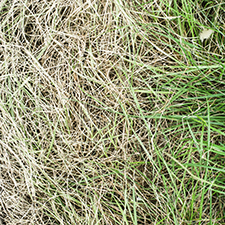 After the snow melts, you may find that your lawn is not in the best shape. To help your lawn return to the lush green it once was, here's what you need to know:
The Problems
Dead foliage
Snow mold
Dry patches
Compacted soil
Frozen sections
The Solution
Wait for your lawn to completely thaw. Raking or mowing your grass before it thaws is likely to tear out grass and leave open patches in your lawn where weeds will find a home.
Rake using a thatching rake to clear debris and thatch.
Check for grey or pink snow mold; a cottony fungus which grows 6-12 inches in diameter. Though there isn't a product you can spray to rid your lawn of snow mold, a deep raking will cure most mild cases.
For lawns with compacted soil, aerate and fill holes with free-draining materials.
Don't water right away. Grass roots need to chase the water from the melting snow and spring rains. This will encourage deeper root growth to make your lawn healthier.
Fertilize.
Prevention
Preventing your lawn from dying after the winter starts with your watering method. To help your lawn stay healthy year round, you should water:
Deep
Less frequently – don't water every day
In the early morning, never in the afternoon due to evaporation or evening due to fungus.
---
After/During Drought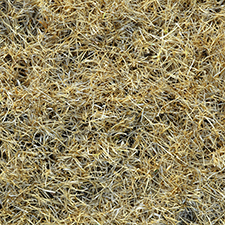 Many areas in California, Florida, Nevada, Oregon, Texas, Utah, and Oklahoma are experiencing severe drought conditions. Keeping a lawn healthy in these areas can be a challenge.
The Problems
Lack of water
Unbalanced soil
Unseasonably hot temperatures
The Solution
Before you start treating your lawn during a drought, make sure you know if any drought water laws or regulations exist in your area and comply with them.
Aerate and fill holes with nutrient rich fertilizer.
Water deep, evenly, and infrequently with a garden hose or professionally-installed irrigation system instead of hose sprinklers.
Overseed or "seed and feed" to increase moisture retention and restore soil balance.
Reduce mowing frequency and opt for a push mower instead of a ride-on one as heavy equipment can damage the fragile blades. Don't mow your lawn until it gets to 3 inches to allow for maximum nutrient absorption into grass blades, and don't cut off more than 1/3 of the leaf blade.
Prevention
The best prevention for a drought-ridden lawn is a wet winter and sufficient water supplies. Until Mother Nature cooperates, you can:
Install a deep irrigation system if you don't already have one
Keep a watering schedule