A swimming pool is a great way for kids and adults to stay active and have fun this summer. What kind of fun are we talking about?
Fun with Inflatables
Inflatable pool games provide kids of all ages with hours of fun. Floating volleyball, basketball, and ping pong are some of the more well-known inflatable forms of entertainment for the pool. But if you'd rather sit and socialize, you'll find a variety of inflatable chairs and tables online. You can even find an inflatable card table and chairs with chips, dice, and waterproof playing cards. If you prefer lounging, choose an inflatable raft that fits your personality. Search online for "Fun Pool Rafts."
Fun with Kids
(Be safe: these games are for good swimmers with adult supervision.)
Marco Polo: The person who is "It" keeps their eyes closed and calls out "Marco" -- everyone else in the pool replies "Polo" so the "It" person can swim toward a voice and try to tag someone. Once tagged, that player becomes "It". If rules allow players who are not "It" to climb out of the pool, the person who is "It" can call "Fish out of water" instead of tagging them.
Freeze Tag: Players must freeze (stay in the same spot with arms over head) after the person who is "It" tags them. Another player must swim under the tagged player's legs to un-freeze them.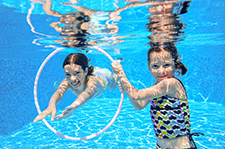 Scavenger Hunt: Toss pairs of items into the pool, some that sink and some that float. Have two teams try to be the first to gather the full set of items. Examples of sinking items: plastic water bottles filled with water, large coins, dive rings, and plastic animals. Examples of floating items: ping pong balls, empty plastic water bottles with the caps on, pool noodles, and plastic eggs.
Pool Races: Race from one end of the pool to the other on inflatable rafts, noodles, tubes, or whatever you've got that floats. You can set it up as a relay race with teams and use a different inflatable for each length.
Fun with Fitness
Bored with swimming laps? Pool exercises can make getting in shape feel more like fun than fitness. You may want to lounge on a raft after these.
Treading Water: This vigorous movement through the resistance of water works arms, legs, and core. Set up your time and reps based on your health and fitness level.
Scissors: Lean back on a raft, noodle, or the edge of pool and move your legs into a "V" then bring them together and cross ankles. Repeat. Switch from right ankle on top, to left ankle on top in a scissor motion. Try doing these slowly with a full range of motion, as well as quickly with short movements to engage different muscles.
Aqua Cycle: Cycle your legs like riding a bike under water, using a floating pool noodle or by hanging off the edge of the pool.
Jumping Jacks: Try jumping jacks in the water. If that's too easy, do it without letting your feet touch the bottom of the pool when jumping back to center.
Water Jogging: Depending on the depth and size of the pool, jog in place or across the pool while touching the bottom, or try bouncing off the bottom with each stride. Whatever form of fun you enjoy in the pool this summer, be sure to follow these basic safety tips, especially with young children, or with any swimmer who does not feel strong or fully comfortable in the water.