When spring gets into full swing and warmer weather again becomes a thing, can you think of a better way to spend time outside than on a picnic? And there are plenty of fun holidays on the calendar ahead if you need a reason to pack up your basket and blanket and head outdoors:
Memorial Day
National Picnic Day
Independence Day
Labor Day
If these holidays aren't enough incentive for you to get out picnicking, the wide array of seasonal fruits and vegetables available during the summer months should be just the added motivation you need. With all of the wonderful produce available, we've put together just a few recipes to get your creative picnic juices flowing (pun intended).
---
Heirloom Tomato Caprese Sandwich
Makes 2 sandwiches
Ingredients
2 tsp. balsamic vinegar
2 tsp. Olive oil
2 tbsp. mayonnaise
4 sprigs fresh basil
6 slices assorted heirloom tomatoes
Salt & freshly ground black pepper to taste
4 slices County-style bread
4 slices Mozzarella cheese
Directions
Combine vinegar, olive oil, salt, pepper and basil in a small, tightly sealed container. Spread mayonnaise on bread and layer with mozzarella cheese and tomatoes.
Wrap sandwich(es) with butcher paper.
Once at your picnic, unwrap sandwiches and drizzle cheese and tomatoes with the oil and vinegar mixture.
---
Honey Mustard Glaze
This flavorful glaze makes a great companion to chicken and many of the season's fresh grilling vegetables. We especially like the ease of using this ahead of time to prepare skewers to be served cold at your picnic.
Ingredients
1/4 tbsp. Dijon mustard
1/3 cup honey
1 tsp lemon juice
1 1/2 tsp. chili powder
1/2 tsp. paprika, smoked
1/2 tsp. paprika
2 tsp. garlic powder
1 tsp. onion powder
1 1/4 tsp. salt
1 tsp. cumin, ground
1 tbsp. apple cider vinegar
1 1/2 tbsp. olive oil
Directions
Combine all ingredients together in a medium sized bowl and refrigerate until ready to use.
Use as a marinade or glaze for grilling meats or vegetables.
---
Sparkling Fresh Lemonade
Ingredients
1/2 cup fresh lemon juice (about six lemons)
2/3 cup sugar
2 quarts seltzer
Lemon slices for garnish
Directions
Combine ingredients together, except garnish, and funnel into glass swing-top bottles for easy transport. For best results, keep over ice until you get to your picnic.
Add ice and garnish to serving cups and fill with the lemonade.
Tip: For different variations, try adding some creative ingredients such as raspberries or strawberries. You can also try fragrant ingredients such as lavender, mint, or rosemary.
---
Dessert Fruit Kabobs
Make these simple desserts using seasonal fruit and your favorite baked goods...homemade or purchased.
Ingredient ideas include:
Skewers or long toothpics
Fruit: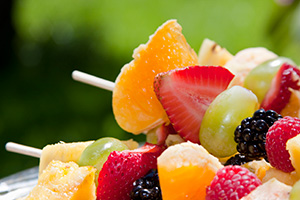 Strawberries Pineapple Bananas Peaches Apples Pears
Sweets:
Brownies
Lemon bars
Marshmallows Gelatin cubes ...use your creativity!
Tip: Soak your fruit in honey water beforehand to keep it from turning brown
Directions
Chop fruit and sweets into bite-sized pieces. Add fruit and sweets alternating to achieve your desired balance. Enjoy your picnic!