When you think of eating avocados, most likely guacamole comes to mind. Although the avocado is native to South Central Mexico, it is grown in many other areas of the world and used in a diversity of recipes internationally. And it's healthy! You could say that the avocado has reached super-food status. It's rich in B vitamins and has vitamins K, C, and E, as well as potassium and good fat: mostly oleic acid, which is monounsaturated and beneficial.
A ripe avocado should feel slightly soft to the touch. To prepare, just cut in half lengthwise, remove the seed then scoop out the contents, or, cut in half, remove the seed, and peel and slice. Once cut and exposed to the air, they can oxidize quickly and turn brown. Try adding lemon or lime juice to counteract the oxidation.
Substitute Healthy Avocado in Place of Other Fats in Your Recipes
Butter and Shortening
When replacing butter and shortening with avocado in recipes such as cakes and cookies, you can substitute one-to-one. Avocado doesn't melt the same so you may have to add a little more liquid to your recipe or reduce the cooking temperature by 25% and increase the cooking time slightly. Or just substitute half of your butter with avocado and no adjustments should be necessary.
Mayonnaise
Try avocado as a mayonnaise substitute in tuna or chicken salad, or spread on sandwiches. You can make avocado "mayo" by pureeing one ripe avocado with a squeeze of lemon, salt, and pepper to taste, and 2-3 tablespoons of olive oil.
Sour Cream
Try avocado on baked potatoes or in dips. To make avocado "sour cream," puree one avocado, the juice of one small lime, 1-2 tablespoons water, and 1-2 tablespoons light olive oil or avocado oil.
Avocado Salsa with Black Beans and Corn

Ingredients
1 15 oz. can of black or pinquito beans, rinsed and drained
1 8.75 oz. can whole kernel sweet corn, drained
4 medium tomatoes chopped (Roma work well)
1/2 small red bell pepper, diced
1/2 small yellow bell pepper, diced
1 4 oz. can diced jalapeno peppers, medium heat
1/2 cup chopped fresh cilantro
1/4 cup diced red onion
1/4 cup fresh lime juice
2 tablespoons chopped fresh garlic
1 teaspoon salt
1/2 teaspoon ground black pepper
2 avocados, diced
Optional: Picante sauce to taste or 2-3 tablespoons medium or hot salsa
Directions
Mix all ingredients except avocado in a bowl. Gently fold in avocado. Taste and adjust seasoning if needed. Cover with plastic wrap, touching the top of the salsa with a wrap to prevent the avocado from browning. Chill for several hours and serve with tortilla dip chips.
Avocado Bowls
Cut avocados in half and remove the pit, leaving the skin on. Fill halves with your favorite crab, chicken, or tuna salad. Serve with a side salad and drizzle salad dressing over avocado and salad. Delicious!
Chocolatey Avocado Cake and Creamy Frosting
Ingredients
3 cups all-purpose flour
7 tablespoons unsweetened cocoa powder
2 teaspoons baking powder
2 teaspoons baking soda
½ teaspoon salt
1 large ripe avocado, mashed until very smooth
2 cups water
1/3 cup vegetable oil
2 tablespoons white vinegar
2 1/2 teaspoons vanilla extract
2 cups granulated sugar
Creamy Chocolate Avocado Frosting
Directions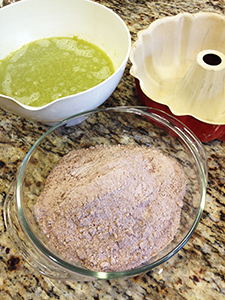 Preheat the oven to 350 degrees. Prepare a bundt pan by spraying with non-stick cooking spray and dusting lightly with flour.
Stir together flour, cocoa powder, baking powder, baking soda, and salt in a large bowl. Mix well and set aside.
On the lowest mixer speed, blend together the mashed avocado, water, vegetable oil, vinegar, and vanilla until thoroughly combined. Blend sugar into the liquid mixture. Add the liquid mixture to the flour mixture and blend on low speed until well combined and smooth.
Pour into the prepared bundt pan. Bake for 45 to 55 minutes, checking for doneness with a toothpick.
Cool in pan on a rack for 15 minutes then turn onto a cooling rack. Let cool before frosting.
Creamy Chocolate Avocado Frosting
Ingredients
2 large ripe avocados, peeled and pitted
2 1/4 cups powdered sugar
4 tablespoons cocoa powder
1 teaspoon vanilla extract
Directions
Scoop avocados into a small food processor (or blender). Blend until smooth, scraping edges as needed. Add powdered sugar and cocoa powder to pureed avocado. Blend until creamy and thoroughly combined, scraping edges as needed.
Frost cooled cake. It takes a few hours for the frosting flavors to blend, so I recommend letting the cake sit before serving.