What is the reigning kitchen counter material today? If you're ready to replace your kitchen counters, the quick answer is, quartz is king. The more useful takeaway for you, however, should be that quartz is only one of many high-quality, interesting materials you can choose from. And more is always better.
It was not always this way. If you're not quite old enough to remember 1970s-era kitchen counter materials, be glad. Laminate countertops were king. The problem with laminate? It was about the only material to choose from at the time. The 1980s saw solid surface counters succeed laminate, followed in the 1990s by the next in line to the throne—granite—which at that time had become a more affordable kitchen counter material. Today, granite is still glorious, but it's porous, which is a big reason why the crown passed to the non-porous quartz.
Which Kitchen Counter Material Should You Choose?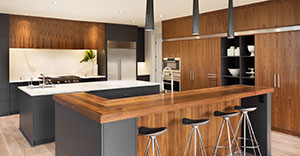 Most kitchen designers are recommending quartz more and more. A big reason for its dominance is that quartz is an engineered stone, so its non-porous surface makes it a solid barrier against germs. Quartz is also stainless and does not require sealing—two big drawbacks to granite. A more recent engineering development may be the biggest reason why quartz countertops have eclipsed granite. Quartz manufacturers can now replicate the more natural patterns that are the appeal of real stone granite countertops. But while quartz may be today's designer choice, you have options. If quartz is not your king, take some time to research these other top choices in kitchen counter materials:
Butcher block
Ceramic tile
Concrete
Copper
Corian
Granite
Laminate
Marble (such as Carrara)
Paper composite
Recycled aluminum
Recycled glass
Soapstone
Solid surface
Stainless steel
Stone tile
Wood (such as bamboo, beech, maple, teak, walnut, as well as reclaimed wood)
Zinc
Are you a first-time homeowner, starting a family, empty nester, or maybe a real estate investor? Your lifestyle plays a big role in choosing the right kitchen counter material. The appeal of today's materials may be the many options you have, but thinking about what fits your life is paramount. Consider what you need, then plug any of the materials listed here into a web search and do your homework.