Chili–it's warm and comforting, takes only a little bit of effort to make, and fills you up fast. Making chili is also a time to get creative in the kitchen, and there's no right or wrong way to make chili. Beef, turkey, vegetarian, mild, spicy… you can make it any way you like it. No matter which way you choose, we've got a few recipes to get you started. Make an extra batch while you're at it and freeze it for a quick meal on a cold winter night.
---
Vegetarian Chili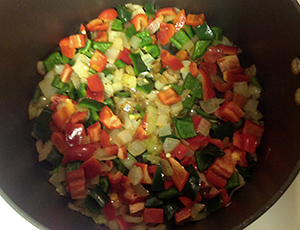 Ingredients
1 tablespoon plus 2 teaspoons extra-virgin olive oil
2 medium-large sweet potatoes, peeled and cubed
1 large onion, diced
1 large red bell pepper, chopped
1 pasilla chili pepper, chopped
2 tablespoons chili powder
1 tablespoons pasilla chili powder
½ teaspoon ground cumin
1/4 teaspoon salt
3 ½ cups vegetable stock
2 15-ounce cans black beans, rinsed
1 28-ounce can tomato puree
4 teaspoons lime juice
Serving suggestions: avocado, cilantro, crema, cheese
Directions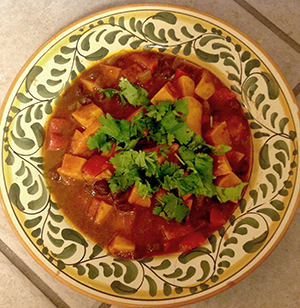 Heat a large heavy bottom pot with the oil over medium high heat. Add the sweet potato, peppers, and onion and cook for about 5 minutes, until the onion if softened.
Add the chili powder, pasilla chili powder, cumin and salt and stir to combine. Add the stock, tomatoes, and black beans and bring the mixture to a boil.
Cover the pot and simmer for 30-40 minutes until the sweet potatoes are tender and the entire mixture is slightly thick like a chili.
Add the lime juice and remove the pot from the heat. Season with salt as needed.
Garnish with avocado, cilantro, crema or cheese before serving.
---
Winning Cook-off Chili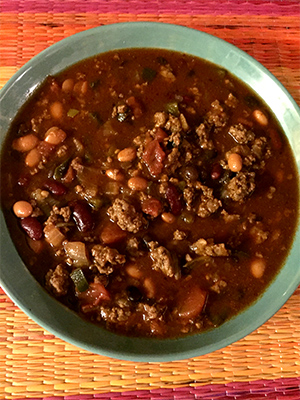 Ingredients
1 lb ground beef
3/4 lb Italian hot sausage, casings removed
2 onions, chopped
2 pasilla chili peppers
1 serrano pepper
1 tsp oregano, dried
1 14.5 ounce can diced tomatoes
1 14-ounce can teef broth
2 6-ounce cans tomato paste
1 12 ounce bottle beer (I used Guinness)
1/4 cup brown sugar
1 tsp cayenne pepper
1/4 cup chili powder
1 tsp Salt
1 tbsp cumin, ground
3 15-ounce cans kidney beans (I used 1 kidney and 2 pinto)
Directions
In a large pot over medium-high heat, cook beef and sausage, crumbling as it browns.
Add onions and chilies and cook until onion becomes translucent.
Add tomatoes, tomato paste, beef broth, beer, sugar, salt, and spices. Stir well and bring to a boil. Reduce heat to simmer and cook covered for 45 minutes.
Add beans and cook another 15 minutes. Adjust seasoning and serve.
---
Turkey and White Bean Chili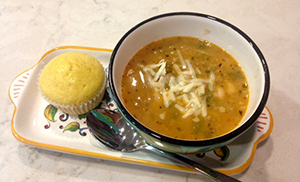 Ingredients
2 tablespoons olive oil
1 large yellow onion, chopped
4 cloves of garlic, minced
2 lbs. ground turkey
Salt and black pepper for seasoning
1 tablespoons ground cumin
1 tablespoon dried oregano
1/4 teaspoon crushed red pepper flakes
2 tablespoons chili powder
3 tablespoons flour
2 15-ounce cans Cannellini beans, drained and rinsed
1 cup frozen corn, thawed
1 7-ounce can diced green chilies (mild or medium)
4 cups low sodium chicken broth
Monterey Jack cheese, grated (optional)
Directions
In a large soup pot, heat olive oil over medium-high heat.
Cook the chopped onion until soft and translucent, about 5 minutes. Add the garlic and cook for about a minute. Add the ground turkey (seasoned with salt and pepper), cumin, oregano, red pepper flakes and chili powder. Cook, stirring frequently, until the ground turkey is cooked through.
Sift the flour into the turkey mixture. Add the beans, corn, green chilies and chicken broth. Bring to a simmer and cook 45 minutes, uncovered, or until the liquid has reduced and the chili has thickened. Season with additional salt and pepper, to taste.
Top individual servings with Monterey Jack cheese if desired.
---
Steak Chili Con Carne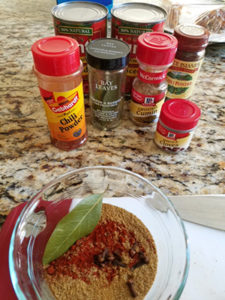 Ingredients
2 tablespoons olive oil
1 large yellow onion
2 cloves of garlic, chopped
2 lbs. beef (1 lb. tenderloin steak cubed, 1 lb. ground sausage)
1 28-ounce can tomatoes, undrained
1 6-ounce. can tomato paste
1 4-ounce. can chopped green chilies
3 tablespoons chili powder
1 tablespoon ground cumin
1 bay leaf
2-1/2 teaspoons salt
6 whole cloves
¼ teaspoon cayenne pepper
2 15-ounce cans red kidney beans, drained and rinsed
Cheddar cheese, grated (optional)
Directions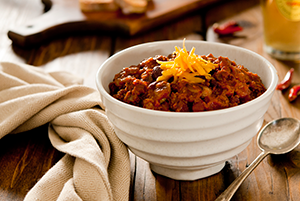 In a large soup pot, heat olive oil over medium-high heat. Add onion and garlic and sauté until tender, about 5 minutes, stirring occasionally. Add steak pieces and cook until browned.
Add ground sausage and cook until almost done. Spoon off the fat. Add the tomatoes, tomato paste, chilies and seasonings. Simmer, covered, over low heat, stirring occasionally for about 2 hours. Add drained beans to chili. Cook just until heated through.
Top individual servings with cheddar cheese if desired.