There is nothing worse than coming home one day and looking up at a potential disaster: ceiling stains. Often, water spots on your ceiling point towards a leak within your home's structure. While the cosmetic issue is imperative to fix, it is important to ensure the leak is under control before you possibly have massive repair bills. The following process will help you remove a water stain from the ceiling and save money.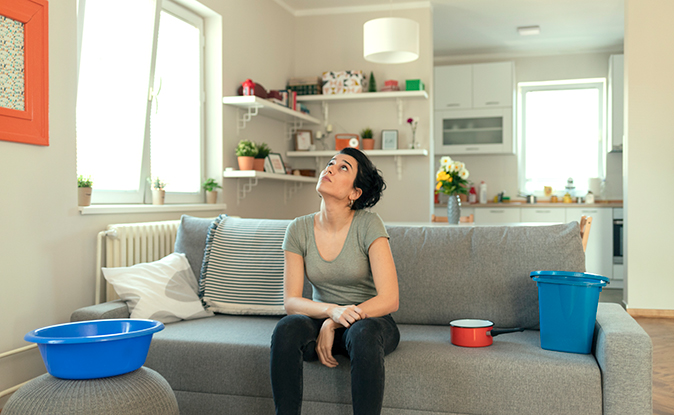 Water Stain on the Ceiling? What's the Cause?
The main priority when you notice water stains on a ceiling, or other ceiling stains, is fixing the problem (i.e., finding the source). The most common causes of water stains on the ceiling could fall under several failures, including:
Loose or leaky pipes in the ceilings/walls
Bathroom tub or sink water/pipes dripping
Leaky radiators in an upstairs setting
A roof problem
Even a minor roof problem like missing/cracked shingles, backed up gutters, or loose/deteriorated flashing around a fireplace chimney or skylight can cause a recurring leak. A good indicator of a roof leak is the color of the ceiling water stain. If it is a darker brown hue, then good chances are it is from the roof. Roof inspections can be uncomfortable to perform yourself, so feel free to find a roofing company to check for and repair any issues.
If you see water spots on the ceiling with no visible leakage, consider other sources that might be a source of the moisture. Your bathtub or other plumbing apparatus could be causing a leak, for example. Or your attic could be insufficiently insulated, causing condensation to form from the moist air there. Be sure to hunt down the reason for the ceiling stains before cleaning and painting them, so you can prevent them from returning.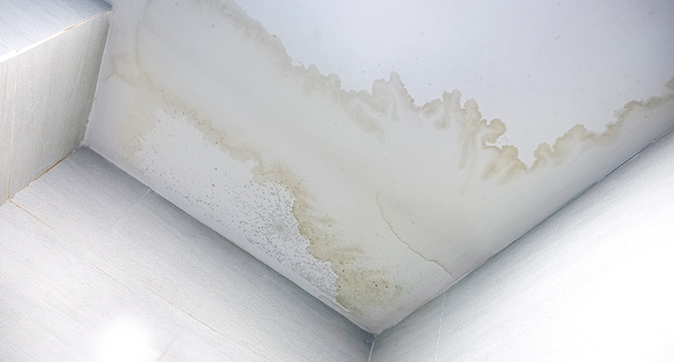 Treating the Ceiling Stains
Once you've found the leak's source, give the ceiling plenty of time to dry before removing the water stain from the ceiling. One thing to consider with water spots on ceilings is mold and mildew growth. Although not visible to the naked eye, mold and mildew can still build up on the surface and within.
Bleach or vinegar solutions are best at killing mold, but they work in different ways. Bleach neutralizes surface mold, whereas vinegar penetrates beneath the surface to do its magic. Before you attack the mold, be sure to lay a plastic drop-cloth under your work area and always wear gloves and eye protection when working with either method. Also, make sure the room is well ventilated, so the fumes do not make you sick.
Using a Vinegar Solution
Since vinegar is a power cleaner on its own, there shouldn't be a need to dilute it to get the best results. Grab a spray bottle and fill it with white vinegar. Next, spray your ceiling stains and let the vinegar sit for about an hour until it's fully absorbed. Pat the area with a clean, damp cloth to remove any residue. If a spray bottle seems too messy for you, simply use a sponge or soft cloth instead.
Using a Bleach Solution
If you prefer to use the bleach solution, it is recommended you mix 3/4 cup of bleach with a gallon of warm water. Apply the solution onto the ceiling stains with a sponge or soft-bristle brush and allow it to sit for 5 to 10 minutes. Finish by rinsing the area with a clean cloth or sponge and allow to air dry or use a light towel to gently pat dry.
If the stain remains in either scenario, try mixing 1 teaspoon of baking soda with 2 cups of water in a clean spray bottle, then spray the stain and lightly scrub.
Quick tip: if you have popcorn ceilings, this cleaning process may chip away at your popcorn. Be gentle with your scrubbing.
Painting Over Water Stains on Your Ceiling
Now you're ready to cover the area with paint and make it shine again. Fortunately, whether you're a seasoned or occasional painter, it's easy to cover your ceiling water stains using a few basic painting tips and choosing specific paints that help with covering ceiling stains. The first, a must for any ceiling paint job, is to have the floor covered up.
To prevent the stain from bleeding through, you must apply an oil-based undercoat primer. Primers like Zinsser and Kilz offer great products which are stain-blocking and mold-resistant to give you ease of mind that your ceiling stains won't reappear and your topcoat of paint will shine. Paint on your primer and let the area dry completely.
The manufacturer's directions will be more specific on how much time to allow before adding the topcoat. When the primer has dried, paint the treated spot with the desired color. Once the coat has dried, apply a second coat if the color seems off. If you are doing a second coat, this is probably a good time to paint the whole ceiling while all your supplies are out. Why just have one small area look brand new when you can refresh your whole celling?
Protect Your Budget with a Home Warranty
Home warranties won't prevent your ceilings from leaks and stains, but they will help you cover repair or replacement costs when major home appliances suddenly break down. They also cover many home systems, like your plumbing and electrical systems. When you have home home warranty coverage from First American, you can rest easy knowing that if something happens, we're here for you. To find out more about our coverage and upgrade options, request a quote today.