Whether you're buying a home for the first time or you are a seasoned homeowner in search of your next house, your top consideration is probably location. After all, real estate agents have been drilling into our heads for years that it's all about location, location, location. And to a certain extent, that's true. You'll also want to consider carefully the number of bedrooms and bathrooms you want, the average bedroom size you prefer, how much office space you think you'll need, whether you want an open floor plan, a corner lot, and so on. But there are other less typical house-buying tips that are equally important.
In fact, when you venture off the beaten path, you'll discover an array of factors you may have never before considered— tips for buying a house that even your agent may not have thought about. We've captured them in our list of top 10 unusual (and slightly offbeat) things to look for when buying a house, so read on for all the details.
Tips for Buying a Home
1. Is the Internet Down?
Today, many people have the option of working remotely from home, which means they can live virtually anyplace… or can they? Working remotely requires strong, dependable home internet service, and surprisingly, that's still a luxury in many regions. You may have your heart set on a pristine vista overlooking lush rolling hills and meadows, but remember to ask about the internet service. If there isn't any, or it's unreliable, would you still be able to work?
Even if you're not working remotely, you probably still rely on robust internet service in your daily life. That's why it's one of the most important things to look for when buying a house. Make sure that the home you're considering is on the grid (unless you deliberately wish to be off it) so you can digitally interact with the world around you. Type "internet service near me" into your web browser to learn about major providers in your desired area. Research pricing and internet speeds (is fiber optic internet available?), and get as much information as possible before submitting that offer.
2. Planes, Trains & Automobiles
We may love the conveniences associated with airplanes, trains, and automobiles; however, most of us would think twice before purchasing a home near an airport, train station, or busy highway.
It's easy to avoid properties located near highways and other high-traffic areas, but pinpointing flight paths and train tracks (which are often not visible from nearby streets) is trickier. To check if a home you like is on a flight path, type "flight path map over my house" into your web browser and you'll see an assortment of websites where you can view flight charts and routes at nearby airports. The best sites have interactive map overlays and real-time data—simply zoom in on a location and then view any planes flying over that area (click on a plane and you'll see where it's from, where it's headed, and its flight path).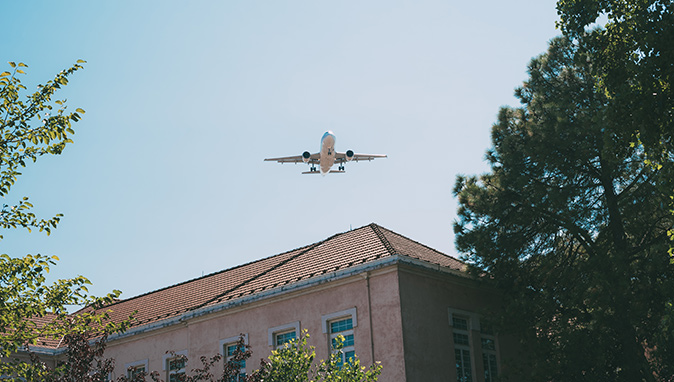 To check for nearby train tracks, look at a satellite image of the neighborhoods you're targeting and check for nearby tracks. A good rule of thumb is to live at least two miles away—at this distance, the rumbling of trains and their sirens should be dull enough not to interfere with your quietude. But to be sure, one of the best tips for buying a house is to spend some time on the street of a home you're considering, even if it lies a bit outside the 2-mile mark, and judge the general noise level for yourself.
3. Where's My Package?
Two-day delivery service is certainly convenient… when it truly is a two-day service. But in many rural areas, two-day delivery service can often mean one-week delivery service, and sometimes even longer. Proximity to fast delivery service isn't something you typically put on your list of things to look for when buying a house, but depending on your lifestyle, it could be a deal-breaker.
You'll likely encounter slower delivery service when you live further away from a major distribution warehouse. Some very remote regions may even require you to drive to a specified location to pick up your packages. For any homes on your shortlist, it's a good idea to research delivery service and typical wait times, and decide whether the outcomes are acceptable to you. After all, if you depend on reliable delivery service for prescriptions, work, or online shopping, you don't want to encounter surprises down the road.
4. You Might Want a Sandwich
Thinking about moving somewhere new? Walk around the city center—if there is one. If not, would you miss it? Take note of the proximity between residential neighborhoods and shopping areas—how far is it to stores, groceries and markets, schools, parks, local businesses, and places you regularly frequent? Does the area you're considering have your favorite department stores? Libraries? A place of worship? A good hospital nearby?
Do you prefer the energy and vitality of a fully formed city versus a more rural landscape where you have to drive long distances to find signs of civilization? Think about where you spend your time and map out those places so you can take stock of what the area offers—and doesn't. Many people skip this step, but it's one of the most important tips for buying a house when you're moving to an unfamiliar area.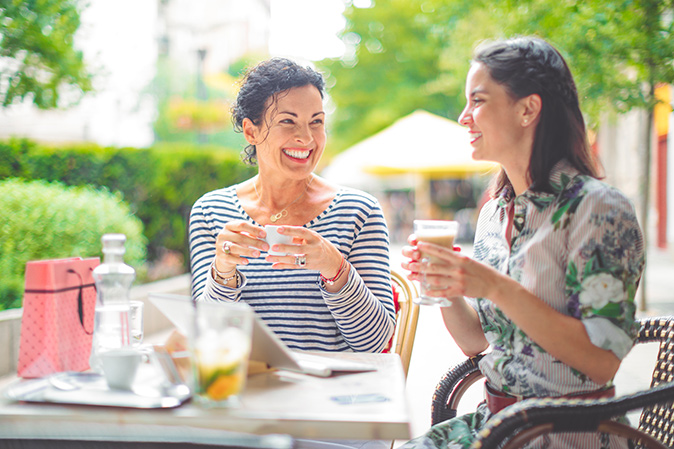 Think about culture, too. If you love live theater, are there plenty of venues within a short drive? If you enjoy travel, is there an airport within reasonable driving distance? What are the restaurants like? After all, when that sudden craving for your favorite sandwich hits, you don't want to be disappointed. Take the time to get to know any new town you're considering and imagine your daily life should you decide to live there.
5. Stairway to…Confusion?
Some people love a two-story house with plenty of stairs. Perhaps you are one of them. You see stairways as forced exercise and a great way to infuse stair-climbing into your life. Or you love the idea of bedrooms tucked cozily upstairs and separated from the bustle of downstairs common living spaces. Conversely, you may be more of a one-story-house type of person. You feel that traversing stairs multiple times a day is an exhausting inconvenience when lugging vacuums and other cleaning supplies from floor to floor—or if you forget something and need to "go back upstairs" to look for it.
Or maybe you're not quite sure where you fit in, which can lead to confusion in the short term, and possibly regret in the long term. In that case, it's smart to take some time to picture yourself living in a one-story house, and then in a two-story house. Imagine your daily routine, and try to figure out which you'd honestly be more comfortable in.
In addition, keep in mind that most neighborhoods are sprinkled with a mix of one-story houses and two-story houses. Think about living in a two-story house that towers over the smaller homes and perhaps peeks into nearby backyards. Conversely, imagine living in a one-story house that's next door to a two-story house that has windows that face your yard.
When evaluating properties, observe the layout of the nearby streets and how the homes are arranged relative to each other—it's one of the best things to look for when buying a house because it will ultimately affect your privacy and peace.
6. Elevate Your Baking
If you've ever bought a cake mix, you've likely noticed the small type at the bottom of the directions panel about high-altitude baking adjustments. Many people associate high-altitude baking (and high-altitude cooking for that matter) with vast mountainous regions, yet "high altitude" is generally considered to be any place above 3,000 feet. In fact, they may give little notice to the nuances associated with high-altitude food preparation—until their cakes come out of the oven looking nothing like they should.
Without going into complex chemistry, the underlying issue is that the higher the altitude, the lower the air pressure—and this affects baking and cooking outcomes. When baking a cake at a high altitude, for example, you may find that your cake falls in the center, is unusually dry, or isn't as high as you'd like. Interestingly, there are a number of effects that high-altitude baking can produce, and you'll need to adjust the liquid content of your batter along with other leavening ingredients (baking soda, baking powder, eggs) for best results.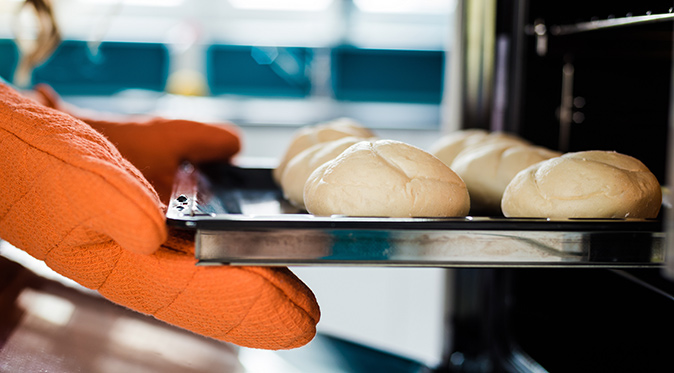 If you're buying a home for the first time in a high altitude, be prepared for some trial-and-error baking and cooking. And be sure to check the elevation if you're moving to a new area—even a location that appears relatively flat may surprise you in terms of its altitude.
7. Water Worries
Any home you're considering will require a thorough deep dive into its water system. For starters, is the water hard or soft or somewhere in between? Hard water has a high amount of mineral deposits (calcium and magnesium) that can dry out hair and skin, and leave crystalline sediment buildup in dishwashers, clothes washers, showerheads, and other water-dependent appliances and systems. In areas with hard water, homeowners often install water softeners, which work by removing the minerals. If you're looking at homes in an area with hard water, you may want to add "water softener" to your list of things to look for when buying a house.
Once you've zeroed in on a property, check the configuration of its plumbing system—this can often be done by a qualified plumber during a home inspection. Sometimes, the way a plumbing system is put together can cause sudden temporary water spikes when you least want it. A toilet flushed during your shower, for example, can cause a water temperature spike (hot or cold, depending on your plumbing system). An experienced plumber can evaluate a home's plumbing system and help you determine if this is a potential issue or not.
The plumber can also help you figure out whether a house has optimal water pressure, or if it's too high or low. What happens when you turn on a shower, flush a toilet, and run a faucet—all at the same time?
Too many appliances running water simultaneously may negatively affect a home's water pressure, causing it to dribble out slowly (a common sign of low water pressure). Fortunately, it's easy to test water pressure by using a water pressure gauge; your plumber can help you with this job, and also install a water pressure regulator if it turns out that one is needed.
8. Yes, the Dishwasher Has a Filter
You may fall in love with a house to the point that you dismiss its maintenance as something you can easily handle. Lots of maple trees? No problem; you only need to rake up leaves once a year in the fall. A hot tub? Easy! But as most first-time home buyers quickly realize, general maintenance tasks can quickly add up and you'll wonder where your weekends went. Hot tubs, for example, come with required maintenance and can be expensive to heat up. And that "once a year" leaf collecting project? It will likely morph into several weekends as leaves continue to fall during the autumn season.
The same goes for a home's interior maintenance. For example, did you know your dishwasher has a filter that should be cleaned monthly? And that your clothes dryer vent should be cleaned annually? (By the way, your dryer vent is not your lint filter, which should be cleaned after every load.) And did you know your washing machine hoses should be inspected for wear and tear every five years?
You'll have maintenance tasks regardless of the home you ultimately purchase, but some are easier to keep up with. As you preview properties, imagine yourself cleaning and maintaining them to get an idea of what's involved, both inside and outside. Naturally, the larger the house, the more work it will require.
Another consideration is the age of the home: an older house will require more upkeep. And if it resides in a preservation district or historic neighborhood, you'll likely need to work with local historical boards and architectural preservation committees on any modifications you wish to make, as they will need to be approved according to local historical building codes.
9. House vs. Condo… and Other Financials
One of the best tips for buying a house, especially if you're a first-time home buyer, is to spreadsheet all your anticipated purchasing costs as well as projected monthly budget expenditures before making any offers. This is commonly referred to as the financial part of how to buy a house, as opposed to the home-selection process itself. You'll want to know beforehand how much actual cash you'll need versus what you can comfortably finance, as well as what your monthly income versus output will look like. It will help to work with your agent to project closing costs, calculate your good faith deposit (and remember, it's non-refundable), and factor in your inspection costs. Understand what an escrow account is so you can make an educated decision on whether or not you want one.
Can't decide between a house and a condo? Besides the obvious, consider this: Interest rates are frequently different for a single-family detached home versus a condo, and property insurance rates will vary, too. Many condo developments, and some townhouse and single-family home communities, have homeowners associations (HOAs), with monthly HOA fees that can vary wildly between less than $100 to several hundred dollars. The HOA fees cover maintenance costs for common landscaping areas and other community services and amenities within a development.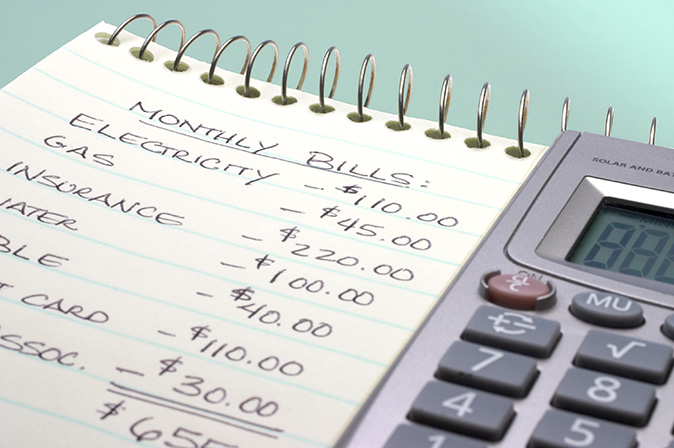 If you're eyeing a community with an HOA, make sure you know the HOA fees upfront—and factor that additional cost into your monthly budget. As a member of a homeowners association, you'll be required to abide by its rules and bylaws, so ask for a copy of the HOA's CC&Rs (Covenants, Conditions, and Restrictions) before you purchase to get an idea of what's allowed and what needs to be approved beforehand by the HOA (for example, exterior painting colors, a new roof, landscaping, and so on).
10. Know Any Good Contractors?
When evaluating homes, you can typically overlook cosmetic details knowing that once you get the keys, you can make updates and modifications to suit your personal taste. Perhaps the floors are wood and you want to tile them. Maybe you prefer a brick pathway from the sidewalk to your front door instead of concrete. Although many projects you can do yourself, there will be times when a professional contractor is needed. And when that happens, do you know who to call?
You may be able to ask co-workers or your neighbors for recommendations on local general contractors. You may find some by typing "contractors near me" into your web browser, seeing what pops up, and then checking reviews. But sometimes, you'll discover that the area you want to live in is not a haven for contractors. And in some places, especially more secluded areas, there might not be any at all—at least not within convenient driving distance.
While this may not be a deal-breaker for you, it's something you should be aware of upfront in case you're considering a home that will require a good deal of work. It may sound obvious, but one of the wisest house-buying tips is that if general contractors are not readily available, you may want to pass on that project-heavy house and opt for something more move-in ready.
Consider Home Warranty Protection
Besides these tips for buying a house, another helpful tip is to add "home warranty coverage" to your list of things to look for when buying a house. A home warranty is a smart way to protect your budget when major household appliances and systems unexpectedly break. Plus, you can get special pricing on a real estate home warranty for up to 60 days after your closing date. Learn more about our home warranty coverage and the convenience and peace of mind it provides, and get a personalized home warranty quote.